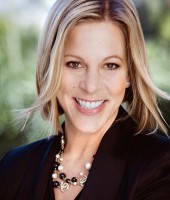 The fourth episode of the Unscripted and Unprepared podcast, produced by Objective Media Group America EVP Jimmy Fox in partnership with
realscreen is now available via iTunes and Stitcher.
The episode features Fox in a candid, career-spanning conversation with Spike's executive vice president of original series, Sharon Levy (pictured).
The podcast launched in late June, and has thus far featured interviews with MGM Television's Barry Poznick, ITV Entertainment's David Eilenberg, and Thinkfactory Media's Leslie Greif. Future editions will feature interviews with some of the top network and production execs in the business, including Ben Silverman, Heather Olander, Vinnie Malhotra and Jane Latman.
Fox currently executive produces United Shades of America (CNN) and Make Me a Millionaire Inventor (CNBC), as well as Hard Evidence: OJ is Innocent (ID), Hollywood Darlings (Pop) and scripted drama The Arrangement (E!).