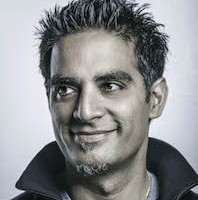 AT&T's DirecTV-owned Audience Network is set to get spiritual about athletics with a new docuseries from director Gotham Chopra called The Religion of Sports.
The 6 x 60-minute series will investigate instances wherein specific sports significantly influence societies and cultures in a manner that extends beyond entertainment. Episodes will explore sports such as soccer, baseball, NASCAR events (pictured above), the Calgary Stampede and the rise of the UFC and MMA fighting.
Chopra (pictured, right), is the son of author and spiritual guru Deepak Chopra. He directed the first three episodes of the series, with directors Amanda Micheli, Martin Desmond Roe and Sam French each helming an episode. 
The Religion of Sports isn't Chopra's first foray into the world of athletics. In fact, sports have long been a passion of his. Previously, he directed and executive produced Muse, a documentary about future NBA hall-of-famer and lifelong Los Angeles Laker Kobe Bryant, which premiered on Showtime. He also directed and executive produced ESPN's latest 30 for 30 documentary and The Little Master, a documentary about Indian cricket legend Sachin Tendulkar and his quest for his first world championship, which debuted on ESPN.
Currently, Chopra is working on a project with MLB great and recently retired Boston Red Sox player David Ortiz, and it was recently announced that he will serve as an executive producer on two upcoming series on LeBron James' Uninterrupted Network.
While many of his projects have and will focus on sporting saints, The Religion of Sports looks more at the institution itself.
"One of the unique aspects of this series is it doesn't rely on getting the [famous athlete]; it's about the culture around sports and the believers of the faith," Chopra told realscreen. "Everything that we talk about in religious and spiritual traditions, in my opinion, exists in sport. Actual religions require faith and dogma. Sports, whether you're an athlete or a fan, require participation. If you show up chances are a miracle is going to happen. "
He adds that, for him, the project is a convergence of all the things that have mattered the most to him his whole life.
"I am a true believer when it comes to the religion of sports and this is the culmination of [my other projects]."
While the tack towards telling stories about sports might be a bit different comparatively to Chopra's previous work, the content is still very much character-driven he says, a hallmark of how he likes to approach factual storytelling.
He points to one character in particular who features in the episode about NASCAR. The character, a bomb technician in the U.S. Marines and an ardent race fan who grew up loving stock cars, returned from deployment overseas having lost both his legs. Having become, in the character's words "half man/half machine," he came to relate to NASCAR racing at a much more spiritual level.
The story, said Chopra, is as good as the characters you're able to find.
"Great storytelling is what I love first and foremost. I think this world is something of a bottomless well in terms of the stories and characters that are out there," he said.
Financed by DirecTV and commissioned by Chris Long, AT&T's senior VP, original content and production, the series is executive produced by Chopra (pictured) along with former NFL pro, current Good Morning America regular and The $100,000 Pyramid host Michael Strahan, current NFL superstar Tom Brady and Constance Schwartz-Morini. Produced by Chopra's patron prodco, LA-based content creation studio Dirty Robber, it's set to premiere on the Audience Network on Nov. 15 and will also be available via DirecTV's soon-to-launch OTT live streamer DirecTV Now.
Chopra, along with Dirty Robber, Strahan and Brady, will be building The Religion of Sports digital assets to go along with the series, which will consist of digital video content they create and crowdsourced video content, as well as content sourced from unused series footage. It will all initially be distributed across a number of different digital platforms, leveraging the networks of Chopra, Strahan, Brady and Dirty Robber, in particular. Chopra says they're also planning to launch a podcast and a branded blog.
"We, as filmmakers and storytellers, live in a  unique time because with the technology that's available to us and the existing opportunities around distribution, and with audiences, especially when you have partners like Tom and Michael who have existing audiences, everything's at your finger tips," he said. "You don't need a huge network and you don't need a big budget to tell great stories."