Vice Media has partnered with Jawa Pos TV and Google on a deal that will see the Brooklyn-based media company and content studio deliver digital and linear programming to the Southeast Asian country.
Vice Indonesia, based in Jakarta, will produce and distribute both local and international content aimed at wooing the country's growing millennial and Gen Z demographic, estimated at more than 100 million people.
As the media co has done in other countries, Vice Indonesia will work with young Indonesian producers, creators, editors and photographers offer programming in specific genres, including culture, food, music, technology and sports.
Under the collaboration with Jawa Pos TV, an Indonesian TV news network, Vice will launch its daily news offering, Vice News Tonight, in a primetime slot. Select programming from its fledgling television channel Viceland will also air on the network during primetime. The company released no further details on the programming slate.
Google's involvement will see the creation of Searchlight, a digital offering showcasing Indonesian youth culture and nightlife, with the aim of reaching a global audience.
The expansion into Indonesia marks Vice's fourth Asian operation. The company already has a presence in Japan, China and South Korea, with plans to launch full 24-hour Viceland channels in 18 Southeast Asian territories.
Vice, ESPN reveal content deal details
Elsewhere, Vice unveiled the specifics behind its previously inked production and distribution deal with ESPN.
Under the deal, blocks of the Sal Masekela-hosted Vice World of Sports began broadcasting across ESPN2 Nov. 7, running through to Dec. 8, with episodes touching on such topics as college football's Bayou Classic; the effects of warming relations between the U.S. and Cuba on the island's baseball players; a Ugandan soccer league in the country's only maximum-security prison; and New Zealand twin runners living in Iten, Kenya.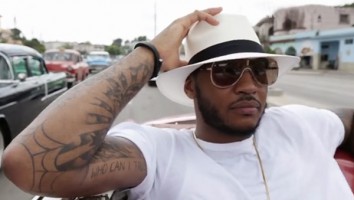 ESPN2 also debuted Vice Sports' hour-long special The Clubhouse (pictured, right) – exec produced by NBA player Carmelo Anthony – Nov. 7. The brand serves as a platform for short documentaries for athletes to share stories that transcend sports while offering an exclusive look into an issue affecting not only the athlete, but the global community at large.
The previously announced agreement allows for Vice Sports to produce original content for ESPN and Vice's various digital and linear platforms, while ESPN's Emmy-nominated doc strand 30 for 30 began airing on Viceland Nov. 4.
Cayman Grant and Joe Lavine's Playing for the Mob, documenting Boston College's point-shaving basketball season in 1978-79, is slated to premiere across Viceland on Nov. 11 at 10 p.m. ET/PT.
Also scheduled to premiere under the 30 for 30 banner are Daniel Gordon's 9.79*, chronicling the scandal behind the 100 meter race at the 1988 Seoul Olympics, on Nov. 18 at 10 p.m. ET/PT; Jonathon Hock's Unguarded, detailing the rise and fall of high school basketball standout Chris Herren, on Nov. 25 at 10 p.m. ET/PT; and Cody and Chike's Benji: The True Story of a Life Cut Short, about the short life and 1984 death of Chicago high school basketball player Ben Wilson, on Dec. 2 at 10 p.m. ET/PT.
Together, Vice Sports and ESPN Films will create a number of original, short-form series to run across both companies' properties.
with files from Daniele Alcinii