At a press conference announcing the complete lineup for the 24th edition of the Hot Docs Canadian International Documentary Festival (March 21), realscreen caught up with a handful of filmmakers to discuss the challenges associated with their respective films.
Among the 230 projects named to this year's Canadian festival is Toronto-based filmmaker and seasoned photographer Lana Šlezić's feature-length documentary Bee Nation.
The 78-minute film, which will open the festival on April 27, follows students from the Little Pine reserve as they compete in Saskatchewan's first province-wide First Nations Spelling Bee on their way to a national championship.
Searching for a website to help her eight-year-old son with his spelling, Šlezić came across the Spelling Bee of Canada (SBOC). On a whim, she called SBOC director Julie Spence and asked if anything was different with this year's iteration of the spelling bee. Spence notified the documentarian that it would be the first time ever that the SBOC would have a First Nations Provincial Spelling Bee in Canada.
Inspiration struck.
"As soon as she said that to me, my jaw dropped at the opportunity of potentially turning this into a film or just looking at it more deeply," Šlezić tells realscreen. "I booked myself on a flight 10 days later."
On the ground in the Land of the Living Skies, Šlezić served as a one-woman crew capturing much of the footage and audio while handling the film's logistics over three consecutive trips in an attempt to maintain intimacy and trust with each family.
The film subsequently received funding from the CBC, Canada Media Fund,Telefund and Rogers Doc Fund before being selected by Hot Docs director of programming Shane Smith to open the festival.
"I actually still don't think it's fully sunk in. When Shane [Smith] called to invite me for Hot Docs, I was so thrilled just with that — but at the end of the conversation he said, 'By the way, we'd really love for you to be opening night,'" Šlezić recalls. "I nearly dropped the phone. I was so overwhelmed and excited, and I started to cry, mainly for the film but also for those kids and their families who really deserve to be up on that screen – I'm thrilled."
It's cinematic stories with substance like Šlezić's Bee Nation that Smith and his programming team are searching for each year to whet the appetite of a demanding Toronto film crowd.
"We have incredibly savvy audiences in Toronto who want to get into the meat of the matter, and that's always something that we're thinking of when we're programming the documentary – how's it going to play for the audience? Is this revealing a new perspective on a story that they may not be aware of? That helps to guide our programming choices," Smith says.
With the world shifting and transforming in new ways, the Hot Docs curatorial team has already begun to see that change reflected in the work that's been submitted this year.
Documentary filmmakers have always been engaged in the world in what's happening, and this year's Hot Docs line-up will feature deep dives into the issues and the imbedding of doc makers in the subjects they're covering, Smith says.
"What I'm seeing are these real deep-dives and 10,000-foot views for something like [Tim Golden and Ross McDonnell's] Elián," he says of the film on Elián Gonzalez, who, in 2000, became embroiled in a heated international custody and immigration controversy involving the governments of Cuba and the U.S.
"We were all there, we all knew what was going on but to see it unfold and the behind-the-scenes politicking and machinations that go on gives you a whole new perspective on what happened, similar to O.J.: Made in America – that was an unparalleled look at this event. That's the kind of work we're seeing a lot more of."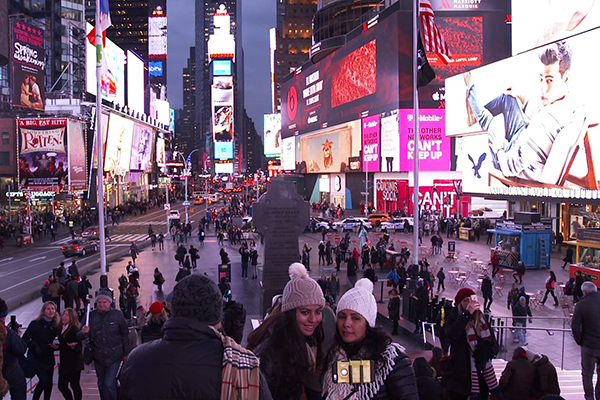 Scott Harper's 75-minute You're Soaking In It is a prime example of a film that scratches deeper than the surface to investigate the hyper-modified advertising industry.
The world premiering film, exec produced by Castlewood Productions president Andrew Burnstein, traces the advertising industry's shift from "mad men" on Madison Avenue to "math men" in Silicon Valley, rooting their decisions—which impact everything from consumer habits to political campaigns—in big data and hard science.
"We started with an idea that was a lot different. We were thinking of a film that was a modern day Mad Men, something a bit more character driven or dramatic with some icons of the ad industry, but what found was getting into that world was tough because their clients don't want anything to do with that," Harper admits.
What he and Burnstein instead stumbled on was the targeting, tracking and profiling that was shaping the ad industry into something that no longer resembles what advertising traditionally was.
"When we talked about the idea with people we found they were generally aware that that's how it worked – you try to buy a wallet, you search for a wallet and the next thing you know you'd see a [wallet] ad on your screen. That's sort of the tip of the iceberg," Harper adds. "If you scratch deeper, it's quite darker than that as [advertisers are] using artificial intelligence and computer profiling to a point where brands and ad agencies know you better than you know yourself."
The 24th annual festival, which serves as North America's largest documentary film festival, runs April 27 to May 7 in Toronto, Canada. The 2017 program will see 230 titles from 58 countries screening across 13 programs, with work by female filmmakers representing close to 48% of the slate, according to festival organizers.
The full list of programs and documentaries screening at this year's Hot Docs festival can be found here.