It was after midnight on March 3, 1991 when a white Hyundai came to a sudden stop in a quiet San Fernando Valley, California neighborhood after a high-speed pursuit. The whirling blades of a police helicopter hovering overhead and the flashing lights of squad cars drew sleeping residents to their balconies. At least one reached for a video camera.
The grainy black-and-white video of LAPD officers striking an unarmed African-American man, Rodney G. King, 56 times with their aluminum batons would be broadcast internationally in the days following the incident. That footage prompted an internal police investigation that led four officers to be charged with assault with a deadly weapon and use of excessive force in the King beating.
The officers' eventual acquittal on April 30, 1992 ignited six days of race-related violence that began in South Central Los Angeles. Mobs lit citywide fires, beat motorists and looted stores in what evolved into the city's largest riot since the multi-ethnic neighborhood of Watts erupted in flames in 1965.
Twenty-five years on, scenes reminiscent of those unsettled days in south LA have been repeated across the American landscape: the fatal police shooting of Michael Brown in Ferguson, Missouri and subsequent unrest; the death of Eric Garner in New York City; and the Baltimore riots surrounding the death of Freddie Gray.
It was enough to prompt filmmakers Jonathan and Simon Chinn into action.
"Given the current climate, we felt that it was a really good time to shine a light on this historic event," Jonathan Chinn, Emmy-winner and co-founder of London and LA-based indie Lightbox Entertainment, tells realscreen.
LA 92, directed by Undefeated helmers Dan Lindsay and TJ Martin, provides an in-depth look at the riots from the point of view of LA residents through raw testimony, unseen personal footage and news archives, all designed to transport viewers back to 1992.
The 112-minute film, first announced ahead of the 2016 Sundance Film Festival, serves as part of National Geographic's continuing push into premium feature documentary content. It's scheduled to have its world premiere at the 2017 Tribeca Film Festival in April, with plans to air globally in 171 countries and 45 languages later this year.
The decision was made early on in the production process to abstain from talking heads or narration that would handhold the viewer through the film, and instead rely strictly on archive materials to tell the narrative.
"We felt that it would be very powerful to make it an immersive experience that was void of sit-down interviews and that it was purely driven by archival footage and source materials from the time," Chinn explains. "It's a very immersive and intense viewing experience because there's no real break from living in that world."
It's a very immersive and intense viewing experience because there's no real break from living in that world.
Unlike many films, LA 92 had no traditional production period. Instead, the production and archival teams at Lightbox, led by Chinn and his Academy Award-winning cousin Simon, spent the first three months unearthing and accumulating rare, decades-old archive through various sources, from traditional news, police and radio archives to nightcrawlers, students and community leaders.
"What we ended up amassing is a somewhat definitive library of archive from all kinds of sources — we wanted to have everything in our disposal in order to fully immerse the viewer in that experience and not just from the mainstream media perspective," Chinn says.
"It was very important to us to source material from a variety of sources across the multitude of communities, not just the black community and not just mainstream media," he continues. "We brought on a fluent Korean researcher to help us find unheard or unseen archive that came out of the Korean community."
"We found great partnerships within the Fox affiliate family who were instrumental in allowing us to dive into their archives," adds Matt Renner, VP of production at Nat Geo and exec producer on LA 92. "Some of the archives have never even been fully archived before properly so we had a whole team of researchers, we got all the tapes and digitized the media and digitally went through every minute of it."
The challenge, however, wasn't in finding archival footage — it was determining how to massage that archive into a cohesive story that would cultivate the emotional response directors Lindsay and Martin wanted to achieve.
As such, they made the decision to have LA 92 serve as an unconventional film that chooses not to strictly conform to a three-act narrative with a clear beginning, middle and end. Instead, the story unfolds in "an almost operatic way" through movement and emotion.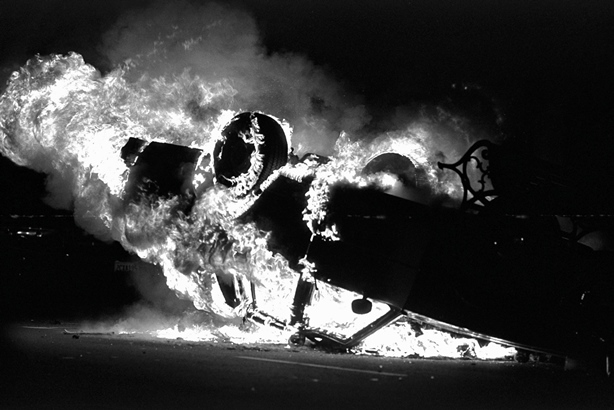 "When you narrow the filter that you're passing everything through as 'How does it make you feel?', that tends to drive a lot of the decisions about what archive to include," Chinn explains. "The way they're blending the archive into an operatic story that's about movements rather than acts, it can be self-evident which archive to use."
In their telling of a highly contentious and divisive story, the filmmakers were mindful of finding the right balance to ensure LA's civil unrest was politically and morally ambiguous, while also celebrating the notion of freedom of speech.
The hope, Chinn and Renner agree, is for LA 92 to spark real conversation and debate about the modern day role of police, transparency and race relations, while prompting audiences to subconsciously understand how little society has moved forward in the last 25 years.
"It's profound that we live in a time where many of our leadership are historically irresponsible. When we turn back the pages of history, we see the unfortunate consequences that are a result of certain decisions that men in power have made and we just keep making the same poor decisions," Renner says.
"Our civil rights are hanging in the balance, and so this is important for us at the moment to recognize where we are in today's society," he adds.
"Hopefully [with] this film when you see the cycle of violence, it really brings you a tremendous amount of pause and, hopefully, it's the kind of story that's central to our brand, gets people thinking and activates people into grassroots movements."