With myriad digital platforms with special interests in unscripted content emerging rapidly across the industry, the "Amping Up Unscripted: New Buyers Showcase" session at Realscreen West in Santa Monica, California on Tuesday (June 6) provided prospective creators insight into the benefits of going digital.
Moderated by realscreen managing editor Darah Hansen, the panel of industry experts focused their lens on the new reality of digital productions, where the industry is headed and the importance of listening to the audience's wants and needs.
The surplus successes and investments made by such SVOD giants as Netflix, Amazon and Hulu on the originals side have also benefited smaller platforms like Verizon's go90 and Refinery29 by generating a feeding ground for additional creators, producers and directors willing to experiment in digital.
Laying the groundwork for this explosion of premium digital content were ambitious unscripted behemoths The Grand Tour and Beast Master, said go90′s chief content officer Ivana Kirkbride.
"We're seeing really high-quality programming and pitches come through. The caliber of talent both behind and in front of the camera has really [ramped up] over the last 18 months," she told the room of delegates.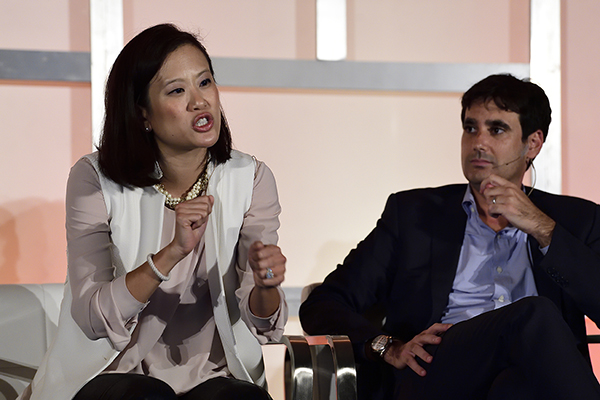 Go90′s Ivana Kirkbride and Warner Bros. Digital Networks' Jay Levine
Though the digital atmosphere served as what Warner Bros. Digital Networks EVP Jay Levine described as the "Wild West" a few years ago, buyers have in recent years begun to hone in on the strategy of how they want to accomplish programming, while also determining what they want to get out of it. And there's no one formula for how corporations are approaching their respective successes, whether it's through ad-supported, subscription-supported or  hybrid-supported strategies.
"We are starting to each of us pick our lane and say this is our approach to this world, which does help everyone when we get out and do things like this [Realscreen West], where we explain what our approach is," explained Scott Reich, SVP of programming at Fullscreen, which is majority-owned by Otter Media, a joint venture between AT&T and The Chernin Group. "It makes it easier than that Wild West where we were experimenting and trying anything."
But for Amy Emmerich, chief content officer at women-focused lifestyle company Refinery29, the days of experimentation in digital media are enduring, meaning that the medium is moving at a faster pace and there's more work to be done.
"The work to make a five-minute piece is the same amount of work for when you want to make your half-hour pilot," she stated. "The amount of paper work, thought process and pre-production that goes into that [is similar], you're just expected to do it at twice the speed, half the time and half the money."
"We're in June and I've got three series that we launched in January that are already on season two – we move fast," added Fullscreen's Reich.
Digital programming, much like its linear television counterpart, isn't one-size fits all. Content creators can develop a successful series for one platform, but that doesn't mean it will translate to others. Producers must understand that it is essential to cater your content and your pitches to each unique and specific platform. 
"I don't think there's a broad understanding of that yet, because I still to this day get pitched failed TV pilots. Because it didn't work in a TV pitch process, it doesn't mean it'll work in digital. Something that works on Fullscreen isn't necessarily going to work on go90, Snapchat or YouTube because the communities on those platforms have a certain expectation of that platform," go90′s Kirkbride said.
Things at Fullscreen are done a little differently, however, as the platform's audience determines the global media company's value, and not an advertiser, said Reich. Because the digital platform's target demographic is the young digital-first audience, if you take a traditional actor who does not have an engaged social following, they don't exist in Fullscreen's world.
"We tend to throw out the format rulebook and build around personalities and say it doesn't have to match a clock, even episode to episode. That's how we experiment," he said. "We try to stay fairly hands-off on the creative process and we're constantly asking ourselves will our audience like that. It's not for the greenlight committee or the creators – they've got to understand our audience really well."
"I can give you the one thing money cannot buy which is creative freedom – I'm going to believe in you and your voice, I'll be your collaborator and we do not have final cut on anything. That is the line," added Refinery29′s Emmerich.
"It comes down to how badly do you want to make it?"