Tiffany Rhynard's feature-length documentary Forbidden: Undocumented & Queer in Rural America will receive its world television premiere when it airs across Viacom-owned LGBT-focused cable net Logo on Friday.
The 82-minute film (pictured), which premiered at the Los Angeles-based Outfest, chronicles activist Moises Serrano, a homosexual man born in Mexico and living as an undocumented immigrant in Yadkinville, North Carolina, as he fights for equality in a country that's refused to acknowledge his existence.
Forbidden chronicles Serrano's work as he travels across his home state to offer a guiding light to his community while attempting to forge a path for his own future.
"[The doc] humanizes the issues and demonstrates how a loving family has the power to defeat prejudice," director Tiffany Rhynard tells realscreen. "This is a story about love conquering hate."
The intersectional doc sits at the crossroads of queer and immigrant issues, illustrating the enduring fight for equality and civil rights by the LGBTQ community in America and the plight of the more than 11 million paperless migrants currently living in the U.S. 
The documentary is produced by Heather Mathews and Tiffany Rhynard, the latter of whom also serves as director. Taj Paxton and Pamela Post serve as exec producers on the project for Logo.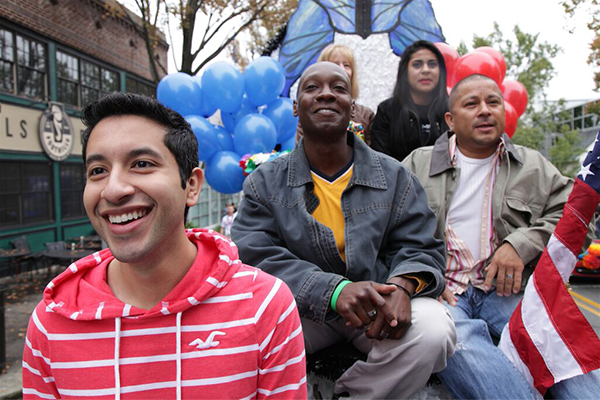 According to the Center for American Progress, more than a quarter of undocumented immigrants in 2013 identified as LGBTQ, with 71% of that group identifying as Hispanic.
And though all immigrants pay support to many benefits they're completely barred from receiving, illegal immigrants in 2010 shelled out US$13 billion in Social Security and received only $1 billion in services, while also paying $35.1 billion more into Medicare than they withdrew.
Additionally, more than 2.1 million undocumented immigrants currently do not have a clear pathway to education as they are not eligible for financial aid or scholarships. In North Carolina alone, according to the Center for American Progress, there are more than 53,000 DREAM-eligible (Development, Relief, and Education for Alien Minors) students. If they all went to college, the economy would feel a positive impact of approximately $7.8 billion.
Forbidden: Undocumented & Queer in Rural America premieres Sept. 1 at 8 p.m. ET/PT under the Logo Documentary Films banner, which aims at encapsulating stories that capture the diversity of LGBT lifestyle and culture.
Realscreen spoke with Sisters Unite Productions' Tiffany Rhynard and Pony Pictures' Heather Mathews about the advocacy doc ahead of the film's television premiere.
What was the genesis for this project?
Tiffany Rhynard: This project was sparked by serendipity and continued out [of] necessity. We met Moises during a routine production project at Wake Forest University. His story was enlightening, humbling, and sobering, but we were struck by his candor and charisma. He had been told his entire life that he could achieve the American Dream, and his belief in this bright future superseded the signals he was receiving from the white rural landscape where he had grown up. We felt it was our obligation to use our skills as filmmakers to help him tell his story. We also felt that there were probably a lot of people like ourselves who didn't know details of these issues but would be invested in taking action.
Why do you think there is an appetite for a project like Forbidden: Undocumented & Queer in Rural America
TR: Forbidden highlights a narrative that we don't often see: to be gay and undocumented in the rural south. This is a part of the country that Moises loves, but it is also a place that has generated significant fear for him. The topic of immigration and LGBTQ rights has always been relevant but with the election of Trump, the rhetoric surrounding immigration was propelled front and center. It is a hot button issue on both sides of the political spectrum. There is a lot of heated and hateful arguing but not much productive conversation. Forbidden serves to engage discussion and place a human face on an otherwise dehumanizing debate.
Heather Mathews: Trump's derisive rhetoric really opened up the conversation. It opens up a lot of conversations. People are anxious to fight back and to protect a population that is currently being targeted. And a lot of people don't know very much about the undocumented population. The film reveals the facts, wound through Moises' compelling story, of what DREAMERS and other undocumented people have to face every day in this country.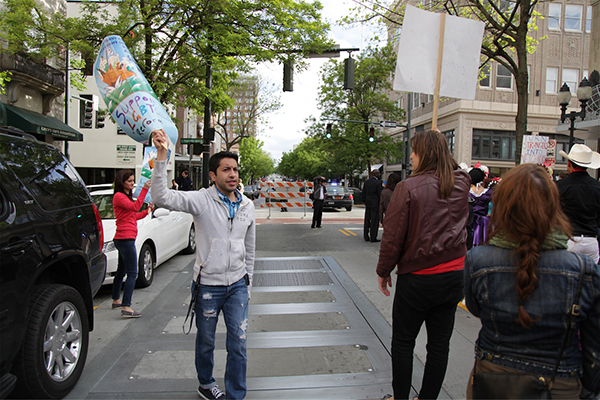 What types of production challenges did you face with this film? 
TR: Our biggest challenge was funding. Our small team of filmmakers all worked other full time jobs and lived in different states so the logistics of filming events, having meetings, and gathering resources was a constant challenge. Although we had a small but loyal following of supporters, we also found it difficult to secure financial support due to the fact that the film grappled with political and controversial subject matter.
Can you tell me about how this project fits with your company's brand and why it's such an important title in your production stable?
TR: The mission of Sisters Unite Productions is to support the work of female filmmakers and to tell stories that would otherwise not be told. We want to provide a platform to tell more marginalized stories in an effort to generate conversation and action around issues of race, class, and gender. By illuminating current social issues we aim to awaken emotional curiosity and empathy for other human beings.
This interview has been condensed and edited for clarity.