Last week, PBS's long-running doc strand 'Independent Lens' announced it had partnered with PBS Digital Studios to launch a free YouTube channel set to showcase independent filmmakers in the documentary field.
Scheduled to roll out tomorrow (Sept. 12), the subscription-based Indie Lens Storycast will kick off with four digital docuseries that will feature short stories from visionary filmmakers "entertainingly told with big impact."
The new digital channel will look to leverage PBS Digital Studios' already-established social presence, with more than 12-million subscribers, by using an episodic digital format to reach younger and more diverse audiences on YouTube.
The new strand, developed by ITVS, will begin with Killer Films' Iron Maidens, about the story of a trailblazing all-girls teenage competitive robotics team (Sept. 12), and The F Word from Nicole Opper and Kristan Cassady, which follows a lesbian couple's journey through the foster adoption system (Sept. 14), with new episodes airing every Tuesday and Thursday.
All episodes will range from eight-to-10- minutes in length, consisting of between six and 10 episodes each.
They will be followed by the premieres of Senain Kheshgi's Divas of Karachi (Oct. 24th), about sassy and smart housewives-turned-entrepreneurial philanthropists in Pakistan, and and Garland McLaurin's Pops (Oct. 26), a comedic portrait of three African American dads navigating the difficulties of fatherhood.
Realscreen caught up with Lois Vossen, executive producer of Independent Lens, and Karim Ahmad, senior producer of Storycast and senior digital strategist at ITVS, to chat about what sets Indie Lens Storycast apart from its competitors and how interested filmmakers can take part.
This interview has been edited and condensed for clarity and length.
Why did you decide to launch Indie Lens Storycast?
Karim Ahmad: We really wanted to create an open and accessible space on the Internet for independent filmmakers to really be able to work in the episodic format. It's obviously something that a lot of the filmmakers are really hitting their stride in, and seen as a space they can really tell some of the more complicated stories that are in the marketplace, but a lot of indie filmmakers didn't have a way in.
Indie Lens Storycast was very much designed to be an open platform from a funding standpoint to a distribution standpoint. It's not behind a pay wall. It's totally free, it's innately spreadable and embeddable all over the Internet, which, given where we are right now in our current political climate and the way the filmmakers want to speak to that, it is really important to enable those stories to travel far and wide as much as possible.
How does this strand differ from Independent Lens?
Lois Vossen: The content itself is meant to skew a little younger, but it's also digitally based, meaning that they are short so that digital audiences can take them and watch them wherever they are. They also share the DNA of Independent Lens in that it's very much about diversity, social issues and under-represented voices, but they all have an entertainment aspect to them so that they're a little bit more accessible – partially because of their length, and also because of the format.
The digital route is one that we've seen a lot of other networks taking, so what makes this stand apart from the crowded market?
LV: We spent a lot of time looking at what other digital content was out there and there's nobody else doing this. They're not really grounded in social issue and they're certainly not grounded in diversity as the core mandate. We really feel as though we're meeting a market gap and it just so happens that market gap is our DNA and our mission.
Why is now the right time to launch Indie Lens Storycast?
KA: We launched a digital open call to filmmakers two years ago designed to start feeding a pipeline like this. We kept it very open because we wanted to know what stories filmmakers wanted to tell. Ultimately we found that a lot of filmmakers are really trying to tell urgent stories in ways that travel well online.
There really is no better time to release an initiative like this, where we really are giving independent filmmakers the keys to disseminate their work quickly and broadly.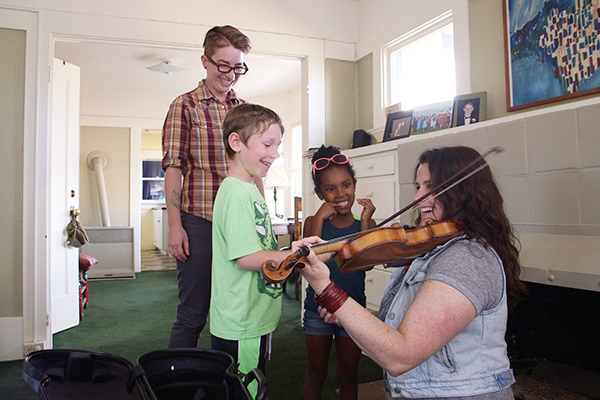 The F Word
What sort of projects are you looking to commission?
KA: We're pretty open. We definitely don't have any kind of guidelines in terms of specific content criteria or specific subject matter. As ITVS and Independent Lens always have, we're always looking to the filmmaking community to come to us and say that a story is significant and that it says something about the world around us. It sparks a conversation, it's something that is very character driven, very humanistic and also very artful.
Ultimately we are trying to reach a digital audience, so bringing these stories forward in a way that captures energy is something that's really important to us. We're trying to speak to issues that are in the zeitgeist and the issues that people really want to discuss. We want to do that in ways that are energetic and that can sustain a viewership for the longevity of the series, so that we get to appreciate the complexity of the stories that the filmmakers are telling.
Who should this strand be of interest to, from a filmmaking perspective? Is it young filmmakers that are encouraged to apply or the established doc makers?
LV: We welcome both. Some of the filmmakers we're working with are experienced filmmakers, like Christine Vachon's Killer Films. But we also have young filmmakers where this is their first or second project. So in terms of the filmmakers, it's wide open.
How can someone who is interested in pitching their project to you do so?
LV: Through ITVS's Digital Open Call – the next deadline will be in February and that's open to anybody. We would encourage them to go to the ITVS website to learn how to send something to us. We're also funding projects at all stages, and we're eager to talk to people at all stages of development. We're doing some R&D to help people formulate ideas, we're funding pilots, we're funding production, and right now we're looking at funding a second season of one of the projects.
KA: The great thing is you don't have to have shot a single frame of film in order to pitch us. It's a development initiative, and so the idea is you come in and we work with you over a period of a few months to rapidly prototype and pilot out the digital series. Then, if things look good, there's the opportunity for us to put in additional money for production.
How many projects are you looking to commission per year?
KA: Ideally we're trying to release roughly about a series per month, so between 10 to 12 projects a year. We've got these four that are launching right now, we've got three more series that are lined up to be our first wave of content in the early parts of 2018, and then we've got maybe about another nine or 10 in various stages of development.
LV: We're also interested in finding partners who are interested in working with us, both in and outside of public media. The first window will always be with public media, since that's who we are, but there are second windows and there are possibilities of doing multi-premieres with other digital partners.