As we have seen repeatedly over the last couple of years, the line between entertainment and politics can be a blurry one.
Take, for example, the dilemma that has recently faced South Korean content producers. In July of 2016, dialed-up bellicose rhetoric spurred on by Washington and Pyongyang prompted neighboring South Korea to host a U.S. anti-ballistic missile system that could safeguard against a potential North Korean military attack.
The U.S. contends the positioning of its Terminal High Altitude Area Defense system (THAAD) in South Korea's Seongju county is meant solely to protect American and South Korean forces from Kim Jong-un's escalating threats. The Chinese government, however, has perceived the increased U.S. militarization of the peninsula as a threat as well.
In what appeared to be a reprisal, China's broadcast regulator SARFT announced a ban in the summer of 2016 of nearly all forms of South Korean entertainment content from entering into the country.
"I personally know that over a dozen talent agencies, distribution companies and production companies shut down because their Chinese partners were unable to honor their contracts," says Miles Ki Young Choi, CEO of Seoul-based prodco Bethel Global Media Contents, one of the fastest-growing media companies in Korea.
South Korean talent agencies like S.M. Entertainment and YG Entertainment — some of the largest entertainment companies in the country — have endured the brunt of the economic damage spurred by the move. S.M.'s stock values have tumbled since July 2016, sinking 18%, or US$150 million, while YG has plummeted 32% in the same period, a loss in market value of $230 million.
Prior to the 2016 ban, China operated as the biggest export market for South Korean television programming and musical acts. But by blocking access to Korean Wave content — known as hallyu — and rescinding its investments in joint Chinese-Korean television projects, Beijing has effectively put the brakes on China's market for hallyu, which some estimates say weighs in at just under $1 billion.
In response, a growing number of Korean players have steadily sounded a clarion call for multinational partners, with international coproducers like Netflix, Hulu Plus, Amazon, Endemol Shine Group and ITV stepping up to the plate.
Amanda Groom, managing director of The Bridge, has been working with South Korean broadcasters and the Korean government for more than a decade. Since launching The Bridge nearly four years ago, Groom has assisted American and British companies in navigating the diversity and fragmentation within Asian markets, while also ensuring that collaborators share their expertise and benefit from what is essentially a cultural exchange.
The London-headquartered indie acts as an incubator and facilitator for coproduction and format creation opportunities across television and film between pan-Asian nations and the English-speaking production community. The company, with satellite offices in Seoul and Bangkok, looks to secure production funding from multiple sources, including governments, sponsorship and private investors.
The Korean government in particular views hallyu as a form of soft power and actively invests seed money into local agencies, with the Ministry of Science, ICT and Future Planning allocating more than US$4 million in grants annually. Meanwhile, the Korea Creative Content Agency (KOCCA) provides a smaller fund for the research and development of new formats for Korea and internationally.
"There are a number of different creative bodies that stem from several of the big cultural departments or ministries in government and they invest in programming," says Groom, the former MD of Channel Health for Sky Network. "Of course, they won't put money into an American or English producer's pocket, but they will invest that money in a Korean coproduction partner.
"Korea is positioned between the two big superpowers of Japan and China, so it has gone to great lengths to ensure that its culture isn't subsumed by them," she adds.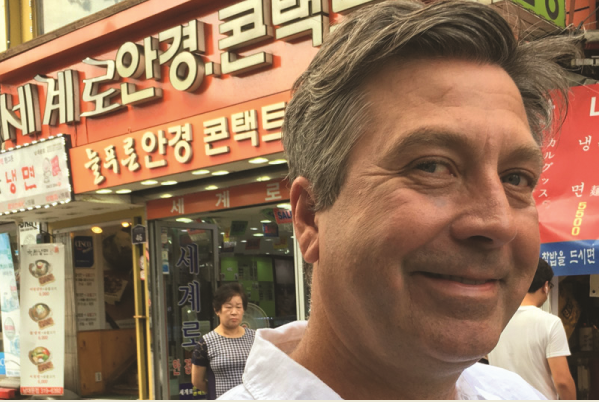 John Torode's Korean Food Tour
By some estimates, producing a factual entertainment format in the Korean peninsula can cost anywhere between US$100,000 to $300,000, depending on the celebrities attached to the project, while docuseries run in the range of $50,000 to $200,000 per episode. Prices in Mainland China for Korean Wave projects, however, have been known to start at $10,000 and peak well over the $1 million mark per episode, according to Choi.
The push into foreign copros has begun to pay dividends for Korean content makers, with American and British nets recently adapting unscripted Korean formats for primetime.
Leading the push into the U.S. market is South Korea's largest producer CJ E&M, who sold the remake rights — via global distributor Small World International Television Formats — to the travelogue Grandpas Over Flowers to NBC in late 2014. The U.S. adaptation premiered in August of 2016 as Better Late Than Never, starring William Shatner, to an audience of 7.35 million. It is currently in production for an eight-episode sophomore season.
CJ E&M also entered into a co-development deal with ITV Studios in April to create a new entertainment format for global exploitation. ITV Studios Global Entertainment will manage the distribution of that series across all regions outside of Asia.
"The main factor driving the popularity of Korean formats is creativity. The UK and U.S. markets are so saturated that it's very difficult to stand out, so Western broadcasters are increasingly open to the East because we have a lot of fresh programs that can cut through the clutter," notes Spencer Thomas, senior producer of global content development at CJ E&M.
"Koreans are interested in co-developing with the Western world and are learning how to be even more creative and to structure their programs in order for them to become more formattable in the rest of the world," adds Michel Rodrigue, CEO of The Format People, a worldwide TV format consultancy  helping to train Korean broadcasters and producers in the development and sale of their formats through masterclasses funded by KOCCA.
Further partnerships with Western-based companies are also helping Koreans break through. Bunim/Murray Productions and Korean mediaco Signal Entertainment Group penned a joint development deal this past March that will see the companies create new television projects and formats.
Korea is positioned between the two big superpowers of Japan and China, so it has gone to great lengths to ensure that its culture isn't subsumed by them
Meanwhile, in April, global producer-distributor Endemol Shine Group secured an international co-development deal with South Korean broadcaster JTBC to create, produce and distribute formats to the international marketplace. The agreement positions Endemol Shine Group to deliver a new pipeline of Korean originated content to the worldwide market while enabling the Seoul-based broadcaster to expand its creative and commercial footprint in Asia and beyond.
Also, YouTube Red has collaborated with YG Entertainment for reality series Run, BigBang Scout!, which traces a popular K-Pop group on a camping trip; while Bethel Global Media Contents initiated the Korean-British culinary series John Torode's Korean Food Tour for UKTV's Good Food Channel through government grants.
Korean content makers are beginning to entrench themselves onto U.S. soil even further with the summer roll out of SVOD service Kocowa. Launched by KCP Global — a joint venture between Korean broadcasters KBS, MBC and SBS — the platform showcases Korean programs, including K-pop series and variety shows, specifically for the American audience.
And though Western media juggernauts like Amazon Prime, Netflix, A+E Networks and Discovery Communications are actively seeking formats and coproduction partnerships with major Korean broadcasters, Bethel Global Media Contents' Choi believes "critical reception and ratings will determine how Western broadcasters will approach Korean formats."
"The world's focus, particularly the British focus, is on China and we are missing many low hanging fruit that is the whole of the rest of Asia," concludes The Bridge's Groom. "South Korea is just one example."
This story originally appeared in realscreen's September/October 2017 issue.