Here, realscreen presents the first installment from its annual report of the IDFA Forum's Central Pitches, which this year sees 14 project and three cross-media projects pitched over two days in Amsterdam.
A range of commissioning editors took a seat at the table in the Compagnietheater on Monday (Nov. 20) to kick off the three-day festival forum, as the International Documentary Festival in Amsterdam celebrates its 25th edition. The event has become one of the largest meeting places for doc filmmakers, producers, commissioning editors, funders, private financiers and other doc stakeholders in Europe.
The Forum sees producers, directors and their broadcaster backers present seven-minute pitches for their projects in hopes of nabbing copro financing.
Amal, the opening film of IDFA 2017, was one of the projects pitched at the forum in prior years. The doc, which was selected for the IDFA Competition for Feature-Length Documentary, is about a young girl in Egypt searching for identity in the post-Tahrir Square protests.
Also showing is director Violeta Ayala's portrait of a cocaine runner in Cocaine Prison, while Leonard Retel Heinrich's The Long Season, an intimate portrait of Syrians in a camp after fleeing from Raqqa, has been selected for the IDFA Competition for Feature-Length Documentary and the IDFA Competition for Dutch Documentary.
Also making a mark at the Forum are three cross-media projects that utilize different types of platforms to tell a story. Simon Wood and Meghna Singh are looking for support for their VR/installation project Container which is currently in development. Produced by Electric South and SaltPeter Productions CC, the multi-sensory project looks to spotlight the contemporary politics of migration and the millions of "invisible people" who sail the oceans in economic servitude.
In Pre-Crime Joost Verhoef and Michaela Pnacekova aim to immerse audiences in the world of predictive policing, where data and algorithms help predict crime, making everyone a suspect. The interactive game and website are currently in production (Kloos & Co OST).
And rounding out the cross-media projects was The Internet of Shit from director Brett Gaylor. The multi-platform project – incorporating a documentary, and Snapchat and online components – wants to examine who is behind the "Internet of things," supplying society with interconnected products. The project is currently in development and being produced by EyeSteelFilm.
As for the films pitched during the first day of the Central Pitch, there was a media blackout on Madame Tran's Last Battle from Alan Adelson and Kate Taverna.
The Self Portrait
Director: Katja Høgset, Espen Wallin, Margreth Olin
Production company: Speranza Film
Production budget: €368.421. Some funding secured from Extrastiftelsen; Norwegian Film Instituter; Viken Filmsenter; and Fritt Ord.
Still needed: €247.368
Status: Development
IDFA longline: Lene (30) suffers from severe anorexia. Since the age of 10 she has been hiding from the Norwegian Health Care System. Then she taught herself the art of photography.
The Self Portrait focuses on Lene Marie, a 30-year old artist who stopped eating when she was 10. Lene was force-fed by Norwegian health services until one day her heart stopped and she was clinically pronounced dead. She was revived, but doesn't trust the health services due to that incident. Given a camera at 15 by her parents, she has developed a knack for the craft. Her goal is to have an exhibition of her work as she starts being treated this winter by one of Norway's leading psychiatrists.
After presenting the trailer for The Self Portrait, Katja Høgset described Lene as both controlling, anxious and a sensitive artist. The director said her first solo exhibition will be held in Oslo in 2018, made entirely of self-portraits.
The film will premiere in spring 2020. Margreth Olin said they are looking for pre-buys, distribution and funding for the production.
Murray Battle, director of original content and brand, Knowledge Networks Canada, described the project as "brave" but asked if audiences would see the process of Lene connecting with her subjects.
While Hans Andreas Fay, head of acquisition, VGTV in Norway, said the pitch was "honest and painful to watch," he wasn't sure if the doc was more focused on Lene's daily life, or on the disease and the Norweigan health services.
Margje de Koning, head of documentaries for EO/IKONdocs/Jdocs, was also concerned about balance, asking if the focus would be on the family narrative or the photographer's illness. "It seems like there are two docs in one."
Meanwhile, Kai Henkel, head of TV department for documentaries and society, ARD/SWR in Germany, raised the question of the role of the camera being involved in Lene Marie's therapy.
Olin said Henkel's question was important. "We have a close dialogue with her therapist and we will follow up and be there as close as we can…. We will not do anything to harm her."
PBS' Marie Nelson, VP of news and independent film, at first wasn't sure if the film would work for a North American audience, but said she realized the director had tapped into something universal after seeing the trailer.
"What made it particularly poignant is the fact that there has always been this really close connection between emotional conflict and great art," said Nelson. "That, in some ways, makes this work for us. I also thought you did a beautiful job of balancing — not demonizing or glorifying."
Rounding off the discussion was Tabitha Jackson, director of the Sundance Institute Documentary Film Program, who said this project is striking but also challenging. With documentary filmmakers putting their work out into the world where they have no control over what happens to it and how people will respond, Jackson raised the question of what safeguards filmmakers put in place, especially in a situation like Lene's.
Confessions of a Military Dictatorship
Director: Karen Stokkendal Poulsen
Production company: Bullitt Film ApS
Production budget: €642.427. Some funding secured from Danida Fund/Danish Ministry of Foreign Affairs and the Danish Film Institute.
Still needed: €252.194
Status: Starting production
IDFA longline: The Rohingya people are subjected to ethnic cleansing, says the UN. The world blames Aung San Suu Kyi for not reacting. She is trapped in power together with the military.
Poulsen's latest project takes audiences into the complex relationship between Myanmar's Nobel Peace Prize winner Aung San Suu Kyi, who led the National League for Democracy to a majority win in the country's first openly contested election in 25 years, and her dynamics with the country's military.
"The story of the military and Aung San Suu Kyi are so entangled that one story could not be told without the other one," said Karen Stokkendal Poulsen.
The director expects to complete the film in the fall of 2018, as they start to shoot in Myanmar in a few weeks.
Alex Szalat, deputy manager, Arte France said the project was an important analysis of what is happening in Myanmar.
Gaspard Lamuniere, commissioning editor, RTS Switzerland said this is the type of film he looks for when he comes to IDFA. "I think you have such amazing access we really need to support you to get this film somewhere."
Arno Becker, commissioning editor, RTL Germany, said this subject was a relevant topic and saw much interest in the idea of a hero-to-villain narrative and the relationship between Suu Kyi, the military and the people. He was concerned about the idea of steered narration, when Poulsen decides to step into the story.
"I feel it's a way to balance a very complex story of powerful people who have their own agenda," she noted.
Fiona Lawson-Baker, executive producer of Al Jazeera English, said she was not sure how the documentary would fit with the broadcaster, but had bigger concerns about the doc having European narration over a story about Myanmar.
As many journalists in Asia have been trying to get access to Suu Kyi, NHK's Yoshihiko Ichiya, senior producer, global content development division, said he believes if Poulsen can get her take – or explanation – for her handling of the Rohyinga situation, the film could garner interest.
And BBC's Mandy Chang, commissioning editor and acquisitions head of the pubcaster's doc strand 'Storyville', said the story has the possibility to bring insight into Suu Kyi and the Myanmar military which she described as "patronizing and paternalistic."
The Mole Agent (pictured)
Director: Maite Alberdi
Production company: Micromundo Producciones
Production budget: €503.217. Some funding secured from CNTV; CNCA Fondo Audiovisual; Grant San Sebastian Film Festival; CORFO; Tribeca Film Institute; Cinereach; IDFA Bertha Fund.
Still needed: €261.717
Status: Starting production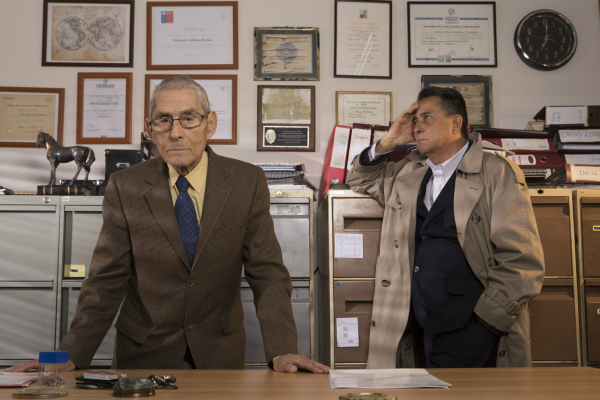 IDFA longline: Romulo, a private investigator, must study a retirement home where residents might be victims of abuse. To this end, he trains Sergio, an 86-year-old man, to become a Mole Agent.
Maite Alberdi's latest documentary follows Sergio, an elderly man who is hired to see if a woman's mother is being abused in a retirement home. Sergio must learn how to navigate tricky new technology like a phone and glasses with a hidden camera while he takes on his new identity. He moves into the retirement home to live for three months as he investigates the quality of care the mother is receiving and what it's like to live in that home.
The film is 60% shot and has raised 50% of the budget. Partners are needed to fill the financial gaps, and the production team is looking for sales agents, broadcasters, distributors and financiers who want to get onboard with the project.
Sundance's Jackson said, "Sundance is not walking but running to the project." She described Alberdi as bringing a mastery of tone and an unexpected take on issues of our time.
Erkko Lyytinen, producer for YLE in Finland, predicted the doc would be a festival hit as he said it's not a project generally seen. "This is a hot topic… There are multiple layers and it's a hot conversation in Scandinavia."
Jane Jankovich of Canada's TVO echoed that sentiment. "It's a very interesting and fresh way of looking at what is abuse, this passiveness with which we treat our elderly population. She said abuse is not always violent or sexual – it can also include isolation. "I think this has the opportunity to really capture that in a way that people are going to feel it," Jankovich noted.
Woodstock
Director: Barak Goodman
Production company: Ark Media
Production budget: €1,308,497. Some funding secured from 'American Experience'.
Still needed: €304,348
Status: In production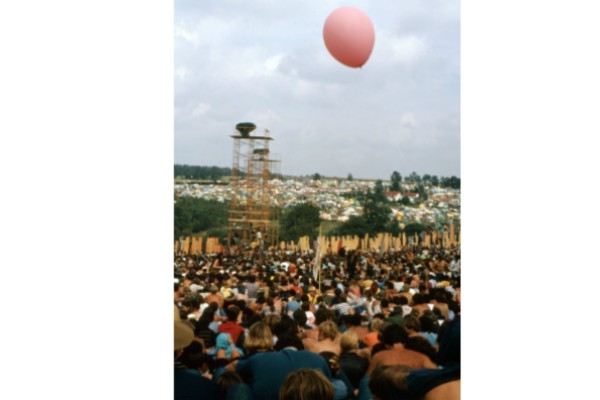 IDFA longline: Fifty years after half a million people gathered in upstate New York for a three-day concert that became the defining event of a generation and marked the end of one of the most turbulent decades in the nation's history, Woodstock examines what it all meant to them and to America itself.
From director Barak Goodman (My Lai, Scottsboro: An American Tragedy) comes a new take on the story of the Woodstock Festival held in 1969 in celebration of its 50th anniversary.
After watching the 1970 doc Woodstock Goodman realized, "Whatever made Woodstock was not happening on stage. The real secret to Woodstock lay in the audience, in that crowd."
According to the director, Woodstock encompasses two interwoven stories: one of how the show was originally planned for a crowd of 50,000 but 500,000 showed up, and how the founders tried to stave off disaster, both physical and financial. The second story is about the people who came from across America and Europe in search of a new way of living.
Everything that could go wrong did go wrong at the concert, said Goodman. There was a lack of food, water, sanitation, and security and the threat of electrocution during downpours. "The only way to make it through that weekend was to put in practice the ideals of the counterculture that had been talked about– peace and love – which they did and got through it… they were changed by the experience."
Arte France's Szalat said Woodstock is a "rare mix [of what] we are looking for of culture, a story of a generation and history."
ARD/SWR's Henkel wanted to know if it was all archive and the relationship between the music and behind-the-scenes stories.
"It is all archive. We wanted the immersive experience. We want to put you back there," said Goodman. He said the story never breaks to feature a full piece of music but understands its importance to the story of the festival. There will also be an original score to set the film apart from the original 1970 Woodstock documentary.
BBC 'Storyville' commissioning editor Chang ended the discussion by saying she liked the approach to the documentary and that "the BBC loves an anniversary, and a 50th is a good one."
Look for Part 2 of realscreen's IDFA Forum report, coming soon.