New York-based studio Blackfin is launching a series that will take a deep dive into the stories of murders in different cities.
Premiering on Discovery Communications-owned cable net Investigation Discovery tomorrow (Feb. 21), Homicide City will dedicate its entire first season to documenting some of the most perplexing homicide cases that have taken place in Philadelphia.
Each episode of the six-part series will center around a distinct area of greater Philadelphia and the murders that took place there. Featured stories in the first season include the murders of former Lockheed Corporation CEO Courtlandt S. Gross, his wife Alexandra Van Rensselaer Devereux Gross, and their housekeeper Catherine O'Hara VanderVeur; the death of John Thurberg months before his wedding; and the killing of an expectant mother, Natise Johnson. Their stories will be told through the eyes of veteran homicide detectives, local beat reporters and the victim's families.
Blackfin was launched in 2014 by former Zodiak Media exec producer Geno McDermott. The company has steadily grown since its launch, having inked an overall co-pro deal with former ID exec Christina Douglas and her production banner Momentum Content last January, and renewing it this past month.
The prodco also recently bolstered its development team with the appointment of Jordan Rosenblum as SVP of development and Matthew Rosenthal as director of development.
Blackfin's McDermott serves as executive producer for Homicide City. For ID, Diana Sperrazza is senior executive producer, Sara Kozak is SVP of production, Kevin Bennett is GM, and Henry S. Schleiff is Group President of Investigation Discovery, American Heroes Channel and Destination America.
Homicide City premieres Feb. 21 at 10 p.m. ET/PT on Investigation Discovery. Realscreen chatted with McDermott (pictured below) about the series.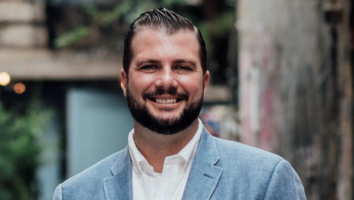 What was the genesis for Homicide City? 
My dad grew up in Packer Park, a few blocks from the Philadelphia Eagles old stadium "The Vet" and later relocated to Northeast Philly where he met my mom in high school. Philadelphia is the city I resonate with most and I have always been intrigued by cities and their suburbs as living organisms, especially when it comes to crime. I think the inner city always gets a bad rap, because white collar folks in the suburbs commit crime too and that's what Homicide City focuses on — murder transcending socioeconomic classes.
How does Homicide City fit in with Blackfin's portfolio?
In many ways I Am Homicide is the series that launched Blackfin and we push ourselves to remember that when developing new projects. Homicide City is an example of dedication to creating more content with our partners at ID.
True crime programming has seen a surge in popularity in recent years — how do you continue to innovate within this genre?
With parameters like budget, timeline and scope almost always the same, innovation is truly challenging. We have a core team here that works hard to ask the question "What else can we try?" when being faced with a new project. I am also big on branding series, even from inception during the sizzle and treatment phase. No matter the project, we always start with 'what is the look and feel here that makes this different?'
What is your favorite part of the series? 
My favorite part of the series are the intimate interviews we were able to capture with detectives and friends or family of victims. These are heartbreaking but important stories to tell, creating awareness of these tragedies and paying respect.
Why do you think there's an appetite for a show like Homicide City?
I think viewers crave real and that's the beauty of past tense storytelling. These cases have all been adjudicated and we're following a case file to recreate what happened.