Joe Livecchi is founder and CEO of the prodco Noble Savages, and a seasoned media professional with over 20 years of experience in content creation, programming and marketing. This is the first in a series of intimate interviews with what he calls "real life noble savages," or, in his words, "someone who operates with the highest level of integrity and is fierce in the pursuit of excellence." Through these monthly profiles, you'll learn more about these top executives through an unprecedented glimpse into their personal lives — as Livecchi says, "who they are and what made them that way."
The first profile from Livecchi features Elaine Frontain Bryant, executive vice president and head of programming at A&E Networks. For more profiles, keep an eye on realscreen.com and also check the Noble Savages site.
Pictured above: Frontain Bryant with daughters Bella (left) and Genevieve (right)
My friend Elaine is feeling particularly emotional today. She is still riding high from her oldest daughter Bella's acceptance into a New York City private school. She beams when talking about it. Maybe it's because Elaine was never sure children were in the cards for her. It could be Bella's excitement at the incredible educational playground awaiting her. Or maybe it's just because Elaine allows herself to feel her emotions deeply, knowing they paint a complex and vivid tapestry of a life worth living.
It's a life that began in Spring, Texas where she and her five older siblings lived a stone's throw away from school. This helped create a universe that was small and comfortable. Elaine never had a babysitter; there was always a family member to look out for her. It was her sister Patricia, closest to her in age, who particularly made her feel safe and loved. Patricia gave Elaine a preview of all of life's great unknowns – boys, high school and how to sneak around your parents without getting caught!
Her mother Pat cherished family and life itself. Elaine's school lunchbox often included love notes and special treats. Pat made sure holidays were celebrations of the tallest order, bringing great joy, tradition and modeling that Elaine carries on to this day with her own children.
High school was a place of discovery and adventure. Elaine could easily transition from the popular kids on the dance team to the independent creative spirits in speech and theatre class. It's no wonder that she was voted "Most Versatile" of the senior class. It's also a skill that has helped her deftly lead and define the A&E brand for over a decade while delivering its last five big hits. Not too shabby for a small-town girl.
A&E has gained an industry-wide reputation as a channel that takes the big risks, makes the shows that seem undoable and strives to break new ground with every program it greenlights. Elaine told me flatly that she doesn't believe ratings and good quality television are mutually exclusive. In fact, for the most part she refuses to chase "projects that will rate." She prefers to start with the idea — "the why of it all" — and trust that innovation and great execution will work.
However, Elaine wasn't always a risk taker. In fact, for a while, she was just the opposite. After college, she took a "go nowhere" job in Dallas for the familiar feel of her home state and the comfort of her parents nearby. A year earlier she had experienced the pace of LA culture and it left her intimidated. So immediately after graduating she decided to stick closer to home.
Luckily her dad Ray had other ideas. He sat her down and helped her hatch a plan for her future, while reassuring her he would be there whenever she needed him for the rest of her life. So, Ray and Elaine took the long drive out to Los Angeles, with sweet country music filling the car while Elaine tried to hide her trepidation of the unknown.
A mailroom job on the CBS lot paid her $305 a week. Her start was pure Hudsucker Proxy. It was glorious. Well, not really. It didn't matter. She could touch the glow of primetime television as all the great Carsey-Werner shows and classics like thirtysomething filmed just beyond her doorstep. Elaine had traded the protective bubble of Texas for a concrete wonderland of make believe and endless possibilities. She was instantly hooked.
LA brought her closer to her first and second love — not necessarily in that order. When a cute guy named Chris moved in down the street, she greeted him with her familiar twang, broad smile and a 'Don't Mess with Texas' t-shirt. Chris was also a native Texan and the two shared a passion for all the great experiences life had to offer, both the familiar and foreign. Elaine thought she went to LA for her career but it's quite possible that she really went there to meet her husband.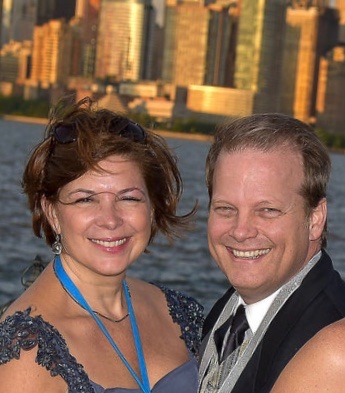 It was Chris's job that took them to New York but it was fate that landed her a job with the producer Fred Berner, her lifetime mentor. Elaine was surrounded by top filmmakers who created award-winning and daring projects with heart and meaning. One can't help but wonder if the magic of entertaining television she experienced in LA and the power of groundbreaking content she worked on in New York were precursors to the brand she would help build at A&E.
It's a brand where the stakes couldn't be higher. It's not easy to get a show on A&E and that's partially by design. After all these years of growing the network, Elaine knows the best ideas are often the ones that scare her. She's after the bets that cause chaos, dominate pop culture, shape social conversation and disrupt viewing habits. A glimpse into what's next includes a new umbrella series called 'A&E Investigates'. The topics are taboo, uncomfortable and a part of America often ignored by mainstream media. Elaine knows her process can't be 'business as usual' because there's nothing usual about the television business right now.
This has all been part of her New York chapter which brought monumental highs with the birth of her two children. It also brought earth-shaking lows when Elaine lost both of her parents and her nephew within the span of nine months. She jokes that she can say anything she wants about her parents because they won't be reading this. It's a thin veil of deflection that instead underscores how much her mother and father shaped her life.
It was her parents who taught her the importance of expressing gratitude and being brave enough to ask for help when you need it — two simple qualities that seem so intuitive, yet remain so elusive for so many. Elaine is grateful to have had closure with her mom and dad — to thank them for making her the woman she is today. To have let them know the indelible mark they made on her and all her brothers and sisters. To have looked at her dad Ray before he passed and tell him, 'You done good, dad. You done good.'
It's no wonder Elaine is often drawn to people who can turn intense tragedy and grief into something positive. In her words, "Those who can turn coal into a diamond can transform the ugliness of life into something beautiful." It's that optimism that fuels her. If tomorrow greats Elaine with adversity she will allow herself to feel it wholly, to always run head first and explore how it can evolve into something transformative, provocative and life changing.
Of course, Elaine can't take all the credit for that strength. She shares it with her mom and dad who have kept their promise of always being there for her, in life and death, in her spirit and her soul, and in everything she experiences —no matter what chapter of life she is ready to start or proud to finish.