Joe Livecchi is founder and CEO of the prodco Noble Savages, and a seasoned media professional with over 20 years of experience in content creation, programming and marketing. This is the latest in a series of intimate interviews with what he calls "real life noble savages," or, in his words, "someone who operates with the highest level of integrity and is fierce in the pursuit of excellence." Through these monthly profiles, you'll learn more about these top executives through an unprecedented glimpse into their personal lives — as Livecchi says, "who they are and what made them that way."
Eli Lehrer is the EVP Programming for History Channel. He oversees the development, creation and execution of scripted and unscripted programming for History.
For more profiles, keep an eye on realscreen.com and also check the Noble Savages site.
Eli Lehrer's story reads like a master class in life hacking. He looks at new opportunities as an experienced sculptor might handle a fresh slab of clay, relishing the molding experience without fretting about the end product. He says he truly loves his job and after two hours of looking for tells to the contrary I'm apt to believe him.
He wasn't born into privilege and he didn't know what he wanted to do during his formative years. He knew one thing. He had to be the bricklayer for the road he was going to walk in life.
His father worked in the non-profit arena and his entrepreneurial mom bootstrapped a successful software company from nothing. Neither of these paths felt like a fit for him, but their example provided a priceless foundation. There was a premium put on education in the Lehrer household, one that Eli and his three younger siblings embraced.
His desire to experience New York led him to a pre-college program at Barnard College. He found out when he got there that it was an all-girls school. So Eli and 10 other boys spent the summer with 100 girls and lived out what could have been the premise of an '80s teen movie.
In a pre-Giuliani era, the Big Apple was a vibrant playground where danger and excitement lived side by side, with one often leading to the other. When Eli was accepted at Columbia a year later, he questioned whether he was ready for New York and the 3,000 mile distance that would separate him from his family. He was blessed with an extended family where cousins, aunts and uncles mixed regularly as a tribe that took care of each other.
His father looked at him with aplomb. "You're just going away to college," Eli recalls his father saying. "If you were living in Israel you'd be fighting in the Army after high school." Soon after, Eli packed his bags and set out on what would become the most influential period of his life.
After enrolling in Columbia, Eli fell in love with the city, his future wife and some of the greatest historical writers of all time. Still, he hadn't found his true north and his degree in History seemed like a placeholder at best.
He cold called a writer and created a position for himself working on a Springsteen autobiography. It was yeoman's work, but he was in the shadow of one of his childhood idols. What could be cooler?
Lehrer briefly thought about a life in news and politics but instead took a series of assistant positions for George Stephanopolus and then Mike Ovitz. By standing on the shoulders of giants he began to get a clearer sense of what he did and didn't want to do with his career.
Eli was fascinated at the time with shows such as The Real World, Cops and Taxicab Confessions. He wanted in and landed a development job at VH1. It was a time when the network was searching for its identity, just like Eli. Lehrer likens it to a sort of graduate school of content creation, where once again a sense of danger and excitement filled his days.
Years later, on the night of his wedding rehearsal dinner in 2005, he was offered a job at Bravo to help shape a network going through a re-birth. He said "I do" to his wife and to the job and became part of a team that would sculpt one of the most iconic brands in recent pop culture. A big part of his job was vetting talent, identifying story engines, weeding out imposters and placing bets on the unknown personalities he could turn into household names.
He did it mostly by observing and listening. "After spending an hour with potential network talent I had to decide if I wanted to spend the next six months, possibly the next six years with them," he says. A self-described introvert, Lehrer has a natural curiosity about people — a quality that often took the sting out of these early meetings. Lehrer was making real connections on a human level that would inform the business decisions he would make later.
An opportunity at Lifetime provided a fresh set of challenges, more hit shows to oversee and an eventual desire to do something completely different. After more than a decade developing female programming, he took a swing at creating content for young males at MTV2. It was a chance to create comedy and return to the company that had launched his career.
However, the halls of Viacom now operated under different rules. Soon after Eli arrived, funding stopped flowing to MTV2 and he found himself running development at MTV. He restlessly dealt with his own internal struggles to find a way back to the true passions that he experienced so long ago at Columbia.
He decided to move on with faith that a better fit was out there. Three and a half months away from television gave Eli the break most of us yearn for but few of us get. When the opportunity to run A+E's History Channel presented itself, he saw it as an intellectual homecoming of sorts. Eli recalls, "I'm sure my wife would have liked to keep me as a 'manny' for a few more months, but this really felt like my dream job." It also gave him a chance to once again be surrounded by his extended family in LA, one large enough to field several softball teams. Only this time he was watching his kids play with their cousins. History was repeating itself.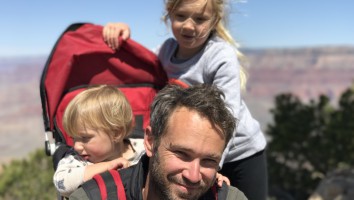 It's only been a year, but Eli has helped set a new mold for an established brand. He's drawn to stories of people living at the extremes, mining the full scope of human history, past and present.
"Whether I'm reading about Teddy Roosevelt almost dying in the Amazon, or about 20th century Russians in the gulags, or the polar explorer Ernest Shackleton, I'm psychologically drawn to people dealing with issues so far beyond what I've ever dealt with," he says. "It makes me more grateful for my life."
He's quick to credit his team for their more recent successes and talk enthusiastically about the wide range of projects to come. Proven repeatable formats such as Forged in Fire and Truck Night in America will live alongside premium docs like Grant and the highly anticipated Robert Zemeckis scripted series Project Blue Book.
So, if you find yourself on the opposite end of a conversation with Eli, know he's really interested in who you are and what you have to say. He's a natural curator of interesting people and events, a Great Gatsby-esque character who is forever quietly evolving the world around him.