The death of Rob Stewart in early 2017 came as a shock to the documentary film and environmental conservation worlds alike.
The 37-year old Stewart (pictured) was filming Sharkwater: Extinction, the follow-up to his 2006 exposé of the shark finning industry Sharkwater, in Florida when he died in a diving accident.
Stewart's death garnered a great deal of media attention, often centered on Stewart's level of experience and his use of Rebreather technology — a breathing apparatus that recycles the carbon dioxide exhaled by a diver, extracting reusable oxygen and reducing the creation of underwater bubbles that can scare away marine life.
The coverage stood out for one journalist, teacher and documentary filmmaker, Robert Osborne, who knew enough about Stewart and about diving to question some of what he was reading.
After investigating, Osborne produced and directed the documentary The Third Dive, outlining his findings, and leaving many questions unanswered about an investigation shrouded in mystery.
There was also an obvious human side to the story that has perhaps made it resonate with audiences flocking to see the new Sharkwater film, which premiered at TIFF last month.
"At the end of the day, as intriguing an investigation as this was, it was still about the fact that the Stewart family had lost a son and a brother," Osborne says, in an interview with realscreen.
The Third Dive airs on CBC as part of the 'Docs POV' strand on Oct. 26 at 9 p.m. ET/PT. It will be available to stream as of 12 p.m. ET on the same day.
Realscreen spoke with Osborne about the project ahead of the film's television debut on Friday.
This interview has been edited for length and clarity.
What made you want to look into Rob Stewart's death in the first place?
I've been a journalist for 35 years, much of that working as an investigative journalist for shows like W5 and Marketplace and Pacific Report, and so I had that background. I switched over to being a filmmaker about six years ago, but those skills I still keep current. I've also been a diver for 40 years, and in the past 10 years I've pushed those skills further by becoming what's known as a technical diver. A technical diver is just a name that means that I do diving that involves decompression or overhead environments. I dive in caves, I dive to deep wrecks where I have to do a lot of decompression on the way back to the surface.
Having those two skills, when the Stewart case hit the headlines, I started reading some of the reports on it, and some of them didn't make sense to me, and so, as a result of that, my first instinct is always to say, well, I'll just make a couple of calls, or I'll just do a little bit of surfing online.
So something seemed off to you right away?
What seemed off to me was the narrative, and I blame this on a lot of sensational online media sites, who will remain nameless. They were talking about this narrative which had Rob as this neophyte diver, who was blindly led to do these extremely dangerous dives — and they are high-risk dives — and that didn't make sense to me, because what I knew about Rob Stewart was that the man had an impressive resume when it came to diving. He's probably a more experienced and better diver than I am. He had thousands of dives. He was a diving instructor. He'd used Rebreathers; you can see it in the film Sharkwater.
This guy really knows what he's doing as a diver, and so that didn't add up to me. Nobody who's that experienced a diver blithely follows anybody to do anything. Because Rob was also, by all accounts, a really smart man. He's bright, he's assertive, he knows his own mind. I don't see that kind of a person blindly walking into a dive that he doesn't know everything about.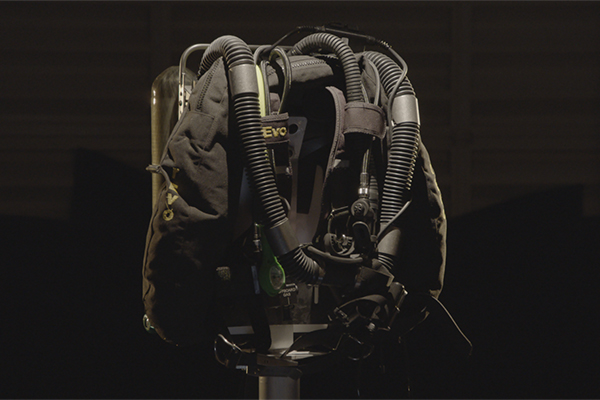 What did you expect to uncover?
I didn't know. But I know enough as a journalist that when a few things don't add up, you've got to keep working at it until everything does kind of work. I wasn't sure where it would end, I just wanted to get the answer to a couple of very simple questions. So the more I went into it, the more it dragged me down the rabbit hole, and I found it was more and more of a convoluted story, as I went further into it. Then I began to find, talking to people like the medical examiner… one of the first things he's saying is he's talking about some kind of an attempt to manipulate the evidence in the case, and that he's getting a lot of blowback from people in the Keys, who don't want this to be really thoroughly investigated. Well, that sends up another warning flag for me.
Because I am part of the diving community, and I know a lot of people in the technical diving community, it didn't take too much for me to make a connection with Peter Sotis, the guy who everybody was, at that point, accusing of being the man who killed Rob Stewart. I knew people who knew him in the cave diving community. Some good things came from that. I leave it to the audience to decide what they think of his narrative. It's not my job to pass judgement on the man. It's my job to get clarity by presenting as much information as I can and as many sides of the narrative as I can.
Can you tell me about how you financed the film?
The film is financed by a license fee from the CBC. The CBC commissioned the piece, and then that triggers a bunch of different funding streams for producers, and of course independent producers in Canada also kick in their own tax credits and an investment of our own, just to show good will in the piece. You cobble it together from a number of different sources.
Is there any particular moment or scene that you're especially excited sharing with audiences? 
We found some pretty amazing, exclusive footage that kind of is definitive, in a way, in terms of answering some questions about what happened on board the boat the day they lost Rob Stewart. We did a lot of deep investigative work. God bless the United States. Their laws are pretty transparent. You can apply to the federal government in the United States, and they are really good about turning material over, and we exploited that a lot.
Can you give me an example of documents you were able to find that way?
For example, one of the critical documents — you would never get this in Canada — was the investigation into Rob Stewart's death. Now in Canada… I would bet you serious money that no federal police force would ever turn over any document like that. We got it. And again, it was absolutely critical in being able to contrast what the police report said when they spoke to various people and what those people were saying publicly in the media, which was a very different story.