In an industry that seems to be changing on a daily basis, it's hard to keep track of those changes, and the creative and strategic minds behind them. But we managed to catch up with several such individuals and companies for this year's edition of our annual series. Through their work, these trailblazers have either anticipated change and harnessed it for their benefit, or have served as key instigators of those moves. As a new year begins with more evolution and innovation doubtlessly on tap, Realscreen salutes those who propelled 2018 to fascinating heights. This edition of our Trailblazers list continues with Imagine Entertainment.
Non-fiction storytelling is nothing new at Ron Howard and Brian Grazer's Imagine Entertainment. In 2005, Grazer produced Inside Deep Throat, and in 2013, Howard directed Jay-Z: Made in America. The New York-based prodco has worked on various other documentaries and non-fiction series through the years, with subject matter ranging from The Beatles (The Beatles: Eight Days a Week) to science and exploration (Nat Geo's Breakthrough).
But in 2018, the company committed to a designated documentary division with outgoing RadicalMedia executive and frequent collaborator Justin Wilkes (pictured, above) at the helm. Among the projects that Wilkes had worked on with Imagine while with Radical Media: Nat Geo's docu-scripted hybrid Mars and the aforementioned Jay-Z doc.
Further signalling Imagine's intent to create a formidable force in the doc world, soon after Wilkes' hire, HBO executive and Emmy- and Peabody-winning producer Sara Bernstein signed on as executive vice president of documentaries.
Imagine Documentaries is currently in production on its first feature-length documentary film and docuseries, with more announcements to come in 2019.
Concurrently, Imagine launched Imagine Impact, a trailblazing content accelerator and talent incubator that uses strategies from Silicon Valley and the world of tech start-ups to foster new talent on the scripted side, offering an eight-week creative boot camp and mentorship for new creative voices.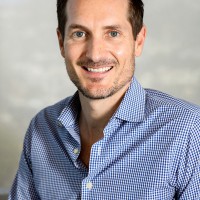 "The goal for us is to find original, talented, diverse voices from all over the world, who want to tell universal stories," says Tyler Mitchell, who heads up Imagine Impact. "We want to democratize access to Hollywood, which is traditionally a closed system. We basically came up with ways that we could leverage technology in the talent discovery process, and then partner with world-class mentors."
In short, Imagine Impact seeks to inject new life into the industry and increase the talent pool to create better content from more diverse voices. "If they succeed, then everybody does, because better material means better shows for the audience, and better projects for networks," says Mitchell. "We're really just trying to create a win-win for everybody."
While Imagine Impact doesn't yet include documentaries, Wilkes and Mitchell maintain that non-fiction will be part of the next phase of expanding Impact to cover more genres and formats. That might mean creating a separate accelerator for doc projects specifically in the near future.
Realscreen spoke with Wilkes about Imagine's focus on the documentary space and what the company has in store going forward.
Why develop a designated doc stream at Imagine?
Over the past 30-plus years of Imagine's existence, there's always been this draw to real stories. And if you think back to some of the best films that Ron and Brian have been a part of, whether it's Apollo 13 or A Beautiful Mind, and even television programs like Friday Night Lights, so much of their work was based on real people.
We've been positioning ourselves, essentially, as a studio, and having the ability to get involved in different aspects of the business that we had before.
What kinds of stories does Imagine Documentaries want to tell?
The filter for us is: are these stories aspirational? Can these stories be told in the most premium way possible, and can we do what Imagine has always done, which is tell these remarkable stories that are commercial and seek to inspire a larger audience?
We want to be very filmmaker friendly and filmmaker focused. It's been really fun getting to sit with people who we've known for years and ask them, what are the stories you want to tell? What are the stories that you haven't been able to tell? What are things that are of interest to you right now? How can we get involved? How can we help to incubate this project?
The way you describe it sounds very grassroots. Has there been much dialog with Imagine Impact?
Huge fan of it. We've been already talking about how we can extend that into our world a bit. It not only gives a mechanism for undiscovered talent to get in front of buyers and help to nurture their projects, but it also gives an opportunity for reputable talent to come in with a project and get seen in a different kind of a way. It truly is an incubator for ideas and for projects, and so to be able to take that same model and apply it to the non-fiction world in the coming year is definitely something we're talking about and we're interested in.
See the rest of our Trailblazers, as featured in the January/February 2019 edition of Realscreen, here.