Ahead of the premiere of Facebook Watch's latest docuseries 9 Months with Courteney Cox on Tuesday (Jan. 22), realscreen presents an exclusive clip of the 20-part series.
Actor and producer Courteney Cox narrates and provides commentary in the "social experiment" series, which features people from all walks of life across America as they self-document their nine-month journeys through pregnancy. Stories featured in the series include gay best friends having a baby, a pregnant woman diagnosed with cancer, pregnant teens considering giving up their children for adoption, and a 50-year old woman undergoing in vitro fertilization (IVF) treatments.
Ari Mark, co-founder of AMPLE Entertainment and the executive producer behind 9 Months, says his Culver City, California-based studio is always looking to tell familiar stories in a unique way.
"When we saw the never-ending stream of self-shot pregnancy footage on YouTube, we knew we had tapped into something special," he tells realscreen. 
Cox came aboard the project with her company Hopper Productions after seeing AMPLE's work and "genuinely flipping for it," says Mark. The producer says he could not have imagined a better partner on the project than Cox– and it's not because of her famous face.
"It's because of her commitment, her tenacity, and her real appreciation for good storytelling," Mark explains, who also acknowledges that Cox's salesmanship helped land 9 Months on Facebook's Watch platform.
While producing 9 Months, Courteney Cox tells realscreen that she came to understand that the human experience can be just as exciting as any stories that are written. She hopes viewers can gain a better understanding of "the trials and tribulations of life before birth from a different perspective than their own."
The series is produced by AMPLE Entertainment, in partnership with Cox's Hopper Productions. Executive producers on the digital series include Cox, Mark, Phil Lott, John Henshaw, Alex Weresow and Brielle Lebsack-Cohen.
9 Months with Courteney Cox premieres today (Jan. 22) at 9 p.m. ET/PT on Facebook Watch, and airs twice a week with episodes on Tuesdays and Wednesdays. To follow the series, click here.
Realscreen caught up with AMPLE's Mark (pictured, below) ahead of the launch to chat about assembling the 9 Months cast and the production challenges behind building the series for Facebook's Watch.
This interview has been edited for clarity and length.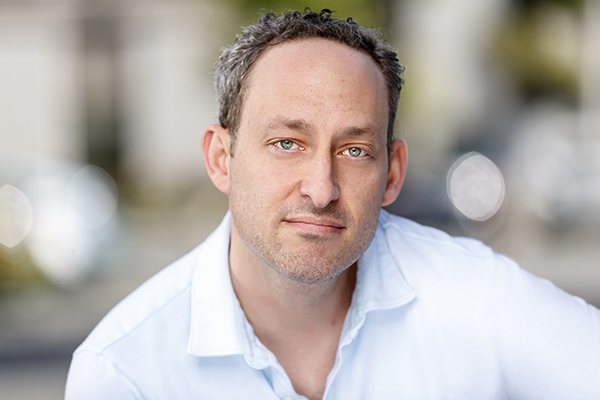 How did you go about casting the 15 couples?
We brought on this amazing casting team, led by Allison Kaz, and we went all out. Doctors offices, IVF clinics, a casting call video made by Courteney, wherever there was a possible pregnant person, we were there. Casting is everything in a show like this so we cast a very, very wide net and then whittled it down to the best variety of stories.
Why was a diverse cast important for this series?
It was absolutely vital for this series. We wanted to show very different pregnancies side by side. By keeping the cast extremely diverse and juxtaposing their stories, you start to realize that no matter who you are or where you come from, the nine-month process will run its course. You aren't in control. I think this series shines a light on our sameness as humans, but celebrates what makes us special.
Where there any challenges during the production of 9 Months?
As producers, we're used to trying to control everything. On this one, you simply can't because the participants are self-documenting their day-to-day. So, you've got to lean into that rawness and still craft something that makes sense. Tough but gratifying.
How did you collect all the home footage and decide on what to cut and what to keep?
A huge task and one that the AMPLE post-production department may never forgive me for. Also our amazing EPs, John Henshaw and Brielle Lebsack-Cohen constantly kept tabs on what our participants shot and, because of their genius story brains, knew what to look for.
How long did 9 Months take to produce?
More than 9 months! Still going…literally waiting for the last baby to be born.
AMPLE's portfolio of content seems to be situated mostly in adventure and true crime. Why did you decide to take on a project like 9 Months whose subject matter is outside of what you're known for creating?
We really don't want to be known for producing one kind of content. We've got to keep evolving.