Amidst the parties and rosé-fueled meetings on the Carlton and Majestic patios, this year's edition of MIPTV will be bittersweet for many in the television content business, as it will be marked by the absence of one of the market's most colorful and respected frequent attendees, veteran distribution executive and producer Russell Kagan.
Kagan passed away from cancer at the age of 65 on March 27, sparking a wave of remembrances from those who had worked with him over the course of his 40 years in the business. Beginning his career with Alfred Haber Distribution and then forming his own company, International Program Consultants (IPC), successes included bringing Beyond International's Beyond 2000 to Discovery Channel as one of its first international coproductions, and Beyond Tomorrow to Fox; producing the Peabody-winning Great Wall of Iron which aired on Discovery; packaging the live, syndicated event program Andrea Doria: The Final Chapter, which documented the search for the contents within the wreckage of the sunken ship; and, never lacking for ambition, bringing The Bible to Turner Network Television in the form of 12 miniseries based on stories culled from the Old Testament.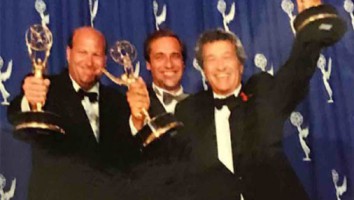 His son Michael, a partner and head of international television and media at ICM Partners, told Realscreen that his father's experience nurtured his own ambitions to enter the entertainment industry. "He really trained me for what I would do in life, and I've thought about that a lot recently," he said.
Russell Kagan is survived by son Michael; his brother Richard and his family; his longtime partner Janice Kaye and niece Haley Kaye. He is also remembered by a wide range of colleagues from around the world, with a few of them taking the time to share their memories with Realscreen and its readers. Special thanks to Peter Hamilton of documentarybusiness.com for his help in coordinating the tributes you'll see below, and to Michael Kagan for sharing photos from the family archive.
W. Clark Bunting
Co-founder, CEO, Digital Circus Media
Former president and general manager, Discovery Channel
In the early days of Discovery, we were new to international markets and coproductions – in fact, in the late '80s the company had just formally established a coproduction group. Russ took us under his wing and introduced us to everyone at the Monte Carlo and MIP markets. One of our first coproductions was with Beyond International and the BBC – a remarkable miniseries on the Chinese military called The Great Wall Of Iron. It was beautifully shot, great storytelling and the first inside look at the People's Liberation Army. Russ called me at home on a Saturday to break the news the mini had won a Peabody Award and he could not have been more excited for us. I was so naive at the time that I said, "That's amazing Russ, but what's a Peabody?"
He also helped broker one of the biggest programming deals at the time for a Beyond-produced science/technology series – Beyond 2000. He was truly ahead of his time on international coproductions and had remarkable vision to see what programming trends were coming. His early introduction to Beyond laid the groundwork for one of Discovery's most successful genres – and eventually became MythBusters. He was also enormously generous with his advice and insights. I earned a graduate degree in programming sitting with Russ at the Carlton Bar!
The early programming success of Discovery was in no small measure a result of Russ and his desire to help us succeed. He was one of one and there will not be another.
Dan Salerno
VP, programming and scheduling, Nat Geo Wild
Former VP of programming, Discovery Channel
I was first introduced to Russ in the very early days of Discovery, maybe '87 or '88. To say his influence has been profound and lasting is an understatement.
Memories are many. In 1989, Russ introduced us to Beyond, leading to the biggest deal we ever did up to that point (requiring John Malone's signature, in fact) for multiple seasons of Beyond 2000. It put us on the map. Russ had a soft spot for our young group at Discovery and the brand we were launching. Truth is, he was as much an influence on building Discovery as anyone actually on the payroll.
One of our best meetings was at a NATPE on the floor of the Bellagio at Midnight, talking business and dreaming of what's next. Always dreaming of what's next. Now, we're the experienced veterans, teaching others, making deals, and helping to build some dreams. Not always as good as Russ, but we try.
Peter Hamilton
Founder, documentarybusiness.com
Peter Hamilton Consultants Inc.
Russ was the first to see industry shifts and new players, and then he had the warmth and fairness to close new kinds of deals before most of us figured that there was an opportunity. And after coming into his circle, he always generously shared his analysis and contacts.
Russ Kagan was everywhere. You never knew when he would turn up. When our son enrolled at Manhattan's Xavier High School, his Jesuit teacher Fr Garvey presented the boys' Year 9 Religious Studies curriculum. The centerpiece? Weekly viewing and discussion of Russell's The Bible miniseries, produced for TNT.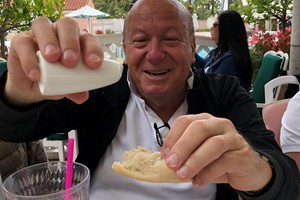 Russ always had solutions to problems that no one else could even imagine. In April 2010 during MIPTV, a sudden volcanic eruption in Iceland blasted ash into the atmosphere, shutting down all transatlantic flights, and leaving the American TV world stranded on the Riviera. Russ called me at breakfast, saying, "Go rent a car right now. Drive straight to Toulouse Airport. My best friend in French Air Traffic Control says that they created an exception: Airbus will deliver a plane to Dulles, leaving at 10 p.m. We can talk our way on."
I stayed put, but it worked out just as planned for Russell.