Mibe Music will debut its feature-length documentary Illustrated Man on U.S. cable network Reelz this week, marking the entertainment and music company's first foray into film.
The documentary, which premieres Sept. 28 at 9 p.m. ET/PT, is directed by acclaimed photographer and filmmaker Sophy Holland. Mibe co-founders Mike Amoia and Peter Zepina are executive producers.
"We're especially excited about Illustrated Man because Sophy's documentary really sets the tone for everything we're about as a brand," Amoia tells Realscreen. "Tattoos and music go hand in hand."
Illustrated Man seeks to re-imagine the body art from stereotypical associations and "explore intimate illustrations of 'self' through ink," according to Mibe.
Celebrity and fashion icons such as the late "Zombie Boy" Rico Genest (pictured) are featured.
"The film chronicles the inexorable rise of the 'tattooed male' pin up, as fashion and tattoo culture converge for the first time in a mainstream increasingly fueled by Generation Y," Holland says.
Reelz acquired the U.S. rights to the film in July 2019. It has also been picked up in Latin America by Fox and in New Zealand by Sky. Matt Posey of PS260 is editor and Nick Wang and the Propagate Team are handling international sales for the film.
Realscreen caught up with Amoia (pictured below, left), Zepina (center) and Holland (right) to talk about the documentary ahead of its premiere.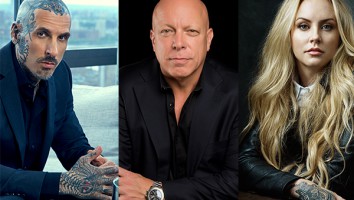 This interview has been edited for clarity and length.
What is the genesis of Illustrated Man?
Sophy Holland: Illustrated Man started as a large scale photographic series featuring male tattooed celebrity and fashion icons across America.
The photo series turned into a documentary as the subjects of the series started to tell their stories and I knew that I had to document it somehow, as a social commentary on the evolution of the tattooed man.
Could you elaborate on some of the key themes explored in the documentary, such as the re-imagination of tattoos from stereotypes, illustrations of "self" through ink and the rise of tattoo fashion and culture?
SH: I think that not enough people know how tattoos made it to western culture and it's important to narrate that history and honor its heritage. Similarly, it's also important to shine a light on the stories behind the tattoos people choose — commemorative or otherwise. Often there is a deep meaning to the artwork that we wear on our bodies, and it starts a conversation about who that person is, versus the obvious stigma and judgement that often comes from the general public towards a heavily tattooed man or woman.
Mike Amoia: This documentary explores the pioneers and details how far the culture has come. Since my early twenties tattooing has been a big part of my life. Before any tattoo reality shows, an artist couldn't just open up a shop. There were rules of the streets that tattooers needed to follow and if you didn't bad things could happen. This documentary makes me miss those days.
Who do you see as the target audience for this documentary?
Pete Zepina: We see the target audience as multifaceted — those who are curious about understanding the psychology and emotions behind this extremely popular self-expressive art form. Our audience are individuals who have an appreciation for different forms of art and the artists who make it. Our audience is also everyone who is part of, or even just fans of the global tattoo culture.
MA: Nowadays tattooing is popular of all ages and genders. I think many will appreciate this homage to the art form. It's going to be interesting to see how this film performs.
How does Illustrated Man, as Mibe Music's first documentary, set the stage for future productions and fit into Mibe Music's brand?
MA: Illustrated Man was Mibe's first acquisition and we're just getting started. Through our recently launched media division, we're in talks with new and existing production partners about creating opportunities beyond our traditional music services. Based on my career as a TV producer and now running a music company with Pete, this is a natural extension for us to produce content with our existing clients and also invest in projects that can mutually benefit from our relationships.
What were some of the challenges of working on a production like this?
SH: I think the biggest challenge is to honor the elaborate history of such an extensive sub culture, and also to tell everyone's story in an unbiased and honest way, that still keeps the narrative concise and interesting. Finding and clearing supporting material is always a challenge when digging into history, as so much needs to be illustrated (pardon the pun) to support the stories being told.
Watch an exclusive clip of Illustrated Man: