Realscreen presents an ongoing series spotlighting producers who are reinventing their approaches to their craft — through revamping their business models, exploring new genres of unscripted and non-fiction content, moving into multi-platform territory, or all of the above. Here, we talk to B17 and Thumb Candy founders Brien Meagher and Rhett Bachner about bringing the two companies under one label.
When Brien Meagher (pictured right) and Rhett Bachner (left) launched Thumb Candy just three years ago, they didn't envision it as an offshoot of their non-fiction prodco B17 Entertainment, now an Industrial Media company. The stand-alone, mobile-first production outfit was a new venture meant to stake a foothold in the then emerging mobile space.
The field was growing quickly, with Snap, Facebook Watch, YouTube and the upcoming Quibi making major plays for eyeballs.
It was a move that paid off, with mobile storytelling expanding and becoming a part of many roll-out strategies, at every level. So much so that the two principals quickly saw a collapse in neatly divided content categories. "I don't think we anticipated that growing as quickly as it did, but at the same time, we started to see some of the lines gray between what is mobile, what is streaming, what is linear," Bachner tells Realscreen.
B17′s own Chasing the Cure, airing on TBS and TNT, is a perfect example. "We're exercising both muscles," Bachner says. "We're making a massive live linear endeavor, but also leaning on creating originals for ancillary series for mobile viewing. It didn't make sense to run two companies simultaneously, so we decided to put them under one roof, since ultimately Brien and I remain the connective tissue between any of the content that we make."
And content is the operative word at B17. The platform is important, no doubt, but it's not what drives projects, which can now, as seen with Chasing the Cure, move fluidly across platforms and formats to reach its audience.
"If you're developing a great idea, to us there's really no difference in terms of, 'Is that an idea that works at Quibi, on your cellphone? Is that an idea that can work at Netflix, on a streamer? Is that an idea that could work at Facebook Watch, on a social platform?'" Bachner says. "If it's a good idea, and it's great content, and it's good storytelling, we think in terms of the idea first and the platform second. At this point, it seems like there's a lot of different places to bring concepts. We just like the ability to target all of them, and do it under one brand with B17."
Thumb Candy is thus now fully integrated and rebranded as part of B17, which now has a revamped logo (pictured below) to reflect the unified brand identity.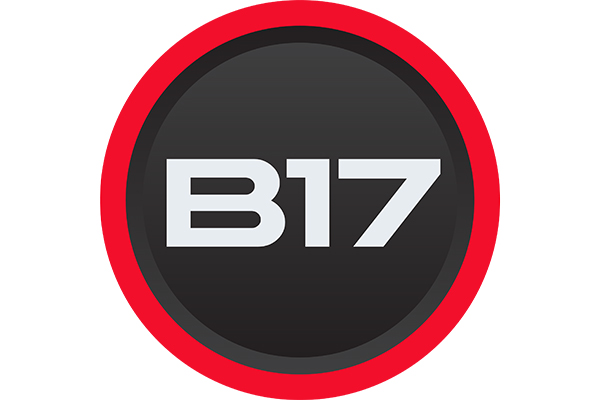 "I'd like to think that us combining these two companies is in some way an indication that we got into the new media space at the right time," Bachner says of the changing media landscape and B17′s own role in it. "We found success in a variety of areas, and as much as we love being entrepreneurs, we don't see the need to run two separate companies, even though they're both finding success. We want the ability to create content under one roof, one brand."
Consolidation tends to come with often well-founded fears of layoffs — it's easier to combine roles and trim the fat when everyone's under one roof, after all. But Meagher and Bachner say that's not the case with B17, because the merger is a product of growth at both companies, and ongoing growth at the newly consolidated B17.
"At this point for us, it's all growth, so we've just been adding new creators, new producers, to help us grow as a company and scale at a level that we're comfortable with," says Bachner.
One such addition is Emily Mayer, who joined B17 as senior vice president of development. She works across all platforms in tandem with long-time B17 executives Steve Garcia and Jackie Hakim, who serve as VP of current and development and VP of production, respectively.
That growth likely won't be endless, though, as the founders run a tight ship and keep themselves in the mix with the company's everyday goings on. "We always want to be involved with every project," says Bachner. "We're very comfortable with the size of our growth, and we don't ever want to get to a place where we're unable to significantly contribute to each product that we're putting out there."
New and upcoming B17 series include the ASMR-driven The Daily Chill, daily late-night recap show Late Night This Morning and Thanks a Million with Jennifer Lopez for Quibi; four projects in development at YouTube; kids crafting competition series Craftopia for HBO Max; and more.
Previous Thumb Candy series include Confetti for Facebook Watch, Ruby's Gems for IGTV and Fright Club for Snap.