Blue Ant Media's Beach House Pictures has made four executive-level additions as it looks to delve further into the global market.
The Singapore-headquartered prodco has hired Suzy Hounslow (pictured left) as executive-in-charge of production, Rob Sixsmith (right) as head of factual, Geraldine Orrock (below, left) as head of unscripted and Susan Zhao (below, right) as business director of China.
As head of factual, Sixsmith, whose credits include Gold Rush and Ed Stafford: First Man Out, will oversee development and production on Beach House's growing slate of unscripted titles.
Orrock, who previously started up the Australian office of Warner Bros. International Television, will spearhead original format development for the prodco.

Hounslow joins Beach House after more than a decade with Australia's Seven Network Studios, where she worked on a combination of factual and scripted series, chief among them the long-running Australian culinary competition series My Kitchen Rules. She will report to MD Jocelyn Little and creative director Donovan Chan in the newly created role.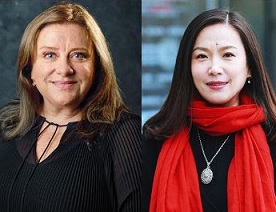 Zhao, a former advertising and marketing executive at Ogilvy and Leo Burnett, will be based in China, where she will head up business operations for the prodco.
With the executive additions, Little said the company is ready to "aggressively grow our business in the U.S., China and beyond." Outside of Singapore, Beach House has existing operations in the U.S. and China. The factual-focused prodco's credits include Wild City, MasterChef Singapore, Raffles: Remaking an Icon and China From Above .
More recently, Beach House has expanded its operations to include scripted projects, acquiring the rights to produce properties based on 1970s action heroine Cleopatra Wong and the children's horror book series Mr. Midnight.
Beach House operates under the Blue Ant Studios banner, which also includes Saloon Media and animation arm Look Mom! Productions (Canada), Northern Pictures (Australia), NHNZ (New Zealand) and Blue Ant Digital Studios (U.S.).
From Playback Daily