U.S. broadcast net ABC is set to premiere the Luke Wilson-fronted Emergency Call Monday (Sept. 28) — an American spin on the format first produced by De chinezen for Belgium broadcaster VRT Eén — from 8Hours Television.
The series, announced earlier this month, is the first from Los Angeles-based 8Hours, the unscripted TV outfit founded by former Zodiak Americas chief Jonny Slow and Adeline Ramage Rooney in 2018.
Each hour-long episode documents the first few crucial minutes of emergencies, told through the lens of America's 911 call takers.
Before 8Hours, Ramage Rooney was a showrunner, executive producer and/or co-creator on formats including MasterChef, Hotel Hell and Kitchen Nightmares at Gordon Ramsay's One Potato Two Potato, which she helped launch in the U.S. in 2010.
With both industry veterans at the helm, the shingle is focused on the development and production of broad-appeal, story-driven programming. While Slow and Ramage Rooney were tight-lipped about projects in the pipeline, Slow says Emergency Call offers a glimpse into the type of content coloring 8Hours' slate.
"Adeline and I both have a lot of experience in adapting formats for the U.S. We relish the challenge of working with strong, sellable IP and reimagining it for different audiences," Slow tells Realscreen. "We have a couple of other very special formats in development that we are about to bring to market. And with Adeline also having created successful shows herself, we are working on some exciting originals too."
Emergency Call, premiering at 10 p.m. ET/PT, is executive produced by Ramage Rooney, Slow (pictured below, left), Grant Kahler — who also serves as showrunner — and Wilson.
Below, Ramage Rooney (below, center) and Kahler (below, right) talk about adapting the series, bringing Emergency Call to ABC and producing during the pandemic.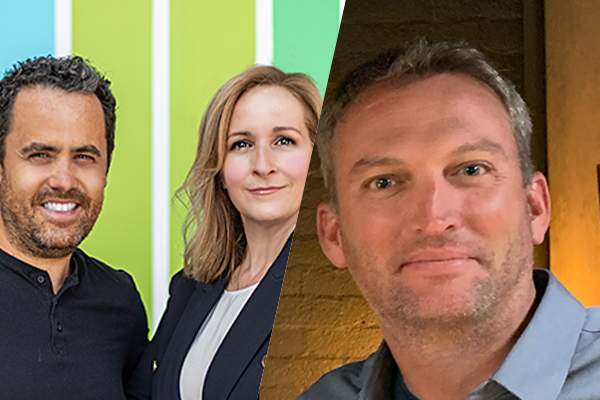 This interview has been edited for brevity and clarity.
How is 8Hours adapting Emergency Call for U.S. audiences? Will it have any notable tweaks or changes compared to the original format?
ARR: The Belgian format had great DNA, but we knew it would require some very skillful adaptation for a broad U.S. network TV audience — namely more scale, more action and more dynamic pacing. We also wanted a stronger narrative spine to be woven through the stories so we added a host, the actor Luke Wilson.
GK: This is an incredibly diverse country and with that diversity comes a wide range of emergencies. We really wanted to showcase different 911 centers across the U.S. in order to get a feel for how each community deals with their emergencies and, in turn, how the 911 centers handle the response. We filmed in the urban centers of Austin and New Orleans; the mountain community of Ogden, Utah; the midwestern town of Waukesha, Wisconsin; and the wilderness of Wasilla, Alaska. They all have very unique cultures and landscapes, which results in very unique geographic and cultural challenges. This allowed us to show the amazing scale of the emergency response system in place in the U.S., while keeping the stories of both the callers and the call takers incredibly personal.
Unlike every other show, this series focuses on the moments before the first responders arrive on scene. That said, we do think it is important to represent the in-person response as well. Many of these emergencies are races against the clock, so rather than embedding cameras in the vehicles of responding units and in order to keep the focus on the 911 call takers,  we had graphics company FIN Studios build custom maps for every region and animate the field response.  I believe it helps the viewer connect all of the pieces of how the emergency response system works.  It certainly adds to the drama of every situation as well — depicting that race against the clock that so many of our emergencies require.
How did 8Hours bring the project to ABC, and what made the broadcaster jump on board?
ARR: We pitched the show to several networks and received multiple offers. Tiffany Faigus in the alternative department at ABC was a very passionate advocate from day one. She saw how this show was different and was as visionary and evangelical about it as we were. It just felt right. We chose to go with ABC because we felt they really believed in it.
Could you talk about how the series was produced during the COVID-19 pandemic? What sort of safety measures were in place to bring Emergency Call to life?
ARR: Making a show about such a vital part of the nation's critical infrastructure amid a pandemic certainly brought its challenges. But it also meant we were working with the best minds in public safety.
GK: Our EIC Mona Barkat and I were able to work with the various local government agencies to put together COVID production protocols that allowed us to shoot as soon as travel restrictions allowed.  Since we were working so closely with the medical community in all of our locations we had the advantage of working with some of the country's most informed people in order to help build extremely strict guidelines all to keep our cast and crew safe.
Watch an exclusive clip of Emergency Call: