There's no question that the television industry is competitive, and it can be hard for a small prodco to break through the noise and find its niche. In 'Small Companies, Big Ideas' Realscreen chats with indies that are innovating and thriving, showing the unscripted world that sometimes the best things come in small packages.
Below, Realscreen spotlights New York- and Los Angeles-based factual indie Hot Snakes Media, helmed by founding partners and executive producers Eric (pictured) and Shannon Evangelista.
Since its founding in 2011, the husband and wife producing team has sold more than US$100 million worth of content, with a focus on the creation, development and formatting of "highly irreverent and unique" non-scripted television concepts.
The multifaceted studio has broken ratings records for both TLC and Discovery Channel producing and developing the breakout reality franchise Breaking Amish (now in its ninth season) and Amish Mafia.
Hot Snakes has also created and produced such notable unscripted programs as Netflix's recently launched DeafU, which follows a group of students attending a private college catering to the deaf and hard of hearing; five seasons of TLC's popular reality spin-off series Return to Amish; A&E's true crime investigation, The Plot Against America; and Animal Planet's adventure series, Extinct or Alive.
"I've been preparing for this and studying television since the age of two. I've been working full-time in media since the age of 19 and sacrificed and dedicated nearly every day of my 20s to teach myself the craft of storytelling and editing," Evangelista tells Realscreen.
"I have a very strong creative vision and voice for my original concepts, and I pride myself in always delivering the highest quality shows within the parameters set by my partners and clients," he adds. "The creative freedom of having my own shop is a dream come true."
Prior to launching Hot Snakes, Evangelista spent 14 years as a news producer before striking an overall deal with Endemol USA to serve as an in-house executive producer with responsibility for creating and developing formats for the global marketplace. More recently, he served as head of West Coast development and rose to become VP of development at MY Entertainment.
For her part, Shannon Evangelista formerly served as an Assistant District Attorney in Orange County before making the jump to New York where she worked as a prosecutor in the Special Narcotics Division of the District Attorney's Office in Manhattan.
Here, Eric Evangelista discusses the benefits and challenges in running his own boutique production house.
This interview has been edited for clarity and length.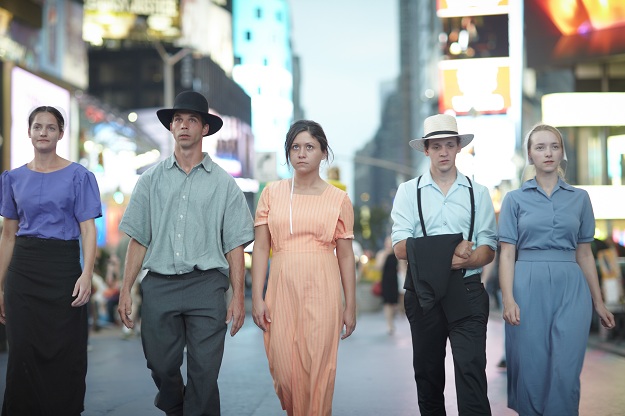 Hot Snakes Media has been in business for about nine years now. Can you tell us about the origins of the company?
I transitioned out of the news industry in 2004, and, while working at large entertainment companies, began pitching my own ideas and partnering with production companies. There was a lot of success and positive response to my ideas but I quickly became frustrated with the way that the companies I had partnered with would exclude me from the creative process. Coming from 14 years of news production, I was shocked at the inefficiencies I would see in the field and post that would ultimately result in a subpar product on screen. In 2011 I decided to gamble on myself and open up my own shop. My wife, Shannon, quit her job as a prosecutor at the Manhattan DA's office and joined me. We were all in. Our first major show, Breaking Amish, became a global smash hit and we haven't looked back since.
What are the challenges in being a small company at a time when many production companies are being acquired by larger, multi-national operations?
I look at it as a huge advantage. Huge production companies are looking at a bottom line and not at the story they are telling. Buyers are beginning to realize this. Smaller companies like ours care a great deal about the shows we pitch because we always invest a significant amount of our own capital into them which means there's a lot more passion and importance riding on it.
Conversely, what are some of the advantages or benefits of remaining independent?
We never have a state of panic in development. We can stick to our instincts and develop ideas that we think the market desires. You won't see us pitching more than one idea at a time or tossing out formats with unrelated celebrity attachments just to garner some initial attention. Every idea we bring to the table is always fully developed with the potential to "cut through the clutter" and attract viewers and critical acclaim.
There has been considerable consolidation throughout the television landscape in the last handful of years. Has there been any consideration on your part to station Hot Snakes Media under the branch of a larger, more established organization?
We have been approached in the past and would love to find the right match. We've expanded our brand from subculture reality (Breaking Amish) to high-end docufollow (DeafU) and now into scripted television movies for Lifetime. The future for our company is so creatively diverse and exciting that a partnership would be mutually beneficial.
What's your strategy when it comes to breaking through the clutter and succeeding in such a competitive market?
We will usually think a pitch through before embarking on making a tape, deck and treatment. How will this pitch sit with me in two weeks? Will I regret it? Being a small company, I can't afford to waste a financial investment on a tape that sits around unused and unable to sell. I need to visualize this show on the air and I need to run it through in my mind for a full 40 minutes. Sometimes great ideas are just that — an idea with no legs for long form. Smaller companies need to be very careful about what they pursue from a cost and efficiency standpoint.
What long-form unscripted and documentary projects are in the pipeline at Hot Snakes Media?
We have been working on a truly astounding true crime documentary for the past six years that should finally be ready to be brought into the marketplace in early 2021. It's a fascinating tale of amnesia, hit men, organized crime and vengeance.
We also are on the 10th season of our Breaking Amish franchise, we have two more episodes of 'Shark Week' in production, a wildlife series for Discovery, a series for Animal Planet, an investigative series airing now on Viceland, DeafU streaming now on Netflix, a true crime series for VH1, a documentary series for Lifetime and some scripted TV movies as well.
Generally speaking, how are the disruptions of the coronavirus outbreak impacting Hot Snakes Media, and how have you adjusted to the fallout as a small company?
We're all aware of the negatives of the pandemic in both business and our day to day lives. The positive for us has been the rallying of my staff and team to make all of the remote editing work. No one at Hot Snakes Media has lost their job, missed a paycheck, blew a deadline for a network delivery or milestone. I'm very proud of my team — the editors, payroll people and tech staff — we didn't miss a beat.
Moving forward our business is going to change to be able to have a lot of people edit remotely, pitches will be able to take place over Zoom and money will be saved that can be put on screen to make even better content. We will all come out of this as better producers with higher standards.
More specifically, has Hot Snakes Media returned to the field working with your industry partners during this uncertain period
We haven't let the pandemic stop us from producing. Growing up in the news business you never had an option not to cover a story, so I've applied that approach to our shows. We've safely filmed many hours domestically and internationally by following strict guidelines and working with small, closed-off crews. We've always produced our shows with a tiny footprint so transitioning into this "new normal" was easier for us than most.