Bowing in theatres virtually today via art house distributor Kino Lorber, World of Wonder's Wojnarowicz – or, Wojnarowicz: F*** You F****t F***er – pays due homage to late artist and activist David Wojnarowicz while building on the prodco's slate of films that have long brought outsider voices to the fore.
The film is an autobiographical portrait of the New York City artist, writer, photographer and activist who weaponized his work and waged war against the establishment's indifference to the AIDS epidemic in the 1980s until his death in 1992 at the age of 37.
Produced by WOW co-founders Randy Barbato and Fenton Bailey through their recently launched WOW Docs and directed by Chris McKim, Wojnarowicz delves into the artist's body of work, from paintings to journals and films.
The documentary also includes recollections from the likes of Fran Lebowitz, Gracie Mansion, Peter Hujar and other friends and family.
"There was something magical about the union of Chris McKim the director and David Wojnarowicz the subject," Barbato tells Realscreen. "It's an incredibly intimate film and it's so respectful to the subject, and pays tribute to him in a way that I think never happened during his lifetime."
The Ru Paul's Drag Race prodco's growing content portfolio includes features and series such as Becoming Chaz, Mapplethorpe: Look at the Pictures, Freedia Got a Gun and The Last Beekeeper, in addition to upcoming projects such as the Jeremy Simmons-directed Explant, about the breast implant industry to be executive produced by Michelle Visage, and a sequel to Party Monster.
Realscreen caught up with Barbato (below, left) and Bailey (right) to talk about the film and WOW Docs.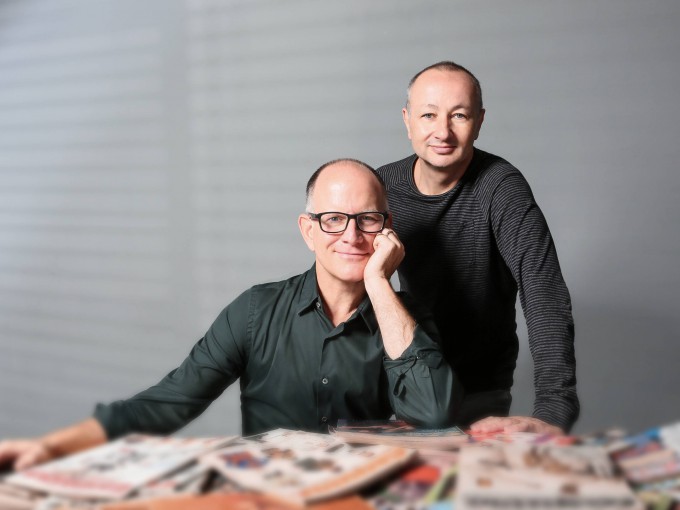 This interview has been edited for brevity and clarity.
Realscreen first covered the news that WOW was working on Wojnarowicz back in 2017. Could you talk about how the film came to be over the last several years? 
Fenton Bailey: David Wojnarowicz was an artist less well known than [Jean-Michel] Basquiat or [Keith] Haring or Robert Mapplethorpe and he was seen as the quintessential angry young man. Perhaps for that reason, in terms of finding funding for the film, we realized early on that we were just going to have to fund it ourselves and do it ourselves. We were excited to do that because he's such an important voice — less well known than some of those other downtown New York artists of the period — but clearly a prophetic voice given that he was protesting the government's indifference about an epidemic in the 1980s. It's almost been a full circle moment. This film was finished just before the U.S. went into lockdown with COVID. We've been really committed to this.
What were some of the challenges for you as filmmakers in telling his story?
RB: As with any independent documentary, the big challenge is financing it. The vision was to be as uncompromising with what the film would ultimately be as Wojnarowicz was with his own art and his own voice…. We never actually even went out to seek financing because it was so clear that no one was going to pony up any money to this project but it needed to be made. So, the biggest challenge was just making it on a dime.
How did the pandemic impact your journey with the film? 
FB: We were very excited — the film was going to premiere at Tribeca Film Festival and then, of course, the festival itself got canceled and everything went into lockdown. It's been a really enormous time of uncertainty and profound change in terms of independent film and certainly documentaries. Streaming has come to the fore in this time. So we had to take a moment to explore the different potential opportunities and Kino Lorber just ended up being the perfect distributor because they're very aware of these changes going on and they're very much on the cutting edge. They have their own virtual portal and they are very adept with virtual distribution. Of course, we have WOW Presents Plus, our own subscriber streaming network, which is where Wojnarowicz will set as well.
You've been making docs for some time, but you officially launched a dedicated documentary division in October. What was driving the decision to create that unit?
RB: Having been in the business for 1000 years at World of Wonder, we've had the privilege of making so many amazing films and TV shows. We've also had the privilege of working with so many young amazing directors and producers. I felt it was time for us to try and create a special division that might give other people that we've worked with opportunity. There's only so much we can do, number one, but also there are so many amazing voices and stories out there that World of Wonder is uniquely positioned to tell. We know how to do things on a dime because World of Wonder is fiercely independent, we've always been fiercely independent — we don't have any investors in our company. We both thought it's time for us to try and increase our output.
At the time of launch, you had jointly said you saw non-scripted as the cutting edge of storytelling and that you can foresee more scripted features turning to docs for material and inspiration. Could you talk about that trend? 
FB: In our usual immodest way, we feel we've started that trend when we turned Party Monster [the doc] into Party Monster, the movie, but then The Eyes of Tammy Faye is now becoming The Eyes of Tammy Faye, the movie, with Jessica Chastain and Andrew Garfield.
One of the reviews of Wojnarowicz said, 'This looks like a perfect first draft for a biographical movie.' It is all about storytelling. Randy and I love documentaries because truth is often stranger than fiction. We've often found that the true story is so much more jaw dropping than something anyone could write.
RB: There is this explosion of financing and places for documentaries to play but what happens in the marketplace with all this interest is it just seems to increase the top of the line financing and funding. So, often, young filmmakers who need the opportunity, or ideas that are out of the mainstream, just continue to be marginalized, continue to be ignored. That's where WOW Docs and World of Wonder has a role to play because, traditionally, documentaries have often been the stories that people have not dared to tell or the stories that have been ignored or marginalized. It's great that there are so many outlets and so much attention being paid to documentary filmmaking, but like I said, even though that's all happening and there seems to be so much money there, there still seem to be so many filmmakers unable to tell their stories or make their films. We don't have deep pockets. Actually, we don't even have pockets — but we do have passion.
Photo: David Wojnarowicz with Tom Warren Self Portrait of David Wojnarowicz , 1983-84. Courtesy of the artist, the Estate of David Wojnarowicz and P.P.O.W/WOW