One May morning in 2016, novelist Ian Thornton was pushing his two kids in a stroller down Toronto's Queen Street West when he stopped to put two dollars in a panhandler's cowboy hat.
The panhandler, he would later learn, was Christopher Doyon, the hacktivist also known as Commander X.
Five years later, Thornton and the filmmakers behind The Face of Anonymous are set to present a vérité journey into the world of Doyon and the infamous hacker group Anonymous, at this year's Hot Docs festival.
"Little did I know that with this one throwaway gesture, I was about to fall into the quicksand of the intelligence world, hacking, spies, international intrigue, and that I was about to start a once-in-a-lifetime journey," Thornton says in an email interview. "Within four months and given my fortunate background in international television, I had Werner Herzog and Andre Singer on board… I lost Werner when he and Andre (possibly the kindest and most unassuming gentleman I met in 20 years in television) were offered the Gorbachev film in Moscow. I was then lucky enough, thanks to Ted East and Robin Smith, to be introduced to Ed Barreveld of Storyline Entertainment and then director Gary Lang."
Doyon, who says he spent his time on the streets of Toronto and Mexico hiding from the FBI, used his platform to espouse his beliefs and befriend figures such as Julian Assange. He takes credit for crippling credit card companies that were attempting to sideline Wikileaks and claims a role in the Arab Spring as well. Now, in The Face of Anonymous, he'll peel back the curtain on his exploits and expose the group that safeguards its secret identity.
"Hacktivism is a notoriously difficult subject to visualize. Storyline producer Ed Barreveld introduced me to Ian Thornton, who he'd met through Robin Smith of Kinosmith, and Ed smelled a good story. Ian clearly had access to Commander X and instantly there was a character around whom a larger film about hacktivism could be made," Lang explains. "Jane Jankovic at TVO immediately understood the story, and supported us all the way as Ed finished the financing with Knowledge Network, the Canada Media Fund and Ontario Creates. Jane and Linda Fong at TVO guided us through the challenging content without watering it down. The result, a TVO Original, is a film that polarizes people, and to me that's a good thing."
Lang serves as director and writer with Barreveld producing and Thornton co-producing. Thornton's book, My Year of Living Anonymously, is expected to be released in 2021.
The Face of Anonymous screens virtually tomorrow (April 29), the first day of Hot Docs,  at 10 a.m. The 2021 festival runs through to May 9.
Here's more of Realscreen's chat with Lang (pictured below, right) and Thornton (left) ahead of the film's premiere.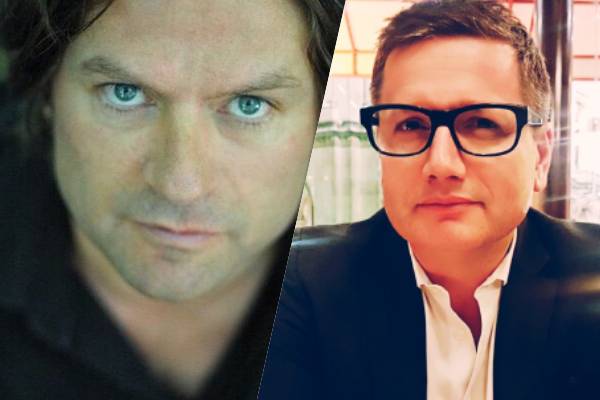 This interview has been edited for brevity and clarity. 
What are your goals for the film as we approach this year's Hot Docs festival, and how are you navigating working through a virtual event?
GL: This past year has driven up the appetite for good storytelling no matter where we find it. I can say without a doubt we have had more interest in the film on social media than we would have [had] pre-pandemic and I honestly believe that will increase its reach. We all need to work with what we have and the virtual Hot Docs has done a great job making the most of the terrible situation we're in. The film has international distribution by Sideways Film out of the UK and we're confident the Hot Docs exposure will lead to more sales.
Did you encounter any challenges working on the film through the pandemic? 
GL: We started shooting pre-pandemic, and were on our last shoot day when the first lockdown began. We got lucky. And thankfully my editor, Rob Ruzic, is an independent supreme storyteller, so we were able to work virtually with very few bumps. For the final mix and review we were fortunate that our sound supervisor, Daniel Pellerin, has access to the Royal Cinema [a repertory cinema in Toronto] so we were able to meet as a group for the first time in months and sit 30 feet or more apart to enjoy the finished film. I'm making it all sound easy but it's not an experience I care to repeat.
How did you build trust with your subject, and how did you approach telling the story of a controversial character? 
GL: I had only spoken to X once before shooting with him in Mexico. Trust on both sides was zero. But we went straight to a safe house, as in no phones or trackable devices, and just locked ourselves in. We ate there, slept there, and shot whenever we could which was a lot. He's very high energy and unpredictable so we worked at all hours. The day I left, he gave me a drive containing his personal archive so I knew he trusted me to some extent. But he's smart and he knew there would be things in the film he would not like. He's spent his entire life not caring about what people think of him and he doesn't care what I think of him either. That makes the film honest.
IT: We became friends on the street first. I had no idea who he was when, after knowing him for six weeks, he told me to read the Kushner piece in the New Yorker (from September 2014, The Masked Avengers). If I had been a Fed, he would have been swept up long before then, but I also gave him a copy of my first novel, and of course, no law agency would go to the trouble of printing a 400 page novel under my name if they could just rendition him from Trinity Bellwoods park after dusk any old night. It was a calculated risk on his part, but he is not an unwise man, and knows how to read people. Does that make me genuine or gullible? Or just a nosy novelist? I don't care if the answer is all three.
How does The Face of Anonymous connect Christopher Doyon's story with what's happening in the world around him?
GL: When we started filming, online activism was less on the radar than it is now.  Black Lives Matter, the American election, QAnon, Antifa, it's all 2020 stuff that hadn't happened yet. Anonymous is just a name. What it represents is a part of our daily life for the foreseeable future, in the name of good and bad depending on your point of view. The larger question is about criminalizing hacktivism. X is in permanent exile, Julian Assange rots away, other hacktivists went to prison with 20 year sentences. And yet even as you read this, investigation continues into the online organization behind storming the U.S. Capitol. Are any of those people going to get 20 year sentences?  I doubt it. The system's broken and needs to be burned down, which makes Anonymous and X more relevant than ever.
Were there any other challenges that you had to overcome while making The Face of Anonymous?
GL: The greatest challenge was trust. When we filmed, X had entered Mexico illegally and had no status. The Storyline team was legitimately worried about revealing his location and leading to his arrest. We operated in a vacuum for several months, and even when I got on the plane to Mexico I did not tell my family what city I was headed for. Trust was also an issue for other Anons in the film like Barrett Brown and Gregg Housh, both of whom have done serious prison time. Neither of them wants to go back to prison but on the other hand, they will not look away from a problem if they think they can fix it. That's a dangerous combination and lots of powerful people view them as traitors. The risk of opening old wounds is real and the last thing we wanted was to get someone arrested. Or, get arrested ourselves.
IT: Dealing with the monumentally capricious Commander X was a tough job. He had the vicious demands of the street. He slept out in Canadian winters in a two-boy tent between the projects at Black Creek Drive and Lawrence. Brutal surroundings. His mental health was not great. His paranoia came in tsunamic gushes. On the other end I was attempting to orchestrate movement in the television project. This was like trying to play billiards with a rope. It pushed our friendship to the edge many times. And even over the edge on a couple of occasions. I still have to pinch myself that we made it.
Watch an exclusive clip of The Face of Anonymous below: