For new talent in the unscripted and non-fiction production community, knowledge is power. In 'Realscreen U,' we present a series of op-eds offering the next generation of creatives and decision-makers access to insider advice from executives as the industry looks to the future of film, TV and streaming. First, we hear from Solange Attwood, EVP of Blue Ant International.
Sitting in Toronto, at home, having just received a third lockdown order, I must admit that I miss physical markets! I miss meeting passionate creators, showrunners, producers. I miss seeing buyers on the hunt for the next big hit, meticulously curating brand defining destinations for their audiences. I miss all of the component parts of buying and selling, the underlying fabric and ecosystem that helps in building a global cultural industry. Our collective visions, often mission-driven stories, aim to captivate hearts and minds and maybe, just maybe, create change.
And there has been a lot of change over the past year. No introductory booth appointments, informal meetings that spring up over coffees or cocktails, connecting on the Croisette with new emerging talent. Our collective shift to doing business virtually will no doubt have an enduring impact on our biz so now more than ever, it pays to find a distribution partner who is as passionate about your content and goals as you are.
In the past, distributors often acted as straight-forward sales agents. Now, however, many  have become full-service agencies that consult on projects providing global perspectives, facilitating co-production, pre-selling, as well as a myriad of other funding solutions, acting as key partners in your success. Here are a few factors to keep in mind when looking for a distribution partner that can take your content to the next level:
1. Think Global 
Think about your global roll out from day one. The programming needs of buyers differ vastly and are constantly evolving as platforms fine tune their strategies to stay ahead of their competitors and feed their audience's appetite for new content every week. Tapping into a global distribution company with a diverse base of sales executives with international experience and relationships with sought-after buyers will give your content an advantage. The institutional knowledge that skilled distribution executives have is the insight as to which platforms are the best home for your content; ultimately the channels that, fingers-crossed, have the highest probability of success.
2. Delivering ROI
Thinking global also means having a strategic approach to delivering returns. In distribution, our raison d'etre is being able to assess content and more specifically its value on the global marketplace. With the right team, this analysis of value and how best to go about creating it allows you and your distribution partner to discuss windowing strategies that should deliver meaningful value now and over time. Teaming up with a distributor who has the network and can plan multi-tiered selling opportunities, effectively navigating the labyrinth of overlapping rights across territories and negotiating deal structures that range from licensing fees to revenue sharing agreements, is key in this new multi-platform world.
3. Financing solutions 
Thinking of distributors as full service agencies means finding a partner that is flexible and solution-driven and has the ability to offer solutions for funding gaps, such as coproduction opportunities. Speaking from my vantage point, being part of a multi-faceted company that also owns production companies in the U.S., Canada and Asia as well as international channels, helps our distribution business find financing solutions for our partners. Look for distribution partners who have the ability to cater to production partners with bespoke deal structures including creative financing solutions and who are positioned to make connections and invest in projects in different ways.
4. Find Industry Players
Distributors who are active thought leaders and who support industry events instill confidence and attract high profile partners. Do a 360 degree look at their participation at events in the last few years. Do they build awareness and buzz for their brand through sponsorships at major events like Realscreen Summit and MIPCOM? Do their top executives and sales directors get invited to speak on panels about the business of television? A strong presence at industry conferences and markets is also proof that they are in constant contact with both producers and programmers around the world to stay one step ahead of content trends and a commitment to seeking out the most sought-after and timely programming.
---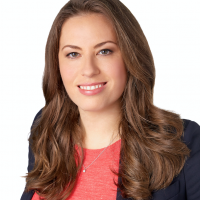 Solange Attwood is EVP of Blue Ant Media's global distribution group, Blue Ant International. In this role, Solange oversees the strategic direction and operation of the business, while also spearheading and managing coproductions, pre-sales and worldwide sales activities. Headquartered in Toronto, with hubs in Los Angeles (US) and London (UK), Blue Ant International's diverse catalogue offers 4,000 hours of content that includes Specialist Factual, Factual Entertainment, High Impact Documentary, Kids & Family, Scripted and one of the largest 4K natural history offerings globally.