By the time you read this, veteran documentary writer, producer and show maker/saver Ed Fields will have been gone from our world for a couple of weeks.
It really shouldn't take so long to put together a tribute and an appreciation of someone's life and body of work. And, if this wasn't about Ed, I'd admit to being slow off the mark.
But I'd explain it, to Ed, this way: "Very few people appreciated, nor worked so hard over, the crafting of a well-turned piece as you, Ed.
"So, forgive me, but you died suddenly, you hid your light under a bushel and it turns out you had a great many friends, admirers and people whose shows you'd saved, who took a little while to make themselves known.
"Plus, you had more facets to your life than I knew. And it's taken me a while to organize my thoughts, and get them down in a way which I feel reasonably happy that you wouldn't immediately want to re-write."
I can now, with a smile, but still with great sadness, remember and celebrate a good friend and collaborator, who I worked with for almost 20 years.
He was one of the best factual script writers and TV producers I have had the pleasure to work with and know. A real friend, a wonderful father to Chloe and, to use a British phrase, a "top bloke."
I first got to know Ed in 2002, just after I had arrived from the UK to run production at the U.S. Discovery Channel. He was recommended as someone who could breathe life into a potentially interesting but currently lack-luster series called Extreme Engineering. It wasn't cheap and it had to work.  Ed — already a writing legend — fixed it up beautifully, and it rated well. I was an immediate fan. And he wasn't just a good writer — he was enjoyable to work with!
Ed's credits, for most of America's biggest factual networks, speak for themselves. America the Story of Us, The Men Who Built America, Mankind the Story of All of Us, Everest Beyond The Limit, When We Left Earth, Inside The Twin Towers, Polar Bear Town, Living With Tigers, Gunslingers — it's a long list of impressive shows that have earned multiple Emmy noms.
You can look them all up on IMDb. But it doesn't tell you how good he really was and how his writing saved the bacon of many network execs and major producers… many, many times.
Legendary factual TV exec, John Ford, former head of TLC, Discovery, Nat Geo and many other channels, now running a couple of his own networks, says: "Ed was a tremendous writer and an even better person. He made my shows better every single time."
There are dozens of very significant characters from the factual TV business who have commented about Ed and the impact he made on their shows, and their lives.
Clark Bunting, former GM of Discovery Channel and DCI uber-exec, says: "He was remarkably talented and epitomized what it means to be a professional."
From top producer and exec Thom Beers: "Aaargh! What a terrible loss! He saved my butt on several occasions. More than that he was a terrific human being!!"
Ed had a great turn of phrase and could be funny too. Working in the VO booth with Beers, they were looking for a better way of narrating how a high-kicking cow fights off a tiger called Ron, who was intent on eating her. They came up with an immortal line: "But old Bessie is a beast and she kicks the stripes off Ron." Not what you'd hear in a traditional natural history show, but perfect for the different approach we were trying to take at Discovery.
Even in an era where the services of a "writer" are often replaced by story producers, it's notable that Ed was still busy at the age of 69. Not only because he loved it, but because there's a need for writers like him.
He had a particular skill for taking a litany of facts (which afflicts many early cuts of films) and crafting a narrative and telling a story. That talent is always in demand.
Ed was often called in when the Titanic was sinking. Fittingly he had a knack for taking excellent but very "British" shows and making them work for the American audience — without upsetting the British producers.
Emmy- and BAFTA-winning director Richard Dale says: "Ed was suggested to me to help with scripting a film maybe 15 years ago. Like many UK producers of U.S. shows, I'm sure I resisted involving another writer — but I was very wrong: Ed became the go-to author to make shows work for me in the U.S. I always called him a bit too late and he always delivered on time. He was a can-do voice on the phone. He has credits on much of the work I'm most proud of — his was a great talent, he was a nice man."
"A nice man." Not a given in our business. Ed was always creative, happy to help, willing to go the extra mile, responsive and available. He was never demanding, greedy, grumpy or obnoxious.
"A man of such intelligence, humor and grace. I will so miss him and his funny and thoughtful responses to my notes," says Pam Caragol at Nat Geo Wild, who worked closely with Ed on one of his last major projects, Kingdom Of The Polar Bears.
A lot of TV people could have done with a professional lesson from Ed, myself included! As a friend, he put me up, put up with me, listened to woes, indulged my coffee obsession and was always a great creative sounding board.
Ed was a nurturing mentor and a thoughtful friend. When I packed him off to South Africa to help fix up a show called Living With Tigers, I had no idea that 20 years later, the editor, Rian Van Der Walt, who Ed parachuted in on, would still feel so strongly about him
"The director and I were convinced the rough cut was good, Discovery didn't feel the same way. The next thing we knew, Ed was on a flight to South Africa. I worked with him for four weeks and then some more on the phone. He called me to ask if I would be willing to extend a sequence we had finalized. He needed it to be longer for the new script. He could have demanded, but he took the time and effort to call me from NY, to ask! It happened so many years ago but it changed my life."
His humility and human touch extended to everyone, including Patty Ferry, a wonderful executive assistant at Discovery and Nat Geo. "As an EA, you often feel like the tiniest cog in the production machine, but every so often a writer, producer or talent enters your sphere and makes you feel special. Ed Fields was one of those people. We hit it off from our very first meeting and continued our friendship up until his untimely passing. Ed was deeply caring and supportive."
British Producer and former ABC and Discovery Networks International channel head, Phil Craig, sums Ed up perfectly:
"The last work that Ed shared on Facebook starts with a shot of two polar bears play fighting. And these words: 'A polar bear could kill a man with one swipe of his paw, but these hungry teenage males are just killing time, waiting for the big freeze.'  The cleverness, the craftsmanship, the perfect mix of information and entertainment; this was the Ed I knew and loved. A generous friend, an unfailing source of advice and support way beyond the world of work, a workaholic's workaholic honing the perfect line amid a cloud of cigarette smoke, afloat on a sea of caffeine, a tireless enthusiast for classic movies, great yarns and new ideas."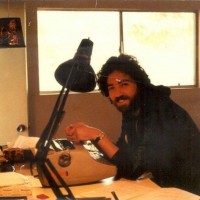 Ed loved to work. It's fitting and tragic that he was found at his desk.  We recently worked on a script together, Kingdom of The Polar Bears for Nat Geo Wild. The best lines are Ed's
If you get a chance to watch it, you'll hear why he was always in demand.
I shall miss him tremendously.
By Phil Fairclough, managing director, Two Wise Monkeys Entertainment