Robin Roberts' Rock'n Robin Productions and UK- and U.S.-based Plimsoll Productions are set to tell the story of the Sept. 11, 2001 attacks from a new perspective with the two-hour special, The Women of 9/11.
"The idea for a film that documented the stories of women from 9/11 came to me when I was considering how to mark the 20th anniversary of that awful day. It struck me that while I had seen many films that told the story from different aspects, I hadn't seen any which specifically told the story from a female perspective. There were so many women's stories that hadn't been told, from survivors to medics to rescuers. And while, of course, many men and women died in the tragedy, it also seemed to me that it was largely women who had to pick up the pieces of the consequences of the attack – as mothers, sisters, daughters and so forth," Richard Klein, Plimsoll's (Fox's Malika the Lion Queen, Netflix's Night on Earth) head of documentaries and executive producer on the project, tells Realscreen. "I started to explore the idea in more depth and then began to discuss the idea with a number of potential broadcasters who I felt might like to have this rather alternative take for their channel. I approached ABC News and they were immediately drawn to the idea and I am delighted to say they committed very quickly, and have proved to be terrific partners."
Roberts serves as executive producer, with David Sloan as senior executive producer for ABC News.
John R. Green is executive producer for Rock'n Robin Productions (ABC News' Shark Attack: The Paige Winter Story, History's Tuskegee Airmen: Legacy of Courage).
Siobhan Logue is director and producer.
Steve Humphries and David Long are executive producers for Testimony Films.
Realscreen caught up with Klein (pictured below, left) and Logue (right) to discuss the making of the special ahead of its premiere tonight (Sept. 8) on ABC News at 9 p.m. ET/PT.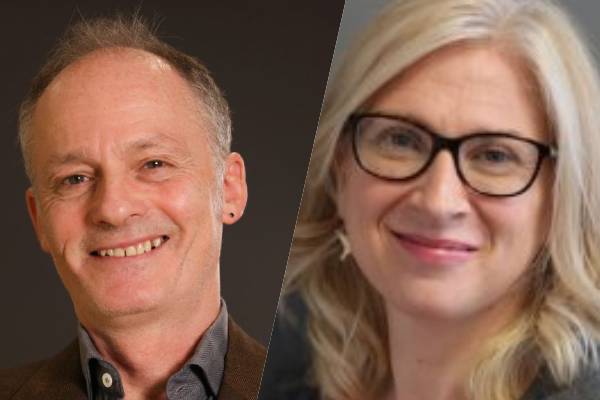 This interview has been edited for brevity and clarity.
What role does the archive play in the film? Could you talk about that process?
RK: The archive plays two very distinctive and particular roles. To begin with, one might say that there is hardly any archive that is more iconic than those images from that day. Indeed some of the imagery is almost impossible to watch, even now 20 years later.  But, there is a second place for archive in this film, and that is matching imagery and moments from the day with the testimony of the women who were present in that very moment. Hearing some of our amazing witnesses speak of what was going through their minds and what they were experiencing while actually seeing those images on screen made for some very powerful moments in the film. Finally, a thought for the testimony itself. We filmed all the testimony as brand new interviews rather than take some footage of interviews that some of our women had done sometimes 15 years ago. To hear their views now, reflecting on the event of 20 years past, gave their words such a power that it really helped give the film an intensity that I haven't seen before in other 9/11 films.
Did making the film present any challenges? If so, what were they and how did you work through them?
Siobhan Logue: We were faced with several challenges in the making of this film, but the two principal issues were limited time and filming during a pandemic. Fortunately, we had teamed up with Rock'n Robin Productions and from their New York office they coordinated a shooting schedule that allowed live, remote access to the UK team who couldn't physically be in the USA.
Back in the UK, our other co-producer Testimony Films, who have made several award winning films on 9/11, shared their vast knowledge of the archive with us.
So while the speed of turnaround for this two hour special was unprecedented, continued team support, additional resources in the edit and for archive clearances, plus clear communications across the production, were key to hitting the deadline.
With so many documentaries on 9/11, how did Plimsoll approach telling the story through a new PoV? 
SL: Many chronicles of historic world events have traditionally been dominated by male voices, these included the majority of 9/11 documentaries. The Women of 9/11 tells the story from a new perspective as we hear only from women.
The story is told by eight remarkable women who, on that September day, were caught up in the events in different ways. From first responders to a rookie reporter; two women caught in the collapse of the Twin Towers; a Colonel who received a purple heart for her bravery at the Pentagon; a woman hit by falling fuselage and a forensic expert who helped identify the victims. All suffered from physical and mental scars.
The film shows unbelievable tragedy but in doing so it lays a wreath of remembrance to all those who suffered. Most of our Women of 9/11 have never told their stories in such detail until now, but the film is not simply a focus on that one terrible day. It was also important to us to reflect the passage of time and to see where these brave women are now – 20 years on. What's clear to see is the resilience and bravery in how they have rebuilt their lives and we are ultimately left with life affirming moments and a feeling of hope amid the tragedy of 9/11.
How does The Women of 9/11 align with Plimsoll's push into the premium feature doc space? Could you talk a little bit about the reasons/strategy behind that move?
RK: Plimsoll is a producer of premium popular factual programming and the senior creative team all have long histories of making such programming. I myself am a former head of documentaries for the BBC as well as head of unscripted and a former director of unscripted for ITV. So perhaps it is only natural that we should offer some of our programming ideas to some of the major U.S. broadcast networks that reflect those same popular but premium television values. In addition we are keen to work with premium on-air talent as well as off-screen talent, and the chance to work with Robin Roberts was one that we were delighted to take up. Plimsoll remains very committed to its U.S. focus, not just in the Natural History and entertainment space but also elsewhere, and to that end we are currently working (amongst others) with History channel, Hulu and Discovery+ making premium popular unscripted programming as well as discussing follow-up premium documentaries with ABC News.
Watch an exclusive clip below: