Full of remarkable energy, humor and optimism, Nancy Glass, CEO of the Glass Entertainment Group (GEG), makes it immediately obvious why her Philadelphia-based company has been a go-to for partners across the media spectrum for the last 20 years — and why GEG landed a spot on this year's Realscreen Global 100.
Glass cut her teeth in broadcasting, landing her first job at WBZ-TV in Boston. Her work led to anchor and reporting positions for several national television shows, including Inside Edition and American Journal, as well as spots on Good Morning America, The CBS Morning News, CNN, MSNBC and Nightline, leading to an awards shelf straining under the weight of six Emmys, among other honors.
But a decade and a half spent commuting to New York from Philadelphia began to wear, and Glass began looking to other outlets for her creativity. In 2000, she decided it was time to go independent.
"I love to write," she says. "I love to tell stories. That's all I wanted to do — create and produce programming. I had no idea what the business process was at the time, but I figured it out. And we were very lucky. Every client I started out with, every network I started with, they hired me more than once."
GEG began with one-offs before eventually landing its first big series: Tanked (Animal Planet).
"It was hard to sell," she recalls. "Everybody said: 'It's about fish tanks. People don't care about fish.' Of course they don't care about fish. They care about beauty. They care about building. They care about these crazy stories. They care about people who built a 75,000 gallon tank in a church and called it the Fishtine Chapel. It took us two years to get anybody to buy in — and when they did it changed everything for us."
That first series has grown into more than 3,000 hours of programming with other leading networks and platforms such as CNN, Oxygen, HGTV, Nat Geo Wild, Snapchat, HLN, The Food Network, ID, History, Travel, Sirius XM and Wondery, among others.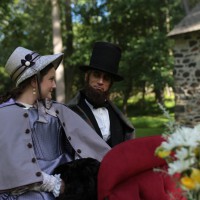 And consider recent successes such as Lincoln: Divided We Stand (pictured, left) and The Pope: The Most Powerful Man In History (both for CNN). Confronting: O.J. Simpson, meanwhile (produced in partnership with Wondery), was one of the most downloaded podcasts of 2019.
In fact, the company currently has more than a dozen series in production, including Lincoln: An American President (CNN), Heartland Vets: DVM (NatGeo Wild), Queen of Stylz (Snapchat), and Murder Nation (HLN) as well as more projects for HGTV, Oxygen, MTV and the nascent Magnolia Network.
The diversity of the slate is impressive. And where do all those ideas come from?
"We read a lot," says Glass. "We talk about ideas. We meet people along the way. People call me all the time and tell me 'I have a great idea.' And I always say, 'Okay, tell me.'
"Years ago, my jeweler called and said 'I have a friend who's an explorer. You've got to meet him.' And I was like 'An explorer? What is he, eight years old?' But this guy walks into my office and says 'I'm going to be the first American to traverse the coldest, harshest, driest environment on Earth: Antarctica. More people have landed on the moon than have done this.' When he was done he had taken up all the air in the room, and I was like 'I'm in.' And it turned out, not only did he do it, he broke a land speed record."
That chance meeting became the award-winning Race to the Bottom of the Earth (National Geographic), and eventually host Todd Carmichael and Glass went on to create the series Dangerous Grounds (Travel).
"So, there are no bad ideas. I really encourage everybody to think," Glass says.
"Once you've been given a show it's yours to lose. You've got to give it everything you've got."
Glass describes the company's growth as organic — she takes advantage of the opportunities she's presented with. Whether that's picking up the rights to the game show Let's Make a Deal (with another business partner, Marcus Lemonis, via Fremantle), creating brand new programming around the classic video game platform Atari, a joint venture with Balthazar Entertainment's Brian Balthazar, or an overall development deal with Danny Passman's Crybaby Media.
GEG also recently started a partnership with personal training equipment company OxeFit to create content for its fitness platform. Everything is on the table.
But perhaps the most remarkable recent success has come via the GEG podcast division headed up by VPs Andrea Gunning and Ben Fetterman.
"The podcast business I never would have anticipated," admits Glass. "But we have 12 million downloads so far on our shows. It wasn't a purposeful thing. I wanted to sell a show (O.J. Simpson) and I couldn't. I absolutely believed in it. So, I thought: 'I'll make a podcast out of it,' and it got seven million downloads. Now, we have seven podcasts in production and we have a podcast development deal with a major network.
"If you had asked me five years ago 'What's your plan,' it wouldn't have included half of what I told you," she says. "Business is a vacuum. You can fill it as you want."
But the credit, she's quick to point out, goes to her staff, most of whom are permanent. She doesn't like relying on freelancers. "I want people to be happy because when you're happy, you're more creative," she explains. "I worked in so many environments where the philosophy was (to) make people miserable and make them compete with each other, and that will bring out the best in them. That's a truly terrible idea."
A similar philosophy extends to clients. "We're really easy to work with," she says. "Once you've been given a show it's yours to lose. You've got to give it everything you've got. I think the reason why we work for the same networks over and over is because they know we will put everything on the screen and we'll listen to them. I never think about the bottom line, and maybe that's a weakness. I think about the budget that I need to make a show, not what I'm going to make from the show."
And, she notes, they go to great pains to make sure subsequent seasons show growth and improvement. "No matter how successful the show is, it's always 'what can I do better?' We don't want to get to the point where we even begin to get stale. We have to stay fresh all the time."
So, what does the future hold for GEG? It's hard to say, but Glass will be ready.
"I'm so optimistic. I'm ridiculously optimistic. It annoys people," she laughs. "I don't think much about the past. I really dream about the future. I think if you spend a lot of time dwelling on what you did before, you don't have the time to think ahead."