The Cannons tells the story of the Fort Dupont Cannons, a Washington D.C. youth hockey team and one of the only predominantly Black hockey teams in the U.S. The team is led by coach Neal Henderson (or "Coach Neal" as the filmmakers repeatedly refer to him), who founded the Cannons in 1978 as a developmental program for local and inner-city youth, and has been the team's head coach for more than four decades.
The film comes from director Steven Hoffner and co-director AJ Messier, and it challenges stereotypes held by many about the sport, showcasing American Blackness alongside hockey. The film portrays the lives of young Black hockey players and their struggles while also paying tribute to Henderson, who was inducted into the U.S. Hockey Hall of Fame in 2019.
"The initial pursuit of this story started because of my love for the game of hockey," Hoffner tells Realscreen. "Having worked for the National Hockey League as a creative artist for over 10 years, the game had given me so much and brought me to so many amazing places, I thought this was finally a chance to give back."
"We started with a love and knowledge of ice hockey. We saw a unique and beautiful story that was rich with a transcendent character in Coach Neal and knew that this was something that the world should know more about," adds Messier.
The Cannons is produced by Hoffner and Messier and executive produced by Robert Ford (The Cost of Winning) and actor Robert Walker-Branchaud (Stranger Things, 13 Reasons Why), with former NHL goaltender and current ESPN analyst Kevin Weekes serving as associate producer.
Ahead of The Cannons receiving its world premiere at DOC NYC, which runs from Nov. 10-18, Realscreen caught up with Hoffner (pictured left) and Messier (right) to discuss the project.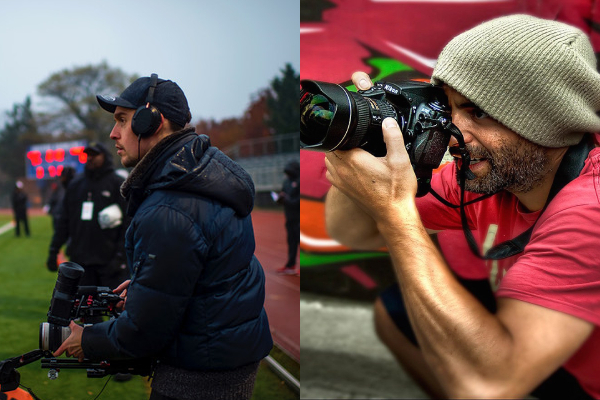 This interview has been edited for brevity and clarity.
What made you want to pursue this idea as a documentary, especially at this particular moment?
SH: This journey started as a more ambitious idea for an unscripted television series, where I was hoping to round up a former NHL star and visit unassuming far off places where the game was being played. That never took off, but my research led me to learn about the Fort Dupont Cannons in Washington, D.C. I had known about them as part of the NHL's "Hockey is for Everyone" program. I asked my good friend, former NHL goalie Kevin Weekes about his experience working with them during his philanthropic work, and he connected me with Coach Neal. After speaking to Coach over the phone for over an hour, I knew this man and this program was something special.
How important was it to the film to have someone like Neal Henderson as one of the focal points to help tell this story?
SH: He is such an enigmatic, beautiful person who sees the world in such a profound way, that words cannot do him justice. Simply put, there is no movie without Coach Neal. In fact, there is no Fort Dupont hockey program without Coach Neal. He has not seen one dime for his efforts. He has lived his life without asking for anything in return and lived by example for others to follow. Perhaps most importantly, he represents strong Black community leadership. It's a huge responsibility to tell this story and I don't take it for granted. In fact, it's one of the finest honors of my life. Coach Neal is in his early 80s now, and when someone reaches that age you can't wait around hoping for a production like this to come together. This is why we self-made and self-financed the project, even though our private funding capsized before production.
AM: In my life I have not come across a more deserving person to have a film made about his or her accomplishments. Coach Neal is the most caring and sincere person that I have ever met; there is not a more humble person on this Earth that has done so much for those that he loves. He doesn't ask for accolades or monetary gain and yet never stops giving. Steve and I said on numerous occasions, as long as we hitch a ride on the wings of an angel the film will be seen and will have success. Coach is that angel. We never had any doubt.
The Cannons is obviously about a lot more than sports. What is it about the film that you think will appeal to audiences outside of the traditional sports documentary niche?
SH: This film is about life in Washington, D.C. seen through the eyes of Black Americans. While hockey is the spine of the film, this is very much a drama and coming-of-age story. I won't drop any spoilers here, but I will say that the two families featured in the film became very central to the story, and it was important to give them a prominent voice. Quite honestly, we thought the film was over once the Cannons' season ended, however, major life events occurred thereafter with all three of the major characters in the film, so we made the film much more personal, and less about sports.
As two white filmmakers, why did you feel like you were the ones to tell this story, and how did that inform your approach to the project?
SH: Let me just say that I am not divorced of optics in directing this film. In my opinion, I think Black representation is very important in telling these kinds of stories. What brought me to even think of being involved in this was because of my love of hockey. In Canada, hockey is a religion of sorts, so right away it was something very close to my heart. But when you decide to embark on a journey to tell a story about another culture, race, religion, you must build the right team around you and get the correct perspective. It became a labor of love for me and AJ, and I brought on people like our Emmy-nominated executive producer Robert Ford to help us shape the film and guide us from a Black American perspective. He was instrumental in keeping the story real and authentic.
Perhaps most importantly, you must earn respect. I spent a year speaking with our subjects and building relationships before we went to picture. When financing fell out and we had no options other than to pay out of pocket and do the film ourselves, I personally was led by a sense of obligation and respect to continue making the film. The subjects in The Cannons are like family to me now.  It's why I spent the better part of four years producing, directing, shooting and editing a film so that people like Robert, Carolyn, Rayvon and Tomorrow can be heard and understood; and so that men like Coach Neal can be given a platform to share his message of love and empathy for the world to see.
AM: From the very first day that we arrived at Fort Dupont, we were part of the Cannons hockey program and there was not one moment where we felt like two white guys from Canada. When I asked [one of the other coaches] if the Fort Dupont Cannons' story was ours to tell, he responded "There have been others that tried to tell Coach's story but you guys are the only ones that actually kept coming back. To us, you earned our respect and earned the right to tell our story."
Watch an exclusive clip below: