Todd Weiser is wearing his usual combination of beard and broad welcoming smile, and the most beautiful shade of red nail polish on his fingertips when we sit down to talk about the unlikely road that led him to become a non-fiction storyteller. He gets "dad points" for not only allowing his children to paint his nails, but for owning and enjoying it as well. In talking with Todd you learn that he's drawn to new, perhaps odd, and deceptively complex things. And in conversation, I'm reminded that he is all those things personified as well.
"I'm an over-analytical person and pretty proud of that," he offers. "When I started my career at Animal Planet, I would watch every premiere on Nat Geo, History and A&E and IFC, and everywhere, I would get to know every production company. I thought if it was non-scripted, I needed to know about it and have an opinion on it. It became an obsession, which maybe is unhealthy in some form, but has its benefits in being good at your job."
Todd tells me his entire career was never supposed to be in non-scripted, that it's all the fault of Sara Helman (currently VP of production and development at TLC), and he's now doing some of the most challenging work of his life as SVP of programming and development at Food Network.
Weiser had a classic '80s suburban middle American upbringing. He grew up outside Detroit, Michigan, in Oak Park, with a tight group of kids he sometimes got into trouble with and still calls friends today.
"It was middle income and diverse," he recalls. "My buddies and I would stop at Perry's and get a Faygo [a local Detroit soda], some Doritos and play in someone's backyard until dinner. There were bullies and all that stuff, but it was pretty idyllic. There was a lot of freedom. My wife always wonders how I turned out normal with all the inappropriate content and Schwarzenegger action movies I watched as a young kid. I remember for my fifth-grade birthday, my mom took my friends and I to see the movie CB4, which has graphic drug use and sex and violence, and it was no big deal."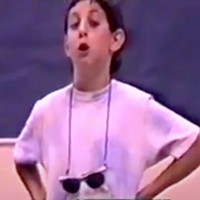 Todd grew up as the youngest of two boys, obsessed with film and television. "At a young age, I was a performer," he says. "I remember being the ring boy at my uncle's wedding, running around telling off-color jokes. I went to a creative camp where we did tap dancing and acting and rapping.
"I think I got my love of performing from my dad, who was the funniest guy I knew," he continues. "He had a straight job as a civil engineer, but anytime there was a party or wedding, my dad was always the MC, and he'd spend days on the Commodore 64 typing up his material, and he'd kill every time. My mom worked at my elementary school with kids with physical disabilities and later at my high school as a paraprofessional. Everyone knew my mom, and I didn't really mind that she was around my school all the time – I mean, she's the nicest person ever. She was the cool hall monitor who let you get away with stuff."
As a kid, Todd was also a study in contrasts. Middle school car hood ornament thief. High school valedictorian. Graffiti artist (one offense). National Honor Society president. Mischievous prank phone caller. Placed in programs for the academically talented.
The dichotomy is what makes it so dangerous to underestimate him. Todd is intellectually curious, fanatically driven and self-assured. He's not afraid of expanding the strike zone to chase hits, and the swings and misses he accepts as required R&D.
"I am obsessed with consuming media," he admits. "I spent a lot of time at the school newspaper at the University of Michigan, where I was the Arts editor. I watched foreign films, geeked out on Weezer message boards and earned the reputation of 'college newspaper snob' that I rather enjoyed. I liked being in that world and knowing those films and having a pulpit. To this day, I put out an annual 'best of' list of film, music and TV projects."
After college, the aforementioned Sara Helman was Todd's intern supervisor at Miramax, and the goal initially was to become a screenwriter. "I worked for two independent film companies after college, and then Sara called me a few years later and basically offered me a coordinator job at Discovery Kids and Animal Planet. I am lucky she saw something in me because I knew nothing about those networks. Once I got the job, I had to watch everything, have an opinion on everything."
It was a chance seating at a dinner during the Realscreen Summit, where Todd sat across from Bob Tuschman (then GM of Food Network) and either knowingly or unknowingly presented himself as the quintessential oddball programmer. "Bob liked that I was not a person who only did food things," Todd said. "Bob brought me into Food Network eight years ago to do something different, and every two or three years, we would do something different, and unfortunately, most of the time, it didn't work.
"The amazing thing about Discovery+ is this is our chance to experiment, try things and commit to it," he continues. "You create these brand rules, and they are important, but sometimes you have to say let's just make great TV and trust your audience. It's all about driving conversation and subscribers. We're working with premium filmmakers on things we couldn't do before, and now, I have to see what HBO Max, Netflix and Disney+ are doing because they are more of our competition."
All these years later, Todd is getting to make thoughtful and entertaining documentaries with bold-faced filmmakers, as Discovery+ continues to expand its programming with outside-the-box offerings such as Well Done with Sebastian Maniscalso, a project born out of the pandemic that brought an immensely popular comedian into viewers' homes – and was a project Todd spearheaded.
Todd is no longer the aspiring film snob. He's the programmer whose art-house passion serves an essential function on a large commercial platform. And yet, when I ask him what he's most proud of, it all comes back to the beginning. Family.
"You know, I'm most proud of the Baking Championship series we created so many years ago, which now has many spin-offs," he offers. "It's the kind of stuff my parents are proud of. That's what helped me understand who our audience is. It was great that those shows were successes, but I was also really proud of the joy we could bring people.
"During COVID, Food Network was exactly what people needed," he says. "Warm, cozy, relatable and fun. Sit back, turn off your brain a little, see great food and experience a touch of happiness. Now I am the family guy who's making the shows and getting to share them with my wife and kids too."
Joe Livecchi is founder and CEO of the prodco Noble Savages. Through these profiles, you'll learn more about top executives through an unprecedented glimpse into their personal lives — as Livecchi says, "who they are and what made them that way." For more profiles, keep an eye on realscreen.com and also check the Noble Savages site.