Los Angeles-based prodco Hello Sunshine has upped six of its executives to senior vice president positions, while also revealing plans for a documentary project to be helmed by Emmy Award-winning filmmaker Jennifer Siebel Newsom (The Great American Lie, Miss Representation, The Hunting Ground).
Promotions at the company include Ashley Strumwasser and Emily Ferenbach, now both SVPs for film and TV; Bree Frank, now SVP, production; Cynthia Rupeka, now SVP, Reese's Book Club and direct-to-consumer development; Amanda Farrand, now SVP, "Fair Play"; and Nick Williamson, now SVP, business affairs.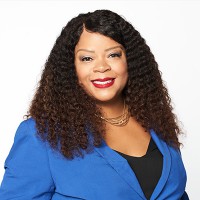 Frank (pictured) joined Hello Sunshine in April 2020 as vice president of physical production, unscripted. She currently leads the production management team at the Reese Witherspoon-founded company for key projects across unscripted and brand funded content. In her new position, she will continue to play an integral role in the expansion of Hello Sunshine's production capabilities and also spearhead the company's post-production build. Frank is also the founder of the non-profit organization, Hue You Know, that works to build community, provide mentorship, and foster employment opportunities for BIPOC media professionals.
Strumwasser and Ferenbach joined Hello Sunshine in July 2017 as directors of development, and were promoted to vice presidents in January 2020. Nick Williamson, meanwhile, joined the company in February 2019 as vice president, business affairs, and has since been instrumental in building out that division of Hello Sunshine with a particular focus on the unscripted and direct to consumer businesses.
Cynthia Rupeka joined Hello Sunshine upon its inception as its very first employee, overseeing Reese's Book Club and its direct-to-consumer position. She now adds the responsibility of building out the company's broader direct to consumer position including oversight over licensing and commerce partnerships, live experiences and new business initiatives.
Amanda Farrand joined Hello Sunshine in March 2019 as vice president, brand partnerships. In her new role, Farrand will focus on building out the company's Fair Play initiative across publishing, podcasts, unscripted and commerce.
That initiative, inspired by New York Times bestselling author Eve Rodsky's book, Fair Play: A Game-Changing Solution for When You Have Too Much To Do (And More Life to Live), will include the feature documentary to be directed by Siebel Newsom. Both the film and the wider initiative examine the issue of unequal emotional labor and "invisible work" in partnerships. The doc will follow three families on their respective journeys to better balance their home lives.
"We need a care revolution once and for all where women's domestic work is seen and valued, where women have more time to pursue their passions, and where men are able to step into and build more caring relationships at home," said Siebel Newsom in a statement. "I couldn't be more thrilled to partner with Eve Rodsky and Hello Sunshine on this journey to awaken consciousness and inspire major cultural shifts towards gender equity at home. The time for Fair Play is now."
Reese Witherspoon and Hello Sunshine's head of unscripted, Sara Rea, are executive producing the project on behalf of Hello Sunshine. Siebel Newsom is also writing and producing the documentary, which is being produced in partnership with The Representation Project.
In August, Hello Sunshine sold a majority stake of the company, worth US$900 million, to entertainment executives Kevin Mayer, Tom Staggs and private equity firm Blackstone.