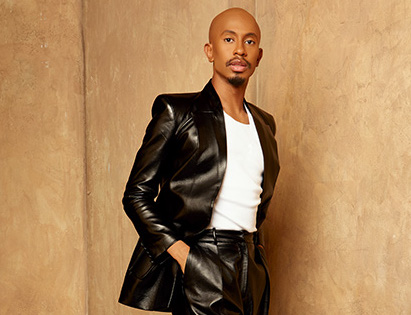 Actor, producer, singer, digital media star and television personality Kalen Allen will be joining the 2022 Realscreen Summit in Austin, as host of this year's Formagination format competition from Armoza Formats, held in partnership with Realscreen.
Discovered in 2018 by renowned talk show host and comedian Ellen DeGeneres, Allen first made a name for himself through his "Kalen Reacts" videos, giving colorful and witty commentary on culinary concoctions online. One of his videos caught her attention, and soon Allen was invited to appear on the show, and subsequently, to collaborate and produce content for her digital platforms.
Today, Allen holds a regular guest spot on The Ellen DeGeneres Show and often participates in high-profile events, like the Billboard Music Awards and the MTV Video Music Awards, as Ellen's correspondent. He also has his own weekly digital news series, OMKalen, where he gives one-of-a-kind commentary on hot topics and trending stories of the week. Allen also appears as a judge in the Food Network baking competition series, Cakealikes. The series premiered on Discovery's new streaming service, Discovery+, on January 4, 2021. On the digital front, Allen's videos boast an impressive 600+ million views across all Ellen platforms and is growing by the day.
The 2022 edition of the Formagination competition will be held on January 25, 2022 at the upcoming in-person edition of the Realscreen Summit, taking place in Austin, Texas.