After successfully moving to an online-only event due to the COVID-19 pandemic last year, the World Congress of Science and Factual Producers is returning next week with a hybrid event.
While most of this year's sessions and panel discussions will be held online, the event is also organizing hub meet-ups in five cities around the world. The event's program, meanwhile, is headlined by discussions with actors and unscripted series figures such as Jeff Goldblum of The World According to Jeff Goldblum and Mayim Bialik of Jeopardy.
Paul Lewis (pictured, below), the event's conference director, sat down with Realscreen ahead of the event's kick-off, to discuss last year's shift to an online event, the sessions planned for this year's World Congress, and the hub cities format the event is testing this year.
The World Congress of Science and Factual Producers will run from Nov. 30 to Dec. 2 next week. A full programming schedule can be found on the event's website.
This interview has been edited and condensed for clarity and length.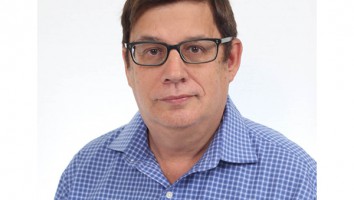 How does the approach to planning and designing this year's festival differ from previous years?
We had a really successful year last year. We managed to significantly increase our registration numbers and our diversity, and I think a lot of conferences that moved to online formats last year had the same success. And so our challenge was where do we go [from there] with a second year of online. We made the decision that it was too risky to hold an international conference given that we didn't really know how COVID was going to go. So what we came up with was a format where we have an online event, as we did last year. But in addition to that, we would have regional hubs where we felt it was safe to do so. And so that was innovative, and the response has been fantastic. The central hub in Strasbourg, which is where we were supposed to have our conference, was sold out within a couple of days, which is fantastic. People clearly crave physical networking and meetings, so we're trying to meet that need where it's possible to do so.
In terms of the actual content itself, a number of things have been happening. First of all, after two years of being in a home office and having to live with social distancing and not having that much social interaction, we wanted to bring in a sense of joy and levity and some Hollywood celebrities. So we've got Jeff Goldblum, who was never a scientist himself but played a scientist many times in movies like Jurassic Park and has a science-based series on Disney+. And Mayim Bialik, who is of course well known for her role in Big Bang Theory and Jeopardy, but is also a neuroscientist and has a podcast on mental health. So we wanted to instill a sense of fun into the event, and we also reintroduced a trial format with "Reality TV On Trial" to discuss if reality TV is dead.
Beyond that, we've always been known for trying to instill some inspiration into our program, so we've got specific sessions designed to look at incredible innovations that have kept us all going this year, and have created some exciting and imaginative new formats and programs.
In what ways did you find the event's online format to be successful?
We almost doubled our normal registration. It allowed people who always wanted to participate but couldn't afford to, to participate in this event. So it lowered the financial and the physical barriers. And then we had about 50 countries represented at the Congress last year, which is more countries than we've ever had, so we were able to make some breakthroughs in terms of bringing in delegates from the continents of Africa and South America, and parts of Asia, that have never been able to participate before.
It was a really great way of allowing us to be more diverse and more inclusive in a way that would be difficult. So going forward, after this year, we'll always want to continue with a digital version of Congress. Even when we do expect and hope that we will have a physical event next year, we would go to a hybrid format next year.
How will the regional in-person hubs work at this year's event?
Once you've registered for Congress, if you happen to be in or close to one of the hub cities, which right now are Strasbourg, London, Sydney, Toronto and New York, basically you can participate in the hubs. There's no extra fee for that, but you do have to sign up because space is limited.
The idea behind the hubs is we can replicate a lot of things online, but what we can't replicate, of course, is the networking, the social get-togethers which Congress has always been known for and having one-on-one meetings.
What kind of goals did Congress have this year about the sessions included in this year's program?
We always knew that mental health was an issue that we wanted to explore, because it's something that all of our delegates can identify with; families are going through difficult times, and we wanted to acknowledge that. So we reached out to Mayim Bialik because we were aware of her podcast, and we thought we can talk about podcasting, and we can talk about mental health. Jeff (Goldblum) was someone we've been trying to get for three years. He's such an interesting character and he's all about curiosity. He's one of the most curious people I've ever met. So we wanted to talk about the sense of curiosity and the importance in science communication.
They weren't arbitrarily picked, we certainly always wanted them to relate back to important things our delegates are going to connect with, so that was an important part. And of course we want names that are going to attract our delegates as well.
Mixed in with that, we've got some scientists. We've got Katie Ewer who was one of the scientists on the team at Oxford University that developed the AstraZeneca vaccine, because the development of vaccines was the biggest story this year. And from a historical perspective, we decided we wanted to profile the four-hour PBS series on Muhammad Ali and as part of that session, we brought in Rasheda Ali, Muhammad Ali's daughter. And that also speaks to the importance of diversity and inclusion as part of our initiative.
Environmentalism and climate change is a regular topic for the World Congress event. How did you go about tackling this issue differently this year?
We set up a subcommittee this year to look at not just what we can do in terms of content for the conference, but what we can do to push for change within the industry. It's one thing to do a program about global warming and the environment, but how do we make programs that have more impact and actually make change? We're coming out of a big global conference in Glasgow, so our timing is right on about this. So we will look at impact, we'll have a session about what we as an industry can do to make ourselves more green.
And we want to try and help with collaboration between networks and production companies to create a project that ultimately will get commissioned and put on air. We've got a lot of big decision makers from big networks who come to our event, and we want to use the opportunity to bring them together and figure out what initiatives can come out of it.
What do you expect the future of the event will look like?
I do think that there's always going to be a hunger for the community to get together every year in one setting, and be able to celebrate and exchange ideas, and find out what the latest, newest trend is as well as the market part of the event. I think that's always going to be there, and people are raring to go, there's no doubt about that. We've seen that in Strasbourg and frankly with people who were disappointed we weren't able to offer a big international event this year, but we felt that was the responsible thing to do, especially when we've got large parts of the world that are unable to leave home base even now.
But I do think the online iterations are going to become more and more important, and we're going to see how this experiment goes with smaller, regional gatherings — that's definitely something we can take a serious look at, and see if we can build on that. And then turning Congress into a year-round presence as opposed to a one-off big event also makes a lot more sense in this new environment. Things are changing so fast. We've seen the explosion of streamers in the past year, and so can we really wait until each November or December to come together and talk about these changes?