Jennifer Salke, head of Amazon Studios, will take part in a special keynote interview at Realscreen Summit Lite, a virtual complement to the 2022 Realscreen Summit, taking place from February 7-11.
Salke oversees all aspects of television and film development as well as production for Amazon's global entertainment division.
Throughout the past two decades, Salke has established herself as one of the most prolific executives in the industry, being a major force behind some of television's most successful comedy and drama series, including This Is Us, Modern Family, The Blacklist, Superstore, The Good Place, and Dick Wolf's hugely successful Chicago franchise.
Under Salke's leadership, Amazon signed the ReFRame agreement, supporting a formal action plan to further gender parity in the media industry; sponsored Free the Work, a global initiative to increase the number of under-represented voices working in entertainment; and teamed with the Hollywood Reporter and WME to launch the Young Executives Fellowship Program, which is designed to create a more diverse and inclusive pipeline for future leaders in entertainment.
Prior to joining Amazon, Salke was president of NBC Entertainment for seven years, where she was responsible for comedy and drama development, current programming, casting and diversity programming initiatives, as well as the entirety of Universal Television operations. Salke served as executive vice president of creative affairs at Twentieth Century Fox Television, after joining Twentieth Century Fox as senior vice president of drama development in 2002. Salke began her career at Aaron Spelling Productions in the early 1990s.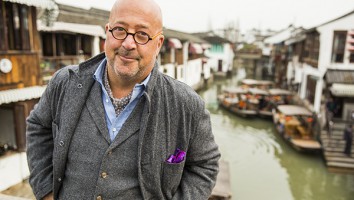 Jennifer Salke will be interviewed by Andrew Zimmern. An Emmy and James Beard Award-winning TV personality, chef, author, teacher, and social activist, Zimmern is regarded as one of the most knowledgeable personalities in the food world. As the creator, executive producer and host of Travel Channel's Bizarre Foods franchise, Andrew Zimmern's Driven by Food and the Emmy Award-winning The Zimmern List, Andrew has devoted his life to exploring and promoting cultural acceptance, tolerance and understanding through food. In 2014, Andrew founded Intuitive Content, a full-service production company that produces dynamic original television series and broadcast specials while partnering with some of the world's biggest companies to create brand-driven series.
Andrew Zimmern's virtual "fireside chat" with Amazon's Jennifer Salke will take place on Tuesday, February 8, 2022 at 12 p.m. ET. For more information on Realscreen Summit Lite, click here.