SVOD content platform History Hit and digital content agency Little Dot Studios are teaming on an exclusive media partnership with a new expedition to find, film and document Sir Ernest Shackleton's Endurance, one of history's last great lost shipwrecks.
The announcement was made on Wednesday (January 5), the 100th anniversary of Shackleton's death. History Hit is a platform founded by Dan Snow, and Little Dot is part of All3Media.
The expedition, organized by the Falklands Maritime Heritage Trust, sets off from Cape Town this month on a voyage to the Weddell Sea off the coast of Antarctica, where the Endurance lies approximately 3,500 meters deep. It will include an experienced team of extreme environment filmmakers led by Snow, who will document events in real time via History Hit's social media platforms.
"This is a new way of doing things, because, hopefully, we'll be live streaming from the Antarctic, we'll certainly be broadcasting short-form video on every platform. And then the beauty of it is, for the real fans, there's going to be more and more content," Snow tells Realscreen. "You've got the short video, that's great; if you're interested, we've got the whole interview with the marine archeologist or scientist, and that's available. Because we're going to be producing a lot of content while we're out there."
The ambitious project will see History Hit and Little Dot Studios, which acquired History Hit in 2020, produce a range of content covering the expedition's set up, the voyage and search, as well as the history and science behind the mission.
Short-form content will go to the History Hit TV SVOD channel, HistoryHit.com and History Hit's podcast network and social channels, along with Little Dot's network, which includes Timeline World History, Spark and Real Stories. The team will also film for a long-form documentary about the expedition.
The Endurance left South Georgia for Antarctica on December 5, 1914, carrying 27 men with the goal of reaching the South Pole and crossing the continent. But the ship became trapped in pack ice, forcing the crew to spend the winter in the Antarctic. Following the ship's sinking, the crew made its way by sea to uninhabited Elephant Island before Shackleton and five men set off in a lifeboat to find help. Shackleton eventually returned to rescue his crew, who survived two years in Antarctica.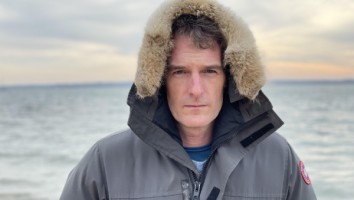 Realscreen spoke with Snow (pictured) about the Endurance project, his company being acquired by Little Dot Studios and what new technology means for history content.
This interview has been edited for clarity and length.
Why did this project with Shackleton's Endurance make sense to mount along with Little Dot, rather than as a solo History Hit project?
I started History Hit as a sort of history narrowcast, you might say, a broadcast space for history superfans all around the planet. We've got the podcast, we've got the dot com, we've got YouTube, we've got the SVOD channel, we've got the whole thing. Little Dot acquired us last year, bringing a lot more scale and professionalism.
So my little startup got absorbed by Little Dot, which is obviously great, because they are world leading, particularly [on] YouTube and across loads of other platforms, they are the best at what they do in the world. So we were ready to go and when this expedition came to us and said, 'We're looking for a broadcast partner' I was then able to say, 'Look, this is the reason I set History Hit up, this is the reason that I hooked up with Little Dot,' because I knew that the day was going to come.
For the first 20 years of my career I worked with the CBC, BBC, Discovery, Smithsonian, whatever, and I'm used to those traditional broadcasters. I knew that, actually, we could do it all ourselves, we could take it in-house. So I was able to say to this expedition looking for Shackleton's shipwreck, 'Don't worry about these broadcasters, come with us and we are going to get your message out. We're going to blast it all over the world, and we're going to create a global media event if and when we find the shipwreck in particular. And we're in control of that message, not handing your IP off to a broadcaster who's like, 'No, I want to sit in it for a few weeks, it doesn't work with our schedule, or we've got plans for using it in this franchise later on.'
When I was at the BBC they used to talk about 360 commissioning, this is exactly what we're going to be doing… Five years ago, when I dreamt of starting this kind of operation, I knew that one day the call would come, and when the Shackleton guys rang me up, I'm like, 'This is it, this is the moment.'
This project with the Shackleton's Endurance seems huge, spanning a number of platforms. Did you always envision this as a multi-pronged, multimedia affair?
The whole point about History Hit is it was always going to be a digital history broadcaster, a completely new way of broadcasting history, taking advantage of these new sweeping technological changes that I saw old broadcasters just [being] too slow [to act on]… It's a super agile, new way of broadcasting history. And we obviously benefit enormously from being English-language speakers, because we can access Canada, Australia, New Zealand, the U.S., South Africa, India, various places where people speak English. And that history we're telling is universal. It's the story of D-Day. It's the story of this extraordinary expedition to the Antarctic, which the whole of humankind was watching at the time, looking for updates. It's the story of Pearl Harbor. It's the story of civil rights, wherever that occurs in the world. So we're finding a big international audience on all these different platforms.
It's really fun because some platforms skew towards different ages more than others, it's kind of cool to watch; we realize that there's people on TikTok who don't even realize that we've got a presence elsewhere, that we've got podcasts and various other things. That's cool, we don't mind that because we like having these successful individual platforms. But Shackleton gave us the opportunity to bring it all together.
It might be a little too early to say, but do you know what the timeline of the release of the projects, including the feature documentary, will be? 
There is an educational purpose, and a kind of newsworthy purpose, the expedition want this to be talked about. But clearly, if we find the ship, then a version of a longer documentary will become of interest to broadcasters as well… But the plan is, at the moment, there will be a whole bunch of social [media content] as it's happening, in the build-up, as the search is going on, when the shipwreck is found. We will then make an internal decision about what to hold back for a documentary, which at the moment is going to sit on History Hit TV, but with versions of it on YouTube and long form on Little Dot's Timeline [channel]. But there clearly may be a world in which a conventional broadcaster also wants a version of that, and we'd be happy to talk to them about that.
But the nice thing is that we're going down there self-funding, independent, so we can make those decisions from a position of strength rather than going down there with a pre-sold proposition where we've got a lot of different stakeholders with different interests.
For example they're going to be reaching a lot of classrooms and school kids. They want to show the process of the science, the engineering. The climate science is very important down there – there's some climate scientists on board, talking about changing ice patterns and the climate catastrophe we're involved in – so that's a hugely important thing for us. Fulfilling those educational needs is important, but that's why we're not going down there having tried to sell into a broadcast as we go down, because we don't have to. We've got this fanbase that will support this operation themselves. The podcast monetizes, the social video monetizes, this works for us. We don't need a big broadcaster patting us on the head and sending us off.
Photo of Endurance © RGS-IBG