Jana Bennett, whose four-plus-decade career in television and media included prominent leadership roles at the BBC, Discovery Communications and A+E Networks, has passed away from brain cancer at the age of 66. She is survived by her husband, the veteran journalist and media executive Richard Clemmow, and their two children.
Bennett had revealed in a 2019 interview with the Evening Standard in the UK that she had been diagnosed with and was being treated for glioblastoma multiforme (GBM), a particularly aggressive form of cancer that originates in the brain or spinal cord. She also announced that she had accepted the position of trustee with OurBrainBank, an organization that seeks to take a patient-centered approach to treating GBM.
Jana Bennett began her initial, nearly two-decade tenure with the BBC in 1979, where she worked on radio and television news and ultimately won a role as a producer for the corporation's flagship current affairs program 'Panorama.'
In 1990 she shifted her focus to science and nature programming as the first female editor of 'Horizon.' Four years later she broke yet another barrier when she became the first woman to be named the corporation's head of science, a role in which she oversaw the development of such internationally acclaimed and award-winning series as Walking With Dinosaurs.
Bennett departed the BBC in 1999 for a two-year stint as general manager of Discovery Communications' TLC channel (then known as The Learning Channel), where she introduced highly popular unscripted and reality formats that revitalized the channel's flagging performance.
In 2002 she returned to the BBC as director of television to lead the broadcaster's ambitious expansion into digital channels. In this role she not only oversaw the launch of such globally successful series as Planet Earth, Life and Top Gear, but also the introduction of the corporation's on-demand platform BBC iPlayer in 2007.
Appointed to the role of president of BBC Worldwide and Global BBC iPlayer in 2011, Bennett left the corporation again one year later and moved to New York to join A+E Networks, where she spearheaded the revamping of the Lifetime Movie Network and the Biography Channel (or Bio), which was rebranded as the lifestyle network FYI. She was appointed president and GM of A+E's History Channel in 2015, before stepping down in 2017 to launch her own prodco, the London- and NY-based JebRoc Media.
Named as one of Realscreen's Trailblazers for 2014, shortly after she oversaw the rebrand of Bio as FYI, Bennett shared her thoughts on the evolution of the unscripted genre.
"Unscripted is an amazing area full of programming possibilities, because it's about whatever we choose to make it about," she said at the time. "Life is full of twists and turns, so there is no lack of potential ideas. Great shows will find audiences. But there has to be many points of difference, and reinvention is essential."
Bennett's many awards and honors over the course of her career notably include a 1991 News and Documentary Emmy for 'Horizon' and an Order of the British Empire (OBE) in recognition of her distinguished work in science programming.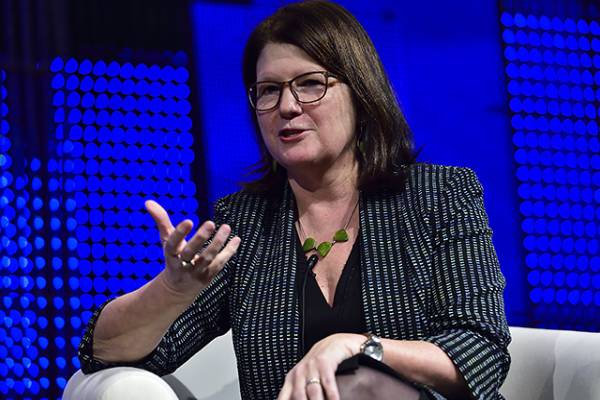 (above: Jana Bennett at the 2016 Realscreen Summit; photo by Rahoul Ghose)
A statement from Tim Davie, director-general of the BBC, read: "Jana Bennett was one of the most talented television producers of her generation and a formidable champion of public service broadcasting. She was a trailblazer who rose to the top of the industry, tirelessly championing upcoming talent, as well as having the foresight to bring together television and digital services. She was a brilliant and gifted colleague and [her passing] is a big loss to the television industry."
"All of us at A+E Networks deeply mourn the loss of our friend and colleague Jana Bennett," said Paul Buccieri, president and chairman, A+E Networks, in a statement. "Jana had an extraordinary career in media and her contributions to the A+E Networks family are too enormous to count. She was a groundbreaking, game-changing, generous and beautiful person. She will be terribly missed by all of us, and especially by me. Our thoughts and prayers are with her family at this time."
Another veteran television executive, Lorraine Heggessey, was a friend and colleague of Bennett's, and twice served under her during her time at the BBC. She told Realscreen: "Jana was the most incredible creative enabler. She encouraged everyone to be as ambitious as possible in their development of television programs.
"She was also an amazing boss who encouraged everyone who worked with her to achieve their best."
Gena McCarthy, former EVP and head of programming for Lifetime's unscripted division and former head of programming for FYI, shared this remembrance of Bennett with Realscreen: "While not entirely unexpected, the news of Jana's peaceful passing, surrounded by her family and friends, still hurts. Of all her accomplishments — her illustrious careers at BBC, Discovery and A&E, her OBE and many Board Memberships and awards — I think of her most as a mentor, and ultimately, a friend.
"She was a fighter, a competitor, eternally youthful in her appearance and her pursuits — still skiing the Alps in her 60s — and one of the smartest people I have ever known," McCarthy said. "She understood the many faces and voices of creativity and supported them regardless of age, job title, or background. A true mentor is someone who is generous with their knowledge and time, someone who shares their wisdom freely. In a word — a teacher.
"I hope Jana knew how much she meant to me. When you are gifted the opportunity to work with someone you can learn from and emulate, treasure it. I do. Thank you, Jana."
(With files from Barry Walsh)