Streaming platform Discovery+ launched its Black Voices hub in January, featuring curated series, documentaries and specials spotlighting Black voices. But things are really ramping up in February for Black History Month, with the launch of a pair of new Discovery+ Originals that will be featured in the hub: Profiled: The Black Man and Uprooted.
Part of the idea behind the Black Voices hub was to create a dedicated space on the service so that viewers seeking that content would have an easier time finding it.
"There is an extraordinary volume and variety of content on Discovery+, and so we're always looking for ways to curate it and present it to the consumer in a way that will really connect and resonate with them and help them find content that they're interested in," Lisa Holme, group SVP of content and commercial strategy for Discovery, told Realscreen.
Among the new Black-focused shows on Discovery+ launching in February is Profiled: The Black Man, which debuted on February 12. It's a four-part series from California-based prodco A. Smith & Co. Productions and executive producer Tina Knowles-Lawson that examines the difficulties Black men have faced in America, both in the past and the present, with each episode exploring a stereotype or commonly held belief, such as Black men being dangerous or being absent fathers. The series also highlights the triumphs and resilience of countless Black men.
This Friday (February 18), Discovery+ will premiere Uprooted, a three-part series diving into the story of Keith Warren, a 19-year-old Black man found dead hanging from a tree in 1986. The police ruled the death a suicide at the scene, and there was no autopsy or criminal investigation. The series follows Keith's sister Sherri as she seeks justice, and to have the cause of death on her brother's death certificate changed to murder.
Also included in the Black Voices hub is a range of content from Black creators and Black-focused series, specials and documentaries, like the OWN series The Great Soul Food Cook-Off, which launched this past fall; Remix My Space with Marsai Martin, an interior design series headlined by one of the stars of the hit sitcom Black-ish; as well as Black Love, Love & Marriage Huntsville, The Legacy of Black Wall Street and OWN Spotlight: Oprah + 100 Black Fathers, among other titles.
While the Black Voices hub is being bolstered with new original content for Black History Month, it will live on Discovery+ year-round.
"We were talking really all through 2021 about how we show up, particularly to more diverse audiences, and make sure that folks know about the breadth and depth of content that we have that might appeal to them," Holme (pictured, left) explains. "We wanted to make a really clear statement that this is not just a Black History Month stunt. This is an ongoing commitment to reach diverse audiences to help them find the content that resonates with them on our platform."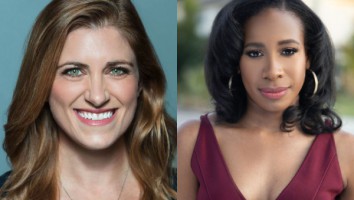 For a show like Profiled, which delves into issues like racism and police brutality, the producers say it was important for the series to counterbalance the sometimes emotionally punishing stories with more positive ones. To that end, each episode also includes three profiles of Black men doing positive things, whether that's starting an entrepreneurial business like The Black Bread Company in Chicago, or the case of Leon Ford, who became a community activist after being paralyzed in a police shooting as a teen in 2012.
"We wanted to make sure that we had a lot of light and positivity… Black men are nuanced, and Black men are not a monolith, that's something that we really wanted to make sure to hit home, so we carefully chose those [subjects]," Profiled executive producer Kristen V. Carter (pictured, right) told Realscreen. "We have three profiles per episode, and that was extremely important to us because we wanted to make sure that at the end of the episode, you can exhale, you can sigh, you can also smile, knowing that we're going to be alright."
There was also effort put into not falling back on obvious and expected imagery when discussing issues around race in America.
"We really wanted to make sure that we were able to share the historical content in a way that would move us forward," Carter says. "We don't use a lot of slavery images; that's purposeful. We made sure that there's a balance between what we're talking about. When it comes to police brutality, we didn't want to show the same images that we've seen decades and decades over and traumatize people. We really wanted to make sure that people could enter the dialogue and also think about it in a way that encourages them."
For Discovery, including shows with tougher subject matter like Profiled is part of its mandate to reflect the real world, and not just during an event like Black History Month.
"It's incredibly important to tackle a wide range of topics, including ones that may not be so easy to talk about," says Holme. "We want to be really thoughtful about what filmmakers and producers we're working with when we take on those tougher subjects."
As is the case with a lot of the content on the Black Voices hub, Profiled deals directly with issues facing the Black community, but it's also intended to bring that story to a wider audience.
"This project is for everybody," says Carter. "We definitely wanted to make sure that we are talking about history in a way that is educational, informational, but also impactful no matter who you are… We definitely did not want a Black audience to watch them [and] think, 'Oh, we've been here, done that, we already know these stereotypes, we already know the gamut.' We wanted to make sure that we added information [so] that everybody could walk away learning something."
The Black Voices hub on Discovery+ is the first in several planned hubs, with a similar one aimed at women planned for a March launch to coincide with International Women's Day, and an LGBTQ-themed hub set for Pride Month in June.
With the Black Voices hub being evergreen, Discovery+ will add to the content offerings within it as time goes on, Holme says.
"We have more shows launching throughout the spring and into the summer, we'll have Juneteenth as probably the next focal point."
According to Holme, the Black Voices hub is part of Discovery's overall strategy to reflect real-world diversity to engage viewers of all backgrounds.
"Hopefully we can keep up the momentum of making sure that viewers see themselves represented when they open up the app and go looking for something to watch."