Virtual production, Web3, cryptocurrencies, NFTs and the metaverse was all up for discussion during a Realscreen Summit panel focused on how tech trends of the present and near future are changing the non-fiction production industry.
Raja Khanna (pictured, left), founder of Toronto-based virtual production company Dark Slope moderated the Future Factual: Tech Trends panel, which occurred on Wednesday (June 7). The session covered how technological advances are influencing content creation, viewership and sales.
The discussion included Blockchain Creative Labs VP of creative strategy Jamal Dauda (pictured, right), Bunim Murray Productions SVP of current programming Steve Ezell, Sator president Christina Martin, and Remarkable Factual and RDF CEO Kitty Walshe.
Khanna laid down what he called some important ground rules about the use of tech in non-fiction production to start. He noted that it's not going to make projects cheaper or save bad ideas, and added that it's important for tech and creative teams to understand each other, while also noting that not all new tech is a necessity for new series.
From there, the panel discussed incorporating tech into non-fiction production. Here are some of the main takeaways.
Story and creative first
An important point echoed throughout the panel's discussion is that good creative ideas, and strong storytelling, must come first with new tech ideas supporting that story.
"I don't care about tech that much, only as much as it's additive to the story we're trying to tell, with the property we're trying to work within," Dauda said.
Dauda added he's seen tech shoehorned into marketing campaigns and stunts in ways that the audience doesn't resonate with, as it's obvious and uninteresting when things like NFTs are tacked onto a series without much thought.
Instead, he argued tech innovations need to be integrated seamlessly into series to better fit into shows. Dauda advised that in the future, there will need to be more people working non-fiction entertainment who have an understanding of how these various technological innovations can be utilized.
Ezell, from Bunim Murray, agreed on this point, adding that his team is looking at how they can integrate Web3 in a positive way into its existing development slate of greenlit projects. Whether it be through virtual-reality headsets or via social media, the goal is to bring viewers into immersive storytelling, or keep audiences engaged between seasons.
So far, Ezell said the work has been mostly around education to ensure people at various levels of creative and production know what's possible.
Managing expectations and cost
Utilizing new tech, such as virtual reality, on an unscripted series doesn't always mean a higher budget.
Walshe noted that it can be expensive to make a series using tech, while trying to meet the same price point as other more traditional series. It then becomes important to know how to maximize tech assets on screen. Managing expectations for these series can also be challenging, Walshe added.
"The expectation is kind of Disney, and if you don't have Disney money and you don't have Disney time, then how do you produce something that is of quality and engagement for a mainstream audience," Walshe said.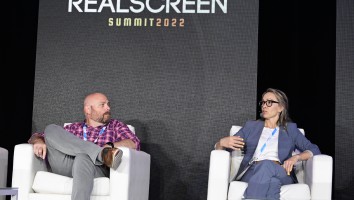 The panel discussed how tech hasn't become so prevalent as to reach a point where platforms receiving pitches are expecting tech integration. But when pitching tech in a series, Ezell advised it's best to walk in with a strategy figured out and potential tech partners in place to help pull off the idea.
With a full tech package buttoned up and included in a pitch, Ezell (pictured, above, left) said the tech aspect of the series should be cost effective, and not inherently necessary for the series' entertainment value. A good idea could be to pitch something that could be tried for one episode in a first season, with a bigger rollout in the second season, Ezell suggested.
"If  you have just a little inkling of where you can take it, that's the beauty of Web3 that you can change so quickly, that it's less about what you can do, and more about what you can imagine doing and who's the right partner to take you there," Ezell said.
Future projections
While envisioning what technological aspects might be more prominent in 2032, Martin (pictured, above, right) was bullish about the increased place Web3 will hold in the market in 10 years.
She predicted that advertising and subscription based models will be competing with Web3′s shared models of ownership and incentives. She also forecasted Web3 entertainment networks could be seen in that time.
Overall, stories and characters will matter more as storytelling becomes more immersive, she added. Walshe agreed on this point, noting that this is the direction in which non-fiction content is headed.
"There's a reason why the new Top Gun film so much of the footage is from the cockpit," Walshe said. It's to give the audience that feeling that they're in there. That's what we're going."