Making a documentary about the Kennedys is never going to be an easy task, especially for a director who is one herself. Here, Rory Kennedy talks to realscreen about the challenges of capturing the life of her mother, while also paying tribute to the political upheaval of the 1960s.
On paper, Ethel was not set to be one of the highlights of this year's Sundance Film Festival.
A film by a daughter chronicling the life of her mother did not leap out of the program as a must-watch premiere, even if the mother in question was a key player in one of America's most important political families of the 20th century.
Yet Ethel, which looks at the life of Robert F. Kennedy's now 84-year-old widow, was the surprise festival hit – a film packed with humor, vitality and a strong sense of love and warmth, set against a backdrop of incredible political upheaval in the 1950s and '60s.
It is also the most personal effort yet from filmmaker Rory Kennedy, whose past credits include The Fence (La Barda), A Boy's Life and the Emmy-winning Ghosts of Abu Ghraib.
As with most of Kennedy's films, Ethel was fully commissioned by U.S. pay-TV net HBO, which will air the 97-minute title this autumn, after it continues its festival run at Hot Docs in Toronto.
Talking to realscreen in Park City, Utah, Kennedy says the film came about on the suggestion of Sheila Nevins, the president of HBO Documentary Films.
"Sheila's approached me on other occasions to do films about my family and I've always resisted, mostly for personal reasons," Kennedy explains. "But when she talked about doing a film on my mother, I had really assumed that she [Ethel] wouldn't want to do it.
"My mother is somebody who hasn't really done any interviews in the last 30 years and is not comfortable talking about herself, but she said that she would do it, and I knew she was doing it because she thought that it was the right thing to do. And I felt along with her that it was something that I should do, although I also knew that it was going to be challenging."
Kennedy interviewed her mother and seven of her siblings over the course of five days, and these conversations – combined with a wealth of interesting archive footage – make up the film.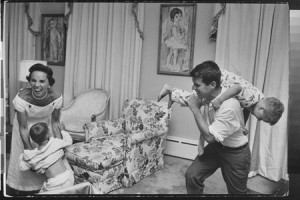 "Most of the archive came from the Kennedy Library," she recalls. "That was the first place we went, to look at the broad picture. They have archival material that is both from the public and from private institutions in one place.
"There was also my mother's personal collection, a lot of which is also housed at the Kennedy Library but is in a different section and hasn't been archived. So part of the process was going through that material and finding some gems along the way."
Kennedy and her team also managed to track down home video footage from her mother's side of the family – the Skakels – although "it took quite a while to get there," she says. "We had found VHS tapes of a lot of Skakel home movies, but it was very hard to find out where the original footage was," Kennedy says.
"There was a lot of stuff in storage, particularly photographs – there were 16,000 images that we went through and archived, many of which we used in the film and have never been seen before."
Despite a humor-filled first third and a historically fascinating second act, it is abundant sadness that fills the final third of the doc.
The Kennedys have seen loss on a scale uncommon in American politics. Ethel lost first her brother-in-law and then her husband to assassins' bullets within a space of five years, and has lived through the untimely deaths of her parents and two of her 11 children. Rory, meanwhile, lost her cousin John Jr. when his plane crashed en route to her wedding, killing him, his wife and his sister-in-law.
"There's a lot that's happened that's deeply and profoundly sad, so it was hard to ask family members to revisit those things," Kennedy reflects. "People in my family very much live in the present and go through the world looking forward, so to ask them to look back was not comfortable. It's not like it was a bad thing, it was just not comfortable."
She adds that there was "an added anxiety in making this film for me because I'm not particularly… I'm not a tell-all sort of person, so it's not entirely within my comfort zone to go into personal things."
Also challenging was finding the balance between telling her mother's story and her father's, given that so much of Ethel's life has been devoted to her husband.
It could be suggested, given the prominence of RFK in the film's second act, that Ethel and Bobby might be a more suitable title for the film. Nevertheless, Kennedy insists this is very much a film about her mother, despite the ever-looming presence of her father.
"Part of the story of my mother – a huge part of her story – is her relationship with my father, and I really think they were a team going through these sometimes difficult, sometimes challenging, and often exciting times together," says Kennedy. "But his profile is more public and known, and part of her story is the support that she provided that enabled him to go out in the world and be the person that he was, and her role in that.
"If I was making Ethel and Bobby, it would be a very different film. It's not Ethel and Bobby, because there would be a myriad number of choices that would be different if it was an equal focus on both of them.
"The reality is you're taking an 83-year-old person who has had a very full life, and reducing it down to 100 minutes," she adds. "But I feel like I gave it everything I could and I don't feel like there's anything on the [cutting room] floor that I feel regretful about."
Looking to the future, Kennedy plans to take a short break from directing while Ethel continues its festival run, to focus her attention on her other "lovely ongoing project" – being a mother.
"I have three young kids," she says, "so I'm going to spend some time with them, and maybe start to develop something in the fall."
Ethel plays at Hot Docs in Toronto on April 27 and 28 at the Isabel Bader Theatre, and on May 6 at the TIFF Bell Lightbox