Ahead of its premiere on HBO tonight (April 18), author and filmmaker Sebastian Junger (pictured, left) discusses his film on fallen colleague Tim Hetherington (right) and shares an exclusive clip from the doc.
Few events in recent memory have been more shocking to the international documentary community that the death of Tim Hetherington in April 2011.
The filmmaker and photographer's death in Libya – where he was killed by a mortar attack while covering the country's uprising – was made all the more shocking by virtue of the fact that, less than two months earlier, Hetherington had been walking the red carpet at the Academy Awards in LA, with his friend and co-director Sebastian Junger.
The pair were being feted for their documentary debut, Restrepo, which looked at American troops serving in Afghanistan's Korengal Valley; their Oscar nomination being just one of many accolades accrued by the widely acclaimed vérité doc.
Shortly after Hetherington's passing, a visibly emotional Junger traveled to Toronto for a benefit screening of Restrepo, where he opened up about his friend's passing which, he said, "took the wind out of my sails" and convinced him to stop reporting from war zones.
As more time passed, however, he began to reflect on his friend's death, and the idea of doing a documentary celebrating his life began to form.
"I had a lot of questions about how he died, so I wanted to talk to the journalists who were with him, and see the videotape that they had been shooting – and that he had been shooting – until he died," Junger tells realscreen.
"A lot of them were coming to the memorial service in New York a few weeks later, so I had them all in one place, and one by one I interviewed them at Goldcrest Films, where Tim and I made Restrepo. We did proper interviews with a video camera and after that I thought, there's a real movie here."
Junger's next step was a meeting with Sheila Nevins and Sara Bernstein at HBO Documentary Films, where he set what might be a record for fastest commission to date.
"I went to HBO and within about half an hour they decided to buy it," Junger explains. "We didn't even show them anything, we just told them about it and that was all it took.
The 77-minute film Junger ended up making, entitled Which Way is the Front Line from Here? The Life and Time of Tim Hetherington, had its world premiere at the Sundance Film Festival in January – the festival where, incidentally,  Hetherington and Junger first found acclaim for Restrepo, picking up the Grand Jury Prize for U.S. Documentary in 2010 – and went on to play at the Miami International and True/False film festivals.
The widely acclaimed doc will now have its U.S. TV premiere tonight (April 18) on HBO, before playing theatrically later this month at Hot Docs in Toronto. In addition, realscreen has learned that the film is to receive a theatrical run in Canada this summer via distributor Mongrel Media, which has taken local theatrical rights to the doc.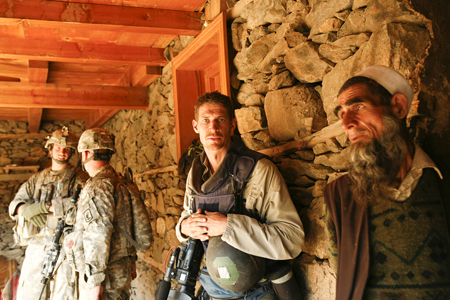 Junger, who rose to prominence as the author of acclaimed books such as The Perfect Storm and War, knew that making an archive- and interview-based doc would be a different experience from the largely vérité undertaking of Restrepo, but nevertheless says he felt confident in the endeavor.
"It was very different, but I just figured we could figure out the problems that arose – especially the narrative questions – just like Tim and I had for Restrepo," he offers. "A vérité film is easier in some ways and harder in others, and one thing I did know from Restrepo is that any good film is the product of a team effort.
"The most important thing is, well, a) to have some kind of vision, but b) to have a really good team working with you, and I certainly had that on both films. So I felt this was new territory for me, but we could figure it out."
One thing he and the team did figure out while making the doc was that there was no need to rush. When realscreen first revealed details of the doc in September 2011, the project had an ambitious completion date of late April 2012 – marking the one-year anniversary of the Hetherington's death. However, it quickly became apparent that setting an artificial deadline would only hamper the overall quality of the film.
"We just realized that that was too much of a rush, and there was nothing special about the one year anniversary, in a sense," Junger says.  "So we took our time. When we first signed the film, there was a sense of urgency at HBO to get it done, but then after some months that changed – I'm not sure why – and they said, basically, take your time. And so we did."
Despite the film's success, the project was not without its challenges. A key one for Junger was, in some ways, the most obvious one: reaching out to Hetherington's friends, family and associates, to participate in the project.
With contributions from the late Brit's parents, girlfriend, friends, colleagues and associates, the documentary feels comprehensive in its scope. However, Junger says there were some who simply did not want to talk on camera, or were not ready to.
"The problem when someone dies is that the experience of death is very, very personal," Junger explains. "And people don't necessarily want a film that has something personal [in it], so there is this real tug-of-war… on the one hand, the loved ones want the person who died to be honored and recognized and have a wider platform, but on the other hand, that means exposing some very personal feelings to the public.
"I would watch people who loved Tim – myself included – struggle with those two impulses, towards privacy and honoring him," he adds. "It was probably the hardest thing making the film really, negotiating that very emotional terrain of grief and privacy.
"There are plenty of people who just aren't in the film because they didn't want to talk to us. They weren't necessarily against the film, mainly they just didn't want to sit in a chair and have the unblinking eye of the camera recording all of their awful feelings."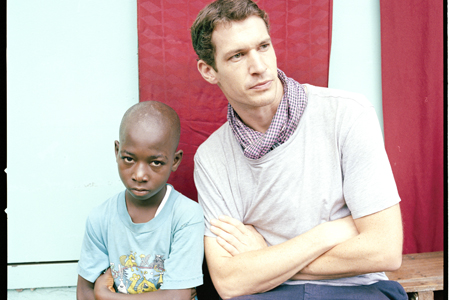 Another area that most might consider would have been a challenge, is the area of objectivity, given Junger's closeness to Hetherington. However, the director says this ended up being not much of an issue.
"I don't think it's an 'either/or' – I think Tim was objectively worth celebrating," he explains. "I tried not to let my personal feelings get into the narrative too much. It was difficult, but also, he was such a larger-than-life character, and his work was so extraordinary, it wasn't like I had to put my feelings of admiration in, in order to convince people about this guy, he kind of had it all.
"In a sense, all I had to do was report the story, and he did the rest of it."
Beyond making this film, Junger has also set up a not-for-profit organization called RISC Training, which offers free medical training to experience freelance war reporters. In addition, he is working on a forthcoming documentary for HBO, details of which are being kept close to his chest.
It is an odd set of circumstances, he reflects, that has propelled him to make this film, the acclaim for which looks to have marked him out as a 'one-to-watch' filmmaker.
"It makes me wonder what my third documentary might be like," he chuckles. "Restrepo was such a weird way to enter the documentary world. Tim and I, neither of us had made a documentary before, and we just came in at the top – it was such a strange thing.
"We worked really hard on that film and we're awfully proud of it, but it also seemed weirdly easy. We had a great editor, a great team, we're both pretty smart guys, we cared about the topic… it seems like it was mostly those things that were responsible for the film."
His forthcoming third doc will be accompanied by a companion book, and looking to the future, Junger anticipates continuing with this way of working. "I may well keep doing these pairings of books and movies," he says. "I don't have to choose; it's actually not that hard to do both, and in some ways it's easier."
Check out an exclusive clip from Which Way is the Front Line from Here?, which features Hetherington and Junger discussing the making of Restrepo, below:
Which Way is the Frontline From Here? screens at Hot Docs in Toronto on April 26 and 27, and May 4