Ahead of her Sharing the Wealth panel session at Realscreen West, attorney Nicole Page (pictured) offers a few suggestions on how U.S. producers can hold on to the international rights for their programs.
While virtually nothing about producing is easy, there is one issue of paramount concern to U.S. producers: holding on to, or at least sharing in, the revenue generated from the sale of international rights in their productions.
Unlike their lucky UK counterparts, who as a matter of law retain the ancillary rights in their productions, in the U.S., broadcasters typically hold all rights, and producers are primarily work for hire.
Particularly frustrating for a producer is when a broadcaster insists on acquiring all rights, including international rights, and then does nothing to exploit those rights.
This deprives the producer of a potentially lucrative stream of income and does nothing to benefit the broadcaster. When a broadcaster either has no interest or no outlet to sell the international rights in a show it could consider working with the producer who might in some cases be better equipped or, at the very least, more motivated to sell those rights.
More often than not, when producers make this request, the refrain from network business affairs is, "We don't do that." The business model involving the broadcaster controlling (and sometimes simply warehousing) international rights has long been the norm in the U.S.
The general exception to that rule is in cases of international coproductions or where the production company is so wildly successful that it can dictate terms to the broadcaster. Let's call those companies the 1%.
But for the 99% of producers who are not in the position either to deficit finance or to demand rights ownership, the problem persists. How can those producers convince broadcasters to allow them to meaningfully participate in the exploitation of international rights in their programs?
In conversations with veterans of the factual television industry, one thing becomes very clear – there is a great desire on the part of producers to shift the paradigm and perhaps a new openness on the part of some broadcasters to consider alternative rights ownership models.
Steve Engel, president of Engel Entertainment, expressed a sentiment on the minds of many producers: "With so much pressure to get budgets lower, it's worth examining new models of rights allocation and working with broadcasters and distributors to craft structures that leave more on the table for producers." [Full disclosure – the author also works for Engel Entertainment as senior director of development and head of business affairs]
It will, of course, fall to the producers to convince the broadcasters that there are solid financial reasons for them to change from a "we own everything" stance to a more flexible position. The good news is that there seems to be a whole host of incentives that producers can present to broadcasters that may help them change their minds.
"Competitive contemporary channels cannot afford to be doctrinaire," says David Lyle (pictured below), CEO of National Geographic Channels. He suggests that instead of reverting to the default mode of the broadcaster owning international rights, the modern landscape requires interactive discussion of how each deal may be different.
"The issue of rights is becoming more complex with all the different platforms and methods of content distribution," he says. "I suspect that if people want to be competitive, they must be rights-savvy, flexible, and not simply warehouse rights when they don't have an appropriate distribution outlet. Locking up rights that can't be exploited is bad for everyone."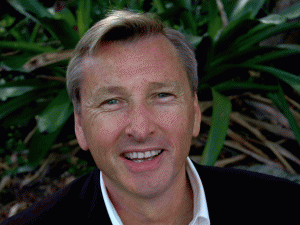 Jeremy Fox, CEO of UK-based distributor DRG, is eager to work with American producers and broadcasters to help change the status quo. As he explains, "the broadcaster's current mindset is to keep all the rights. The key is to change this mindset. There is no one template for a television deal and the first question that should be asked is, 'Who is the best person to exploit the rights?'
"Broadcasters we deal with have even acknowledged that independent producers and international distributors may be better able to exploit the rights than the broadcaster itself," he adds. "The challenge is convincing the broadcaster that if you share your rights with the producer, the producer will come to you first. We have to make broadcasters understand this point."
Lori York, senior packaging agent with ICM Partners, reports some positive experiences maintaining international rights on behalf of her clients.
"If a network is passionate or excited about a project, the producer can say the project is off the table unless it can keep the rights," she offers. "But these examples are few and far between. Two other approaches that are more likely to yield results are lining up with a coproduction partner who will fund a portion of the budget or producing outside the U.S. first."
York explained that several ICM clients have opened up production arms outside the U.S., especially in the case of formatted programming, for the very reason that producing those types of shows overseas before bringing them to the U.S. market will allow those clients to potentially experience a much bigger upside.
Seth Lawrence, VP of alternative TV packaging at Rebel Entertainment Partners, points out that teaming up with an international production partner or distributor tends to work best for certain types of programming.
"Americanized docu-series are often much harder to sell overseas than broad appeal formats like Undercover Boss," he says. Lawrence also advises that when seeking to hold on to international rights, producers/packagers have to come to the table with compelling reasons; that the producer has teamed up with a partner with a well-established international distribution presence, or as possible copro monies or a sponsor who will fund all or a portion of the budget (and a bidding war never hurts).
Although current industry practices heavily favor broadcasters controlling international rights, there are reasons to be optimistic. U.S. producers can strengthen their bargaining power by developing strategic relationships with international distributors and production companies.
As competition heats up, at least some broadcasters may be willing to take a more collaborative, flexible approach to deal making… and hopefully more producers can join the 1%.
Nicole Page is a partner specializing in entertainment and intellectual property law at Reavis Parent Lehrer LLP, and is senior director of development and head of business affairs at Engel Entertainment. She will be moderating the Sharing the Wealth panel session at Realscreen West in Santa Monica next week.