As 'NOVA' nears its 40th year on air, producers are looking to broaden the PBS science strand's appeal with more 'lighthearted' host-driven programming to balance its slate of high-concept specials and episodic exploration series.
In April, the strand – which is produced for U.S. broadcaster PBS by WGBH Boston – hired former Powderhouse Productions executive producer, writer, director and editor Chris Schmidt (pictured above) to work alongside senior executive producer Paula Aspell as senior producer.
Schmidt has made films for the strand since 1999, as well as programs for cable outlets such as Discovery, National Geographic and History. He is also behind two recent 'NOVA' ratings successes, the Making Stuff series and Hunting the Elements special, both of which took a more populist approach to two topics typically considered dry subject matter: material science and the periodic table of elements.
"One of my personal goals is to try to continue to try to attract younger viewers and more female viewers by taking some of the things I've learned working in the commercial world and bring that stuff to 'NOVA,'" Schmidt tells realscreen. "I think that there's a way to combine entertainment you might think of as being on Discovery or History Channel with the kind of serious approach to science that 'NOVA' is known for.
"Part of that is done through storytelling and by trying to come up with dynamic ways to cover the material," he adds. "We can do that without dumbing it down."
Making Stuff, which aired in 2011, is a four-part mini-series that looked at the material science behind recent technology breakthroughs such as nanotubes and invisibility cloaks that starred New York Times technology reporter David Pogue (pictured below). The series attracted 14 million viewers, becoming one of the highest rated in 'NOVA' history.
Schmidt followed that up in April this year with Hunting the Elements, a two-hour Pogue-hosted special explored the periodic table of elements through the spectrum of weird and extreme chemistry. More than six million viewers tuned in.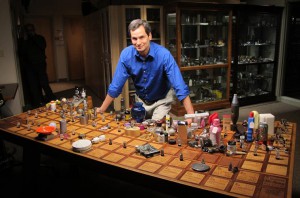 The key to the special's success was its 'fish-out-of-water' approach to the material – something new to 'NOVA.'
"It was a real affirmation of the format and the use of David as a non-scientist," he says. "You put somebody who is a fish-out-of-water or somebody who is not necessarily an expert in the field, allow the viewer to identify with them, and follow them as they try to understand the material."
For example, when Hunting the Elements turned its attention to copper, Pogue paid a visit to the New York Stock Exchange carrying a big pile of scrap copper as though he was prepared to sell it. The traditional way of introducing the subject would've been to write a narration about the chemical element's history.
However, not all viewers were enamored with Pogue's antics. Making Stuff and Hunting the Elements attracted a younger demo than the strand's mainstay audience of men aged 49-54, as well as mothers that watched alongside their kids. Some hardcore science fans, on the other hand, tuned out.
"Occasionally we get people who want far more detail and content than you can put in a TV show. You always get people who say, how come you didn't talk about this equation or that equation?" Schmidt says. "What we're basically seeing is [a loss of] some of the old guard viewers, but the numbers show we're adding viewers."
Last year, 'NOVA' created more than 18 hours of programming but producers are also in talks with PBS to expand that. The strand received an overall ratings spike after it moved from Tuesday nights at 8 p.m. to Wednesday nights at 9 p.m. in January 2011. The 10 p.m. slot remains open, allowing 'NOVA' to program more two-hour programs such as Hunting the Elements.
Schmidt says he's looking to acquire programs focused on applied sciences, technology and engineering innovations with a "lighter touch" for the 10 p.m. slot but ultimately their ability to program more hours will depend on funding.
The producers are also beginning to bounce ideas around for the strand's 40th anniversary season, which is coming up in 2014, and will potentially be based around an 'innovation' theme.
However, Schmidt insists that 'NOVA' is not trying to compete with private cable networks, which have largely abandoned rigorous science programming. 'NOVA' will also continue to produce the kind of "big idea" science specials that it has become known for, he says.
"When I was working at PowderHouse Productions for several years, Science channel at one point literally said to us, 'We don't want you to pitch us science shows anymore,'" he says. "In some ways, the cable networks have abandoned the field and 'NOVA' has been a big beneficiary of that because viewers have come back for this programming.
"I love the thick, nerdy science. I would personally be happy watching shows that are far drier than what you would see on TV," he adds. "I just think there's no reason why these things can't be made lighthearted."