Free Angela & All Political Prisoners director Shola Lynch (pictured, left) and The Central Park Five co-director Ken Burns (right) took to the stage at TIFF's Doc Conference yesterday (September 10) to discuss the motivations behind their historical documentaries, and how their paths have overlapped since Burns' 2000 miniseries Jazz.
Session moderator Nelson George (Brooklyn Boheme) quickly made the comparison between their two TIFF films, as linked by the U.S. "justice or injustice system" and the media. But their paths have crossed even prior to these films, the filmmakers revealed, with Lynch having worked on Jazz with Burns.
"Ken, you were my film school," Lynch said to the filmmaker.
Her time spent working on Jazz and Burns' doc on Frank Lloyd Wright was the precursor to her own directorial debut, Chisholm '72: Unbought & Unbossed in 2004, a doc on Shirley Chisholm's 1972 presidential bid, which has ties to her latest doc.
At Chisholm's funeral, Lynch saw a picture of Angela Davis in a photo montage and felt compelled to make a documentary on the woman who was tracked by the FBI for her alleged involvement in a courtroom hostage situation that led to the deaths of four people, because the guns used in the crime were registered in her name. She was later tried and acquitted.
Lynch convinced the normally shy Davis to participate in the doc by showing her the Chisholm doc. Once she saw it, she agreed to take part. Lynch recalled that Davis said, "I thought I knew Chisholm's story, but I didn't," and Lynch believed that Davis was talking about herself in a sense. Free Angela & All Political Prisoners would become a documentary that let viewers see a Davis they thought they knew, but didn't.
Lynch added that she found Davis had her guard up for quite some time in the interview process, but eventually discovered that once she got to know her, Davis was a shy person.
"I interviewed her in the '80s and she would not let her guard down," Burns chimed in.
Burns, meanwhile, was motivated to make his doc on the five young black men who were tried and convicted for the assault on the "Central Park jogger" in 1989, because his daughter Sarah Burns wrote a book on the subject, with the same title. His daughter also serves as co-director on the film.
The five boys' charges were vacated in 2002 when another man's confession and DNA evidence cleared them of the crime.
"[There was a] failure of cops, [the] judicial system and the media, which just poured gasoline over it," said Burns of the 1989 events.
Both Burns and Lynch see their projects as a way to give a voice to the Central Park Five and Angela Davis respectively, both of whom had no say in how they were depicted at the time.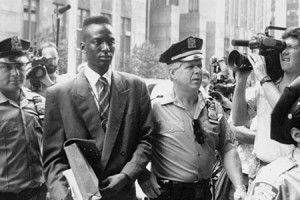 Burns added that The Central Park Five (pictured above) made sure to include more than just the convicted boys' side. "Unless you're making propaganda, [one of the] elements of a good story [is it] has to bend over backwards to show the other side," he said. "If you're just sending down thunderbolts of rage, you've lost your audience."
The Central Park Five screens at the Toronto International Film Festival on September 13 and 15, while Free Angela & All Political Prisoners screens again on September 15.