Actor and rocker Jared Leto (pictured) tells realscreen how a US$30 million lawsuit turned what was supposed to be a 'making of' about his band 30 Seconds to Mars's third album into Artifact, a feature documentary about the decline of the music industry.
In early 2008, the rock band 30 Seconds to Mars was in the midst of contract re-negotiations with EMI Records when the private equity firm Terra Firma took over the troubled label and the friendly tone of the proceedings changed. Mired in US$2.7 million in debt despite having sold 2.5 million copies of their sophomore album, the band attempted to exit their contract through a legal loophole. EMI's new owners responded by having EMI subsidiary Virgin Records launch a $30 million breach of contract lawsuit against the Los Angeles-based trio.
Suddenly, the footage Mars frontman Jared Leto was compiling for the 'making of' the band's third album This Is War morphed into a chronicle of their legal wranglings with EMI and eventually Artifact, a feature-length documentary about the decline of the music industry that will have its world premiere at the Toronto International Film Festival tonight (September 14).
Part personal documentary, part investigation into what he sees as the music industry's unsustainable business practices, Artifact mixes interviews with musicians, legal experts and music execs with footage of Leto, his brother and drummer Shannon Leto and guitarist Tomo Miličević as they juggle appointments with lawyers and recording sessions with producer Flood before ultimately deciding to re-sign with EMI.
The film also marks the 40-year-old actor and rocker's debut as a documentary filmmaker (under his Dr. Seuss-ian pseudonym Bartholomew Cubbins). Ahead of Artifact's world premiere at TIFF tonight, realscreen sat down with Leto in Toronto to talk about the making of his first doc.
What's easier: making an indie documentary or an indie album?
They're very similar. They both involve a group of people working together for a common goal. Artifact is a real DIY film. It won't ever be judged like that, it will be judged a film just like any other film, whether a $10 million documentary or maybe something that was pieced together over a long period of time. This film was unique because I've been in front of the camera a lot before, but never turned the camera on myself in such an intimate, revealing way.
With a narrative you write a script and you go out and shoot it and then you edit it but with a documentary you shoot first then you write your script. The process was very different, and it was very challenging to edit a feature length film from the footage we had.
How much footage did you have?
We had tens of thousands of hours – maybe 40,000 hours. We shot for a couple of years. But usable footage and footage that was applicable was limited. We had the same sort of challenges every documentary has: 'Is there enough vérité?' or 'the sound isn't so great on that' or 'God, if we only had that type of scene to go right here, it would help everything else fall together.' It was an interesting project. It taught me a lot about making film. It taught a lot about editing, about sound, score, interviews, directing, producing, about financing a film, and I'm really grateful for that.
What are the challenges in making a good personal documentary?
It depends what your goals are. If it's a conventional film or film as fine art, if it's Matthew Barney or if it's Senna. I think traps can be not having perspective. That can be really difficult when it's about yourself and you're producing and directing. Things can have an emotional impact for you and that can then take precedence over more important things.
Can you give me an example of when that happened while making Artifact?
There's one thing that I cut out of the film; it was a section on conflict. I had an old friend of mine who was in the Special Forces, who has been to war and had taken people's lives, he was taking about conflict and then I had an artist talking about conflict but I had to take that section out. That part of the film was very important for me. It hit me emotionally and it worked for me, but I did concede that maybe it was working for me because of my relationship to the subjects themselves. I got some push back from people I trust. I may put it back in at some point. It can be hard to have perspective when making a very personal documentary.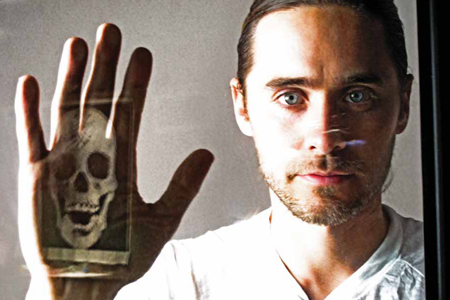 What do you feel this film adds to the books, articles and television programs already out there about the collapse of the music industry?
There's a good case study and there's a real-life example, so I think that's unique. We set out to film just the making of an album, and you've seen that lots before. Maybe there have been some things on the news about the music business not doing so well, but I really hadn't seen the film about the death of music business and this transformative time that we're in. The film is a David and Goliath story; it's a story about art and commerce and it's an age-old story. It's nothing new, but we examine it from our own vantage point and that makes it unique because it is our own.
How did you go about producing the film and getting financial support while making an album as well?
It was challenging. The first eight months of the film we had one camera and I don't even think we even had a LAV [mic]. We were pretty creative on how we shot it to tell a better story. But it was filmed with some Sony EX3s, a couple of SLRs, which wasn't commonplace [to film with] in 2008. People were just starting to get a hold of them and use them widely.
What's your relationship with EMI like now? Have the label execs seen the film?
A few of them have and it probably doesn't make them feel great to see a film that takes issue with the record business, but it's not EMI. It's the business. They can make fair, transparent deals with people. And they should. They should be leaders. They shouldn't wait for some new technology company to come and disrupt it so badly that there's nothing left for them.
I think a lot of the people at the record company who see this film may have some empathy because they're probably being treated the same way in one way or another.
Are you still happy with the record deal you signed with EMI?

We're still $1.7 million in debt. There's a line I cut out of the movie where Tomo says: "If you sell a million fucking pencils, you're going to have something. If you sell a million anything and it's not profitable business, you probably don't deserve to have that business." It's a strange thing and that's why I made the movie. I don't have any high expectations this movie is going to change anything but maybe some artists and music lovers will watch the film and have a greater understanding. I think understanding is the key to finding solutions.
Where would you like to see this film end up in terms of distribution?
Well, we're in an interesting position but we're certainly not going to take any deal and be in a similar situation to what we talk about in the film!
What would you like to direct next?
I started in art school studying to be a painter and I switched to photography, then film and then I thought I'll get a job as a director by becoming an actor. I came at it from a different perspective, and all the while I was making music – since I was a kid. But I think next for me as a filmmaker would be making a narrative feature.
Artifact screens during the Toronto International Film Festival on Friday, September 14 at 9 p.m. the Ryerson Theatre; Saturday, September 15 at 3 p.m. at the Bloor Hot Docs Cinema and Sunday, September 16 at 3:30 p.m. at the Bloor Hot Docs Cinema. Check out an exclusive clip from the film below: