Ahead of their trip MIPCOM, France Télévisions' acquisition and international coproduction team tell realscreen what's on their shopping list.
This year was an award-winning one for France 5, which broadcast the Prix Albert Londres-winning special Zambia: Who Benefits From the Copper and also won the 2012 CB News Media Best TV Channel Grand Prix.
France 5 also saw improved audience numbers, with a market share increase of almost 10%, the network says.
"Innovation is one of the key factors of our success," France 5′s head of acquisitions and international co-productions Caroline Behar tells realscreen, adding: "We are keen to work with our usual partners, like the BBC, Nat Geo, ITV, Discovery, Off the Fence, but more than ever we are also keen to develop new partnerships with new [companies] on programs."
With a schedule that is 50% dedicated to documentary, France 5 has three primetime slots per week for documentary, which in 2011 was filled by 450 produced hours and 560 acquired programs.
"When you ask on the street what is a documentary channel in France? They say 'France 5.' We still are and will be the documentary channel in France. This is our strong identity," says Thierry Mino (pictured above, right), acquisitions executive, on the looming competition in December, when six new digital channels will arrive in France.
At MIPCOM, the team will be looking for programs that are popular and family oriented, with a high visual impact and an entertaining approach to a subject; that have a new angle, with unique access or a revelation; and that have a light and humorous tone whenever possible.
For France 5, acquisitions exec Perrine Poubeau (pictured above, left) says the specific types of programming that she'll be seeking out are 50-minute archaeology programs, and family targeted 90-minute discovery specials, as well as 26- and 52-minute series for daytime and primetime. The team is also looking for topical 50-minute current affairs or investigation programs for primetime, that are accessible for a broad audience, appealing to French viewers, and informative.
In addition to genres like wildlife, science, technology, ancient civilizations and portraits of iconic characters, France 5 is also interested in marking anniversaries or major event for 2013, such as the 50th anniversary of the assassination of John F. Kennedy.
The channel's current catalog shows the type of boundary-pushing programming that France 5 is looking to broadcast, such as Bonne Pioche's It's a Bare-Faced Cheek! (Nus et Culottés), where two backpackers set out with nothing and find that people are willing to come to their aid (pictured below); the adapted format 100 Miles Around (200 km à la Ronde); and the acquired AETN special History of the World in 2 Hours.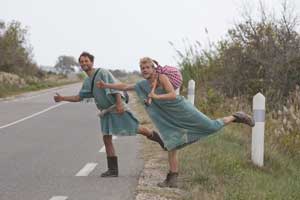 The France 5 acquisition and international coproduction team also seek out documentary content for the remainder of the France Télévisions channels – France 2, 3, 4 and 0 – and they are looking for different content for each.
For France 2, the focus is on 52-minute wildlife content for its 'Grandeurs Nature' slot, which should be family oriented, blue chip or focused on man-animal or man-nature relationships; and 52-minute shows for the topical 'Infrarouge' slot.
Over on sister channel France 3, there is a need for history programs on major French events and iconic characters; France 4 is looking for 50- or 90-minute titles for primetime slots, 50-minute investigation, 50-minute factual entertainment series, and 50- or 90-minute specials marking major events.
France O, meanwhile, is also looking for big specials commemorating a big event, 50-minute discovery/expedition, and 50-minute investigation programs.
The team's contacts for MIPCOM are:
Caroline Behar: caroline.behar@francetv.fr
Thierry Mino: thierry.mino@francetv.fr
Perrine Poubeau: perrine.poubeau@francetv.fr
Laurent Flahault: laurent.flahault@francetv.fr
Coraline Roch: coraline.roch@francetv.fr
Madeleine Savage: madeleine.savage@francetv.fr
and Amandine Picault: amandine.picault@francetv.fr