Two-time Oscar nominee Lucy Walker (pictured) is teaming up with U.S. pay TV net HBO to make a 90-minute documentary on snowboarding, centering on the achievements and injury of pro snowboarder Kevin Pearce and to be presented in "work-in-progress" form at the IDFA Forum.
The as-yet-untitled documentary is billed as being a "touchstone movie" for the sport of snowboarding, according to production information provided to attendees at the IDFA Forum in Amsterdam, and aims to be the definitive genre film, "like Touching the Void for climbing, Hoop Dreams for basketball, Senna for Formula 1, and Dogtown & Z Boys for skateboarding," filmmakers say.
Walker (Waste Land, The Tsunami & The Cherry Blossom, Countdown to Zero) has secured exclusive rights to the stories of Pearce and late freeskier Sarah Burke for the doc, along with access to exclusive footage from all stages of the two athletes' lives and careers.
The film is currently at rough cut stage with a listed completion date of January 2013, suggesting a possible world premiere at the 2013 Sundance Film Festival could be on the cards.
Pearce won four Winter X Games medals across 2008 and 2009 before suffering a near-fatal Traumatic Brain Injury, from which he is still recovering; while Burke was a Canadian freestyle skier and four-time Winter X Games gold medalist, who died in January this year following a training accident in Utah.
In addition to promising visually spectacular snowboarding footage – including never-before-seen video of Pearce's debilitating half-pipe crash – the doc (pictured below) will also feature intimate home video footage from the snowboarder and his family.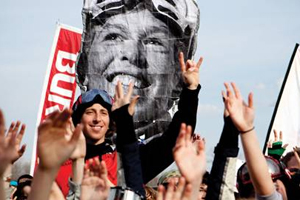 The film has a listed production budget of €754,000 (US$966,000), with roughly €400,000 in place from HBO and €160,000 in place from Impact Partners, and €180,000 in completion funding still being sought.
The producer is Julian Cautherley (Crosstown, The Beautiful Game), the editor is Pedro Kos (The Island President) and the cinematographer is Nick Higgins (First Position, Countdown to Zero), with Sara Bernstein the commissioning editor for HBO.
A 45-minute work-in-progress screening of the doc will be presented to IDFA Forum delegates in Amsterdam tomorrow morning (November 21), with Walker expected to attend.