Ahead today's world premiere of Sundance's opening night doc Twenty Feet From Stardom, director Morgan Neville tells realscreen how he came to shine a spotlight on African-American back-up singers, and pays tribute to his producer Gil Friesen, who passed away last month.
Morgan Neville says the idea for Twenty Feet From Stardom originated from producer Gil Friesen, a "legendary old-school record man," who was the president of A&M Records and, in his retirement, became fascinated by back-up singers.
The filmmaker has a lot of music knowledge, having made the docs Respect Yourself: The Stax Records Story, Johnny Cash's America, and Troubadours, and whose production company Tremolo Productions has produced Crossfire Hurricane and Pearl Jam Twenty, but knew absolutely nothing about back-up singers.
"What shocked me was that nobody had done anything on back-up singers," he tells realscreen. "There are no books, websites, nothing. It was this invisible art and all it took was opening a door into the back-up world and suddenly we were immersed in these people's lives."
But it wasn't that easy. Despite the fact that Friesen had assembled a team of executive producers who fully funded the film – something that Neville says has never happened on any of his films before – it took "massive work of the Rolodex" on Friesen's part to get permissions for the music used in the film, which included songs from Lou Reed, The Rolling Stones, Ray Charles, David Bowie, Led Zeppelin, Michael Jackson and others.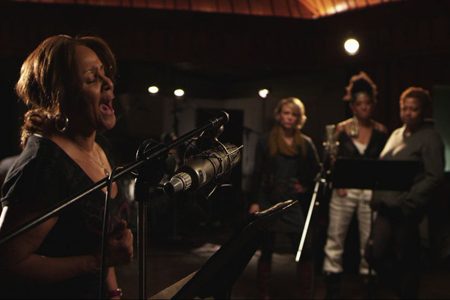 In addition, there was the difficulty of convincing women who'd spent decades away from the spotlight to take the lead role in a documentary. While some declined to be interviewed, Neville says he eventually spoke to about 50 back-up singers, and shaped the doc (pictured above) by grouping back-up singers by decade.
Darlene Love, who did lead vocals on Phil Spector-produced tracks, represented the 1950s and '60s; Merry Clayton, best known for her vocals on The Rolling Stones' "Gimme Shelter," represented the end of the '60s and '70s; Lisa Fischer serves the '80s and '90s; while Judith Hill, who was set to provide back-up vocals on the Michael Jackson tour that never was, is a back-up singer for this generation.
"To me the story is the rise of these African-American voices and their entrance into the recording world, ultimately coming out of their shell and becoming artists in their own right," Neville says. "It's a different kind of music story. In a way the best music docs aren't about music, they're about something else.
"This story ended up becoming this really emotional story of people who've done battle with the fame machine and all had to make their own peace with it or else be beaten down by it. What really impressed me was the sheer altruism of these people."
In addition, the bonus of having a legendary record man on the film was that many of the singers knew Friesen from his time at A&M.
"I don't think Gil expected this, but as we made the film, these backup singers [went] up to him and said, 'Gil, thank you so much for doing this.' I think it became [about] him giving back to the people who'd helped in his career, and it really came full circle in a really beautiful way."
Friesen passed away on December 13, but was able to see the film and knew that it would premiere at Sundance. "His wife and a lot of his friends are coming, so its going to be a very emotional event, without a doubt."
The film, which currently doesn't have a distributor but is represented by Josh Braun from Submarine, will screen tonight at Sundance as the festival's opening night U.S. documentary, and Neville says that many of the singers from the film will be in attendance.
"I don't think they quite understand what our film is, or what a big deal this is, and when they show up and see 1,300 people, it's finally going to dawn on them that this is their diva moment and they should bask in it. I'm really excited to see them have [the] spotlight just on them."
The Sundance Film Festival kicks off today (January 17) and runs until January 27 in Park City, Utah