Making a good documentary can be challenging at the best of times, but shooting God Loves Uganda was an especially uncomfortable experience for Roger Ross Williams (pictured).
The film, which had its world premiere in competition at this year's Sundance Film Festival on Friday (January 18), explores the connections between American evangelical churches and politicians in the sub-Saharan African country of Uganda who advocate sexual immorality laws, including a controversial bill that would make homosexuality punishable by death.
As a gay man raised in a devoutly Christian household, the Academy Award-winning Music By Prudence director not only confronted his own past in order to grapple with the sometimes deadly implications of the evangelical movement's influence in Uganda, but also risked his own safety to do so.
Co-financed by ITVS and the Corporation for Public Broadcasting, and developed and edited through the Sundance Institute's documentary story and edit labs, God Loves Uganda will serve as the focal point for an extensive social awareness campaign, with Williams planning to make evangelical Christians aware of how their collection plate donations might be being used abroad.
Following the film's world premiere at Sundance, Williams spoke to realscreen from Park City, Utah, about the challenges and rewards of making the film.
Why did you decide to make a film about evangelicalism?
I grew up singing in a choir in my family church so I've always been saturated by religion. I made a short film about religion. When I was doing Music By Prudence, one of the things that struck me was that all the kids in the film were devoutly religious. But what really struck me while shooting in Zimbabwe was the churches on every corner and the people praying in the fields. It's a country gripped in this devoutly religious, almost zealotry. So it was in the back of my mind that this was worth exploring.
As I was thinking about it, I was reading about Uganda's anti-gay bill, the religious forces behind that, and the connections to Americans. I went to Uganda for my first research trip and was blown away by how big a hand that American missionaries have in the country. When you get on the plane to go to Uganda, it's filled with missionaries. At the airport there are missionaries praying. It's everywhere.
When did you realize the evangelical issue in Uganda would make a good documentary?
Pretty quickly. When I was there for my research trip, I went to a couple of the biggest anti-gay Ugandan pastors. [The issue] was so much richer than I had read in newspapers. These men were really complex. They talked openly about their connections to America, their love of America and the support they got from America. I had such a wealth of possibilities. There were so many ways to go with this that I was overwhelmed. There were five documentaries I could've made. I still have enough material that I could probably cut three more.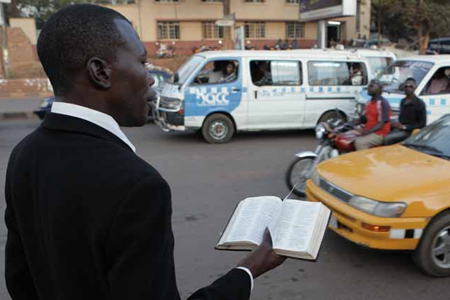 So why focus on the missionaries rather than, say, the LGBT activists?
As someone who has come from a religious background, I'm much more interested in the people who want to kill me. I'm much more interested in understanding the other side and I'm much more interested in being in a place where I'm uncomfortable with my subjects. In my own mind, I've demonized these people as evil people, but as I got to know them I knew I was going to grow and learn something – and I did.
I became friends with both the anti-gay pastors and the American evangelicals. The walls broke down and we laughed and ate meals together and had this connection. I wanted the audience to have this connection too. Someone might be preaching this hateful rhetoric but they're still a person. That's what great about the film: you meet these people, you relate to them and you understand why the feel the way they do. People can start a dialogue around this.
What challenges did you encounter during production?
It's not easy shooting a film in sub-Saharan Africa. There are all the challenges around being in a country that's developing; you're getting ripped off all the time. Someone will rent you a house at 10 times the price but those are small challenges. The bigger challenge was that I am a gay man and I'm making a film about people who believe that I am sexually broken and possessed by the devil; that I am pure evil; that I'm there to recruit children and I'm listening to them tell me how horrible it is to be a homosexual.
You brought this film to the Sundance documentary story and edit labs. How did that experience shape the final film?
The lab was sort of life-changing. I went into the lab with a lot of material. There were a lot of really colorful characters and I was frankly overwhelmed and swimming in my own footage. The lab enabled me to focus like a laser beam on the exact story I wanted to tell and how I wanted to tell it… I left extremely focused and knowing exactly what I needed to do. It would not be playing at the festival now if it was not for that lab.
What impact do you hope this film will have on the debates in the U.S. around evangelicalism and foreign policy?
We'd like to screen this at as many churches as we can across the country because I want [parishioners] to question when they put money in the collection plate, to fund what they think is great work in Africa, whether some of that money is fueling this message of hatred and intolerance. I don't think any American Christians want blood on their hands.
What is the biggest thing you learned as a filmmaker with this project?
This was a film that was difficult and uncomfortable for me to make. If you take risks and challenge yourself to a point where you're uncomfortable, that's where you are going to create the most compelling, interesting material. You have to go to a place where you're uncomfortable. I didn't want to deal with my past and the way the church rejected me and I went head-on into it.
If you walk head-on into the storm and deal with your issues around the subject of your film, then it's gonna be great because it's going to have this passion. All of that nervous energy is going to come out in the material and you're going to do great work.
God Loves Uganda continues its festival run today (January 21) at the Sundance Resort Screening Room at 3:00 p.m. MST, with subsequent Sundance screenings following on January 23, 24 and 25.