Realscreen recaps all the key news and views from its fifth annual West Coast conference, which took place over two sold-out days in Santa Monica last week.
While the remarkable growth of realscreen's flagship, East Coast event – the Realscreen Summit – has been well noted, it seems the conference's West Coast sibling could soon be on track to rival it.
After registering what was a then-record 600 delegates for 2012, Realscreen West this year grew its attendance by nearly 50%, with just shy of 900 delegates making their way down to the reconfigured event space within the Fairmont Miramar hotel in Santa Monica for the two-day event.
Sessions kicked off on Wednesday, June 5, with a panel of leading producers and network execs discussing the unscripted shows that they feel have been most undeservedly overlooked by the Emmys over the years (and settling on a consensus of American Idol as the key victim).
At the lively 'Props Shops' session, representatives from companies including Spike, FremantleMedia and Magical Elves also reflected on the Academy of Television Arts & Sciences' recently created Reality Peer Group, and the likely effect the Group will have in selecting the Emmys awarded in the Reality and Reality Competition categories.
BermanBraun co-owner and founding partner Gail Berman summarized the mood of the panel by paying tribute to American Idol, saying that the show "changed the way our community works, changed the fate of the Fox Broadcasting Company, and had a tremendous meaning for the country post 9/11," and adding that it was ridiculous that it never won an Emmy.
Following the opener, experts on the network, production company and agent side doled out advice in the 'Sizzle or Fizzle' session, which looked at the importance and evolution of sizzle reels.
For Gurney Productions co-founder Scott Gurney, the key takeaway was to keep them short. "If it's a minute long and as tight as you can get it, and you can make them laugh, that's great, but if you're going with a five-minute tape and the characters aren't as strong, you've created doubt," he said, before his sizzle for Duck Dynasty ran for the audience.
Also taking place on the event's first day was the 'Connecting With the U.S. Hispanic Audience' session, which featured execs such as Telemundo's VP of unscripted content development Daniel Cubillo, and Lynette Ramirez, VP of programming for English-language Latino channel NuvoTV.
"It's all in knowing who you're targeting and what you're doing," Univision's VP of programming and programming operations Sandra Smester told delegates. "You can do a lot of things with little money."  
The panel was followed by a day-one keynote chat between Howard T. Owens and radio host and TV personality Billy Bush, at which the National Geographic Channels president (pictured above) laid out an ambitious vision of genre expansion, telling delegates the U.S. network was eyeing moves into comedy, quiz shows and food programming.
He explained that while Nat Geo will always be true to its original mission of exploration, "I often say, this is not your dad's National Geographic. I want to explore comedy, I want to explore quiz shows – I'd like to see what a quiz show would look like on Nat Geo."
Rounding off the first day were the much-anticipated Realscreen Awards, which took place beneath the Fairmont's more than 130-year-old, gorgeous and iconic Moreton Bay fig tree.
The big winners at the ceremony were A&E's comedic reality hit Duck Dynasty, and PBS's acclaimed multi-platform project Half the Sky: Turning Oppression into Opportunity for Women Worldwide, both of which picked up four awards.
Other programs to win multiple gongs included Frozen Planet, MLK: The Assassination Tapes, What Not to Wear and Red Bull Stratos.
Duck Dynasty capped a meteoric 15 months since first taking to the air by claiming the awards for Best Docureality Programming and Best Docusoap Programming, as well as an Award of Excellence for reality. Half the Sky, meanwhile, picked up the 2013 Award of Excellence in the non-fiction category, along with the award for Best Non-Fiction: Social/Current Affairs among other honors.
Kicking off the event's second day was the 'Relationship Counseling' session, which saw Bunim/Murray's Jon Murray, 495 Productions' SallyAnn Salsano and network execs from Oxygen and TLC offering advice on maintaining relationships in the cutthroat and competitive world of reality TV.
Murray said that building a great partnership begins early, in the development stage.  "We see networks we work with as partners, and I don't want to hide stuff from them," he explained, "so when they see the first cut, they're not surprised."
The day continued with a food-focused panel, at which Cooking Channel GM Michael Smith revealed that his network is rethinking its programming strategy.
"We started Cooking Channel because we decided to move Food Network into [being] more about the characters and less about cooking information, and foodies were upset," Smith told attendees at the 'Joining the Food Fight' session.
"We found that it's not working anymore, because of Internet and cooking videos. We're trying to get at the important life-changing and transformational power of food experiences, because it's not enough to show cooking information."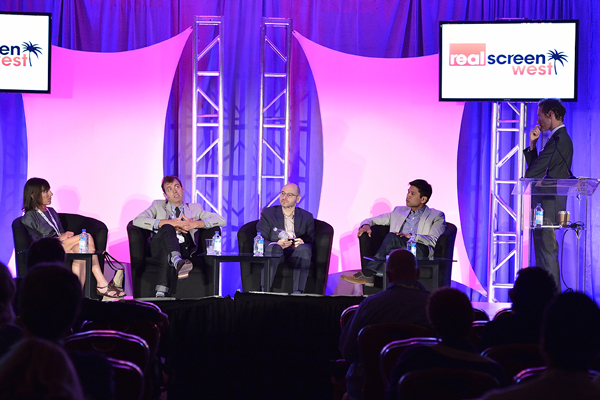 Also taking place on day two was the ever-popular 'Amping Up Unscripted' session (pictured above), a recurring panel at which nascent non-fiction networks get a chance to set out their stall.
This year's panel saw execs from H2, Destination America, Disney Channel and the soon-to-launch Esquire Network discussing their commissioning needs and target demos. Among the key takeaway points, Destination America's recently promoted general manager Marc Etkind said that he was constantly surprised that people continued to pitch him shows that are not set in America.
He also said he is not looking for knock-off versions of existing properties. "The next show that's going to be as big as Duck Dynasty is going to be in a completely different space," he told attendees.
The 2013 event closed out with one of the most attended sessions of the two days, with the general managers of History, A&E and Lifetime converging to discuss A+E Networks' past, present and future (pictured below).
When asked the best way of landing a pitch meeting with the panelists, each exec agreed that producers are better off winning over a junior exec that is in a better position to advocate for a show idea within the network – and know the best moment to spring an idea on an unsuspecting exec VP of programming and general manager.
Lifetime topper Robert Sharenow advised finding an advocate amongst the brands' development teams, as going after the top execs can result in meetings that might be "really short and not very productive." He adding jokingly of the trio: "We're dead inside," to much laughter from the room.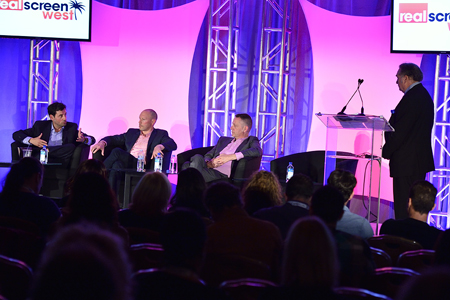 Aside from the panel sessions, the event boasted an array of 'Meet an Expert' sessions, speed pitching events, '30 Minutes With…' meet-ups and luncheon roundtables, with a variety of U.S. network execs and producers on-hand for advice.
Realscreen West will return to Santa Monica in 2014, but before that, realscreen's Branded Entertainment Forum will take place in New York City this October.