With the Academy Awards taking place on Sunday (March 2), Emmy-winning director Pamela Mason Wagner (pictured) reflects on the Best Doc Short category and the decisions by two nominated films to show death on screen.  
Is it appropriate to show death and dying on screen? The New York Times rarely publishes photos of dead bodies, and when they do, the decision is made with great care.
For 18 years until 2009, the U.S. Army prevented journalists from photographing soldiers' coffins. But in this year's Oscar nominated short documentaries, death and dead bodies feature prominently in two of the five films.
When Bill Moyers' groundbreaking series on death and dying, On Our Own Terms, aired in 2000 on PBS, a decision was made not to portray a loved one's moment of death in a story about a family working with hospice home care. Instead we saw a door closing.
Ten years later, the PBS Frontline documentary The Suicide Tourist, from John Zaritzsky, showed a man sipping a fatal cocktail through a straw. The camera stayed on when he took his last breath – but didn't linger once his life had ended. We weren't shown his corpse or what transpired with his body after death.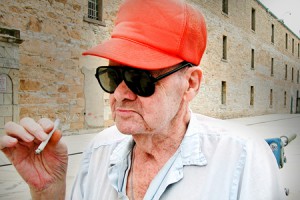 In this year's Prison Terminal: The Last Days of Private Jack Hall (pictured), from director Edgar Barens, Jack Hall is interviewed in the months and weeks prior to his death. We get to know his son and his inmate friends, and Hall opens up to the filmmaker to the degree that he is capable.
A World War Two veteran, and a man largely cut off from his emotions and inner life, Jack shares the story of how his son became addicted to drugs and committed suicide. After that tragedy, Hall killed a drug dealer. Serving a life sentence for that murder, he winds up in an innovative hospice program where fellow inmates along with nurses tend to the end-of-life needs of mostly elderly prisoners.
When the moment of death arrives, the camera doesn't flinch. We see the son, at his father's side, asking the nurse if Hall has passed. She listens with a stethoscope and confirms that Hall's heart has stopped beating.
We then see a close-up of Hall's face, with tongue limp between flaccid lips. We watch him fingerprinted (as per prison policy), zipped into a mortician's bag, and transported to the morgue where a prison official unzips the bag in order to ID the deceased. All told, it is the most exposure this viewer has ever had courtesy of video, to a dead body.
Is it appropriate? At an Academy screening of all five films on February 22 at the School of Visual Arts in New York City, several audience members felt that there was one too many shots of the deceased man. That the shot with the limp tongue was indecent… that his family wouldn't want him shown and remembered like that.
In a Q&A after the screening, the filmmaker mentioned that Hall's family had not yet viewed the final cut of the film. Yet both Hall and the family clearly agreed to allow the filmmaker total access in documenting the hospice and Hall's story despite the fact that watching someone die is incredibly intimate.
The son was present, observing the filmmaker photograph his father's corpse. Is privacy an essential part of dignity? Where do we draw that line while remaining true to a story? How do we demystify death in a culture phobic about end of life – without sensationalizing death?
In another nominated film, Sara Ishaq's Karama Has No Walls, the camera takes us inside Yemeni's 'Change Square,' where during the Arab Spring, pro-government snipers killed 53 peaceful protesters.
The chaos of the attack and the visceral nature of the cinematography, shot by several teenaged cameramen, is the film's greatest strength. But because of their up-close, run-and-gun style, the fearless cameramen do not – and cannot – avoid showing fatal wounds and dead bodies.
During the Q&A, the director confessed she became inured to the gore in the edit room and sought outside opinions periodically to gauge how much violence was too much for general viewers. The screening audience seemed less disturbed by the portrayal of death in Karama than in Prison Terminal.
Is that because we accept death in the context of violence, whereas the 'normal' passage from life to death in an elderly person is more upsetting? Is viewing a body on the ground, as a result of political murder, somehow less intimate than being allowed into a man or woman's death chamber? Is that because the former chose to risk dying in the public square?
The subject of death hovers above the three other nominated films as well, though largely in the background. In Jeffrey Karoff's Cavedigger, the threat of fatal cave-ins ultimately forces the sculptor-subject to cut short one of his most beloved works of art.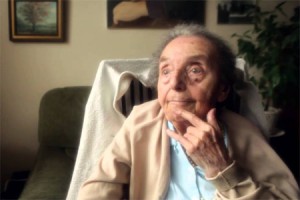 Meanwhile, a hate crime where the victim is left for dead propels the narrative of Jason Cohen's Facing Fear; while in The Lady in Number 6: Music Saved my Life (pictured, left), from directors Malcolm Clarke and producer Nick Reed, the specter of the Holocaust permeates the life of pianist Alice Herz-Sommer, who was the oldest living survivor before her death last Sunday, at the age of 110.
But it is Jack Hall's transition from life to death that haunts this viewer. When the lights came up I wondered: would people see this film and decide they want to make home movies of their own family member's passing, the same way births have become fodder for home video enthusiasts? And would that be a good thing?
Are we growing bolder, less afraid of the taboos around death? These films would suggest so. Yet, despite the social value of examining death, we need to check our proclivity for violence and gore, and be mindful not to rob the dying of their dignity.
Pamela Mason Wagner is a director, producer and writer whose documentaries have been on networks including PBS, ABC, NBC, CBS, National Geographic Channel and History. She won a Primetime Emmy Award in 2001 for Finding Lucy, her 'American Masters' film about Lucille Ball.